Pearl 2 Condos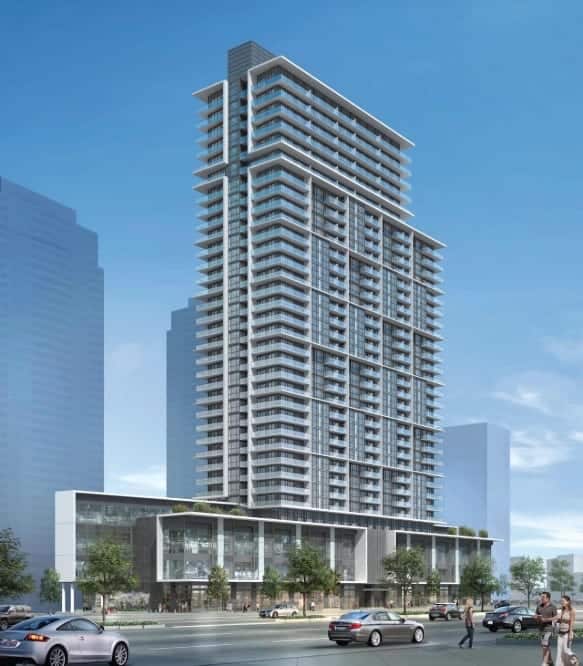 About Pearl 2 Condos
Welcome to North York's new home of elite luxury living. Pearl 2 Condos.
Pearl 2 Condos is the second release of condos at the Pearl Place development located at 19 Hollywood Avenue in North York. Every square inch of Pearl 2 Condos is a spectacular modern design. Glass, steel and concrete combine to create a place of remarkable richness and prestige. Spacious balconies and intricate architectural elements provide a sense of cultivated distinction that is beyond comparison.
Pearl 2 Condos Details
| | |
| --- | --- |
| Developer | Conservatory Group |
| Address | 19 Hollywood Avenue |
| Neighbourhood | North York |
| Number of Storeys | 34 |
| Number of Units | 431 |
| Occupancy Date | TBA |
| Maintenance Fees | $0.55 Per SqFt per Month |
| Priced From | From $519,900 to over $998,900 |
Pearl 2 Condos Location
Whether meeting friends for cocktails, enjoying a gourmet dinner, watching the latest blockbuster movie or relaxing in a nearby lush greenspace, you can enjoy a truly complete lifestyle at Pearl 2 Condos. For residents who want to travel in and out of the city, Sheppard Subway Station is steps away from Pearl 2 in the heart of North York City Centre. Pearl 2 Condos offers an elite standard of contemporary luxury living with an exceptional urban location.
Transportation
Take a tour around the surrounding North York area and you'll see that the city living at Pearl 2 Condos has everything to offer. However, Pearl 2 Condos is so close to Sheppard Subway Station that the whole city is effortless to travel. Sheppard Subway gives you access to both the Yonge and the Sheppard subway lines, letting you get virtually anywhere in the city in a matter of minutes.
Entertainment
Pearl 2 Condos offers an abundance of nearby shopping and dining destinations nearby. Walk up and down Yonge St. to discover everything from fast food to delicious world cuisine. Shop top fashions at the Sheppard Centre and Centrepoint mall. For culture lovers Mel Lastman Square, Toronto Centre for the Arts, Solar Stage theatre and more are all a short drive away from Pearl 2 Condos as well.
Nearby Pearl 2 Condos
Restaurants
• The Captain's Boil
• Kinto Ramen
• Starbucks
• Jack Astors Bar & Grill; and more.
Recreation
• GoodLife Fitness
• Douglas Snow Aquatic Centre
• Don Valley Golf Course
• Rosedale Golf Club
• Dempsey and Willowdale Park
Schools
• Churchill Public School
• Willowdale Middle School
• Earl Haig Secondary School
• Cardinal Carter Academy for the Arts
Shopping
• Whole Foods Food Market
• Winners
• TD, Scotiabank, BMO, & RBC
• Best Buy
• Short Subway rides to Eaton Centre, Fairview Mall, & Bloor Street
Pearl 2 Condos Amenities
Pearl 2 Condos boasts an amenities space that is second to none. Crafted to the standards of a high-end spa, fitness centre and social club built into one, the comprehensive selection of amenities will keep you fit and entertained for years to come.
Swim laps in the Pearl 2 Condos' indoor pool. Stay in shape in the spectacular fitness centre. Entertain friends in the party room or barbecue on the outdoor terrace. Pearl 2 Condos and it's world-class amenities complex is yours to enjoy when you call Pearl Place home.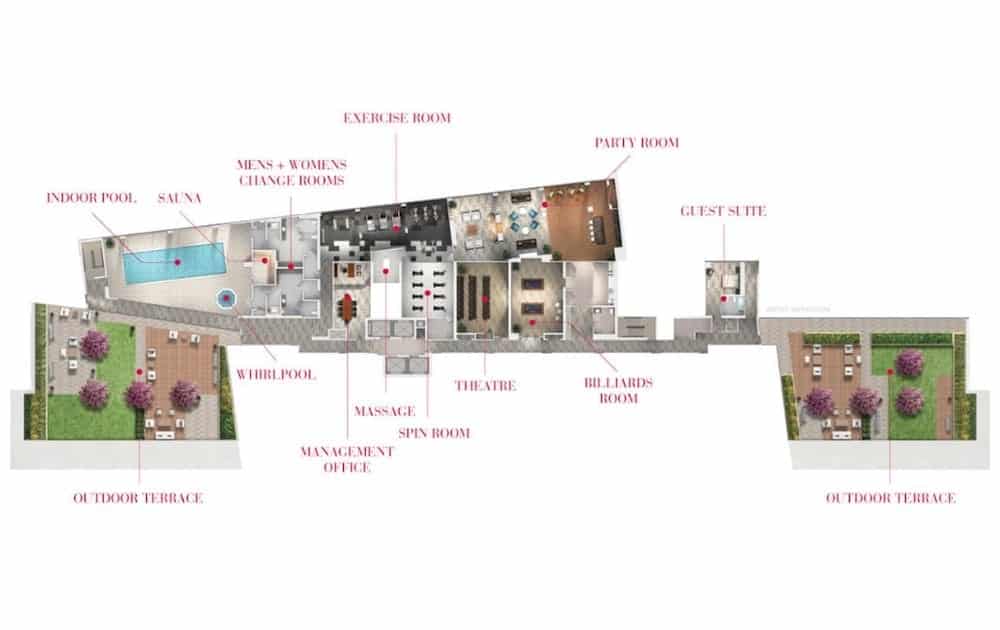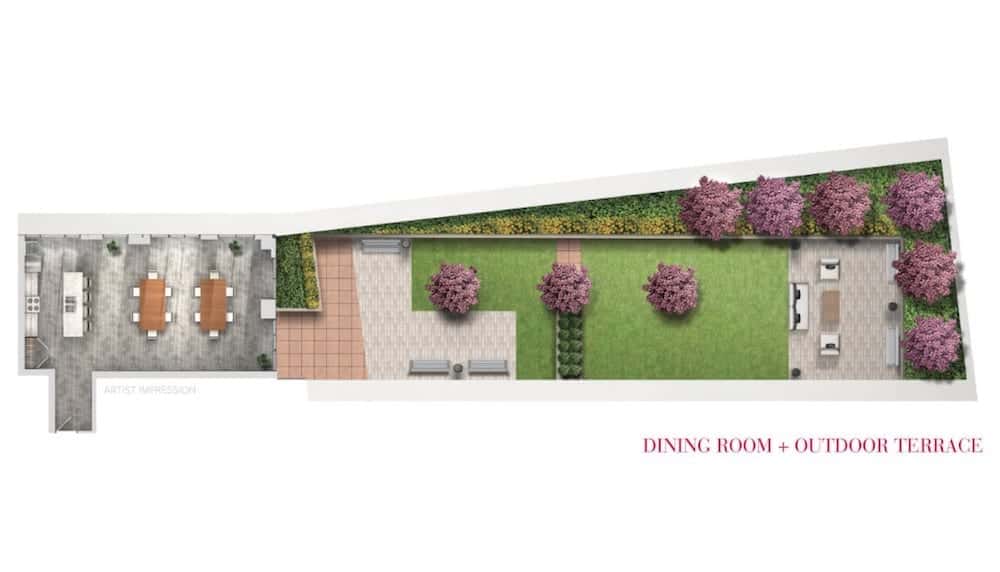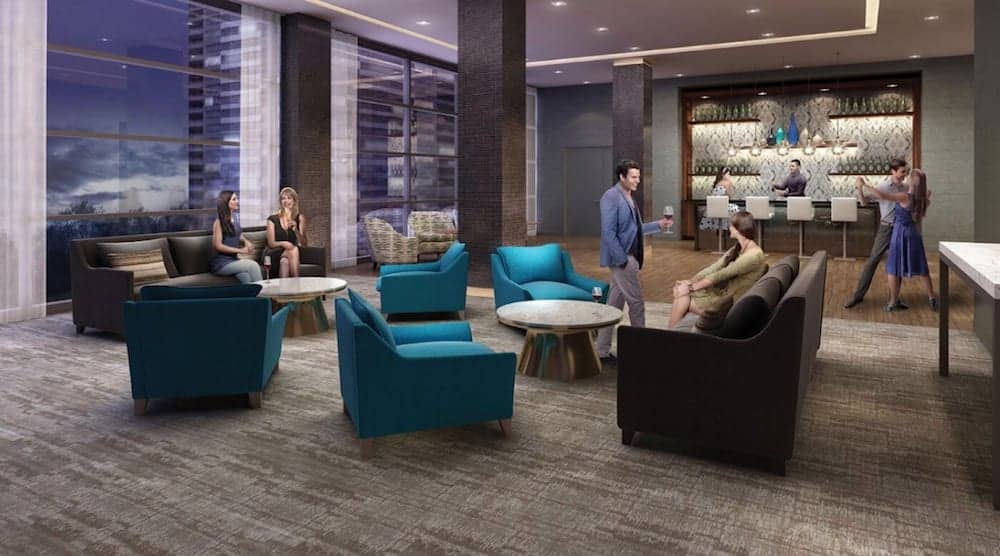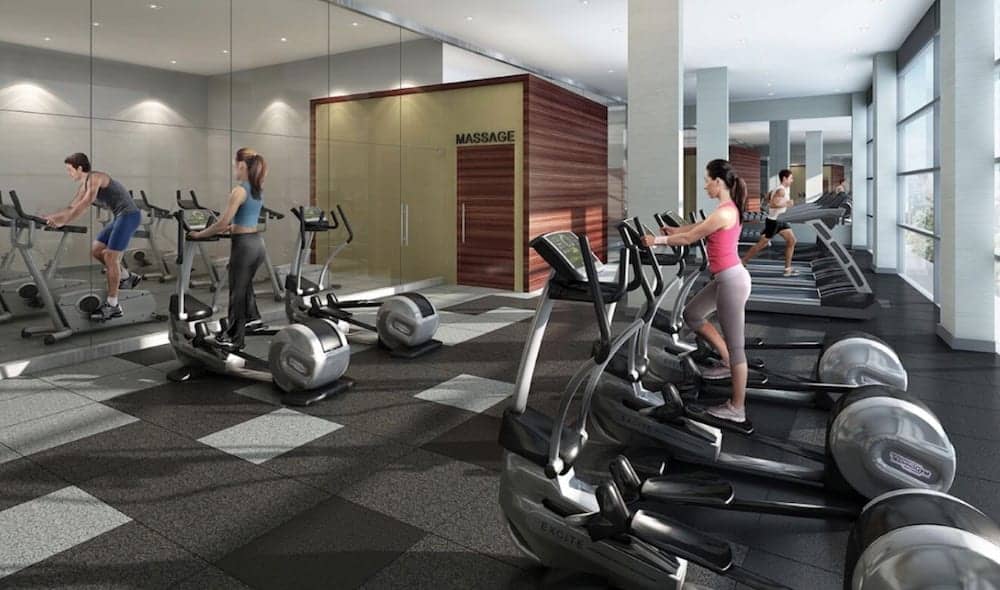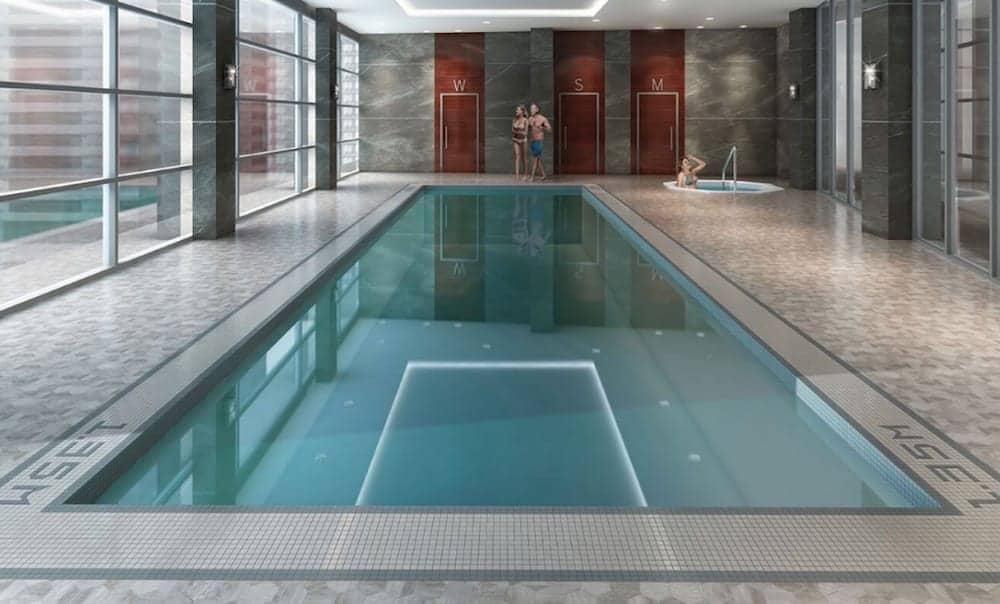 Pearl 2 Condos Features and Finishes
Standard Suite Features
• Living room, dining room, den, hallways, and foyers come with choice of colours for single plank laminate flooring.
• 9′ ceilings in all main living areas of Pearl 2 Condos.
• Smooth and painted ceilings in bathrooms, laundry rooms, on bulheads, and select kitchens. Remaining living space is textured ceilings.
Kitchen
• Contemporary, frameless cabinetry with deep upper cabinets above fridge and extended uppers.
• Valance lighting.
• Glazed porcelain floor tiles or single plank laminate flooring in select kitchens.
• Residents of Pearl 2 Condos have a choice of granite or composite quarts kitchen countertops extending to breakfast bars.
• Choice of ceramic tiling for kitchen backsplash.
• EnergyStar rated stainless steel frost-free refrigerator.
• Stainless steel electric smooth-top, self-clean range.
• EnergyStar rated built-in stainless steel dishwasher.
• Stainless steel over the range microwave oven.
Bedrooms
• Choice of colours for laminate flooring and walk in closets, as per plan.
Bathrooms
• Contemporary, frameless cabinetry with granite countertop and undermount sink.
• Choice of ceramic floor tiles.
• Choice of cermaic tiles for walls of bathtub and shower enclosure.
• White acruclic soaker bathtub in ensuite bathroom, as per plan.
• Pearl 2 Condos with stand alone showers have rain shower style showerheads and framed glass door, as per plan.
Laundry Room
• Fully installed white washing machine and dryer unit.
About the Developer
For decades, The Conservatory Group has been defining condominium living, creating numerous glistening landmarks that have shaped the spectacular skyline of Toronto.With a reputation for design excellence and an unparalleled commitment to quality.
The Conservatory Group consistently delivers first-class condominiums of uncompromising value. Luxurious lobbies, spacious suite interiors and valuable lifestyle amenities such as fitness centres, pools and theatres are featured in every Conservatory condominium.
Pearl 2 Condos Frequently Asked Questions
How do I reserve a unit in this project?
After you review the floor plans and prices, if you know what suites you are interested in, you may reserve a suite online using our online reservation worksheet form at https://truecondos.com/worksheet.
Does filling out the worksheet form mean I'm committing to buy a suite?
No it is not a formal commitment, it is an expression of interest and the first step you must take if you are thinking about getting a unit in this project.
What does it mean that Andrew la Fleur is a "Platinum Agent"?
Platinum agents are the top selling agents who get preferred status with developers and first access to new projects before regular agents and the public.
Andrew la Fleur has been a top-selling pre-construction agent since 2007, and during this time he has achieved platinum status with many of the top builders and sales companies in the Greater Toronto Area.
For more information on about Platinum agents see this article: https://truecondos.com/5-things-to-know-about-buying-a-condo-with-a-platinum-vip-realtor-real-estate-agent/
How does it benefit me as a buyer to work with Andrew la Fleur as my Platinum Agent?
Working with me as your Platinum agent gives you several benefits
You get the

highest level of access

in the building

You pay the

lowest possible price

for the unit (prices are typically increased significantly after the Platinum sales event)

The best possible

incentives

I do not represent the builder. I represent you. You benefit from my expertise of being a top selling pre-construction agent and investor myself since 2007.

Access to my personal network of mortgage brokers, lawyers, property management, HST rebate services, handymen and much more.

My services to you as a buyer are

free
Do I get a cooling off period? What is it for?
Yes, after you sign the contract to purchase a suite you will have a standard 10-day cooling off period. It's 10 calendar days, not business days from the time you sign.
The 10 days are primarily for 2 things: 1) to have a lawyer review your contract with you if you wish and 2) to get a mortgage pre-approval letter
Do I need to have a lawyer?
You don't need to have a lawyer at the moment that you sign the agreement, however I always recommend that you have a qualified lawyer review your agreement of purchase and sale after you sign and during your 10-day cooling off period.
Not sure who to talk to? Don't worry – getting a lawyer is something I can help you with. Contact me for more details.
Do I need to have a mortgage pre-approval to buy?
95% of all builders will require you to provide them with proof of financing capability in order to purchase. This is not required before you sign a contract, but it is usually required within 60 days of signing.
Not sure where to begin? Don't worry – getting a mortgage pre-approval is something that I can help you with. Contact me for more details.
Do the prices include HST?
If you are purchasing for yourself and plan to move in, then yes, prices include the HST and there is nothing you will have to pay at final closing.
If you are purchasing as an investment rental property, then you will have to pay approximately 7.8% of the purchase price as HST on final closing.
This money is remitted to the CRA and as an investor renting out your property you can apply to the CRA immediately to get this money back. It usually takes about 1 month to get your rebate back.
For more information on the HST, see here:
https://truecondos.com/tag/hst-rebates/
Contact me for more details.
What are my closing costs on a pre-construction condo?
Closing costs on a pre-construction condo will vary greatly depending on the actual purchase price of the unit you are buying, but it also depends on the builder, the city that you are buying in, and the type of unit that you are buying.
Roughly speaking in Toronto you can expect to pay approximately 3-5% of the purchase price in closing costs when purchasing a brand new condo.
Check out this article for more info on closing costs:
https://truecondos.com/5-things-to-know-about-closing-costs-when-investing-in-a-pre-construction-condo/
Contact me for more details
Are there any 'hidden' costs when buying a pre-construction condo?
No, there are no hidden fees when buying pre-construction condos because all fees must be disclosed in the agreement of purchase and sale. All purchasers have 10 days to review the agreement and have a lawyer advise them on the exact closing cost amounts. If you need a lawyer to help you we can suggest to you to several expert law firms that will review your agreement in detail.
Is it possible to assign my condo? How much is the assignment fee?
Most condo builders do allow you to sell your unit before the building is complete. This projcess is called selling by "assignment".
There is usually an assignment fee and a legal fee associated with selling. Costs can range from $1000-7000. Contact me for more details.