All About The Regent Park Revitalization With Martin Blake of Daniels Corp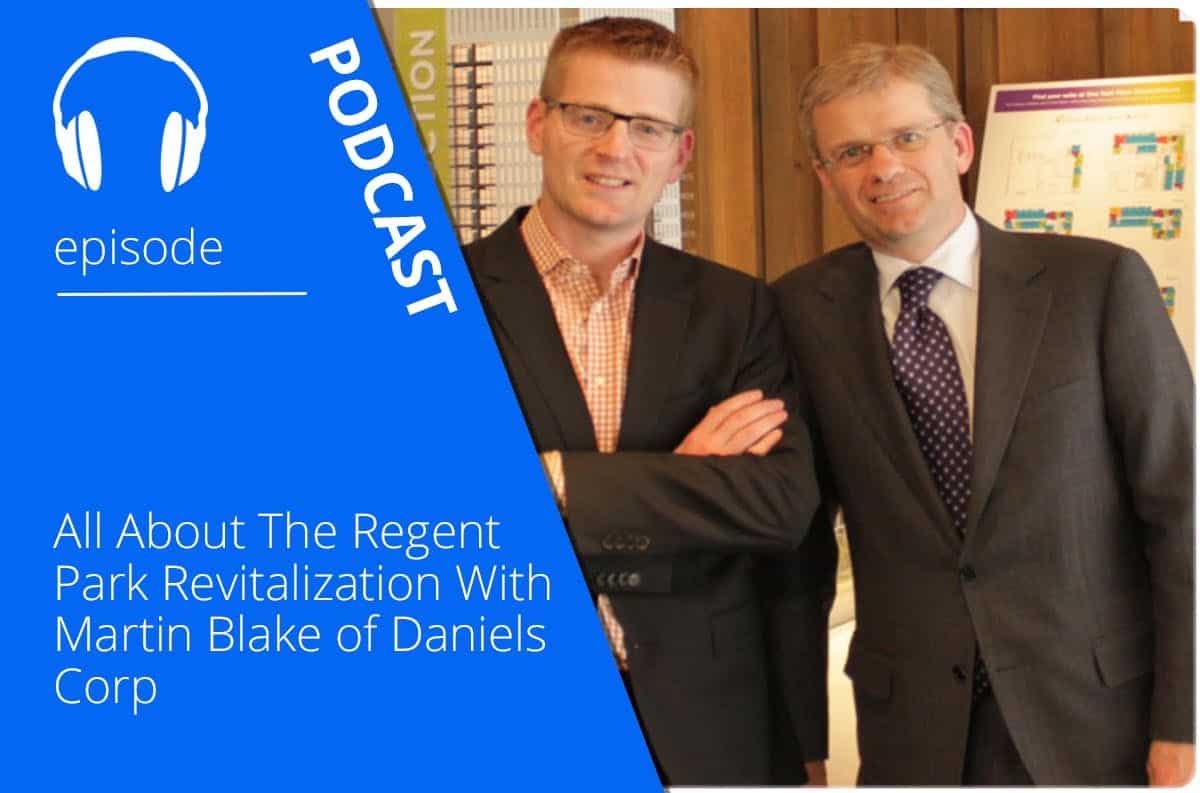 This week I got the chance to sit down and talk to Martin Blake (VP of Daniels Corporation) on the hugely successful Regent Park Revitalization project and One Park Place condos which are underway. Martin is a passionate advocate for Regent Park and he always provides great insights into why this project is so important.
Interview Highlights
0:47 Regent Park is Amazing
1:46 The Original Cabbagetown (History of Regent Park).
4:02 Time for A Change. Revitalization Begins.
4:57 What is the Whole Picture of Regent Park?
6:22 How to order a pizza in Regent Park
7:42 How Far Along Is The Revitalization?
9:25 Who would ever want to buy in Regent Park?
11:32 Building the condo Before Going On Sale
13:57 How Did Daniels Get Picked As the Developer?
15:32 What Makes One Park Place Special?
17:55 What Kind of Retail Might Be Coming?
19:12 What's Next for Regent Park?
21:35 Common Misconceptions of Regent Park.
21:52 "Regent Park is Not a Safe Area"
24:17 "Regent Park is Not a Good Investment"
25:57 "I Don't Want to Live In A Building Where There Is Subsidized Housing"
27:02 "The Quality Must Not Be That Great"
28:17 "Regent Park Isn't Downtown Enough"
29:53 Martin's Personal Investment Strategy for Regent Park
30:57 – Martin's Experience As A Landlord in Regent Park
32:07 – What Is Martin Personally Most Proud Of?
33:12 The Evolution and Success of Regent Park
36:47 How The Existing Tenants Feel Coming Back to Regent Park
Martin Blake Interview Transcript
Hey, it's Andrew la Fleur and welcome to TrueCondos.com. Next week is the big launch of One Park Place Self Tower which is the newest building in the Regent Park Revitalization Project on the east side of downtown Toronto. One Park Place is being built by Daniels Corp just like all the other buildings in Regent Park and this tower is going to be scheduled for completion in 2015.
I sat down this week with Martin Blake. Martin is the vice-president of Daniel's and I talked to him about One Park Place but also about Regent Park in general and the bigger picture of what Daniels is trying to accomplish there. Martin is a passionate advocate for Regent Park and so it's always great to hear what he has to say about this emerging neighborhood. Here it is, my interview with Martin Blake.
Andrew la Fleur
Martin, tell me, how awesome is Regent Park right now? Tell me a little bit about what's going on right now today in the community? What are you excited about?
Martin Blake
Well you know, it's the summer of 2014. We're going into just an amazing time right now. We are seeing the first full year of operation of a number of the amenders that have really come with the new revitalization like the Aquatic Centre. Daniels spectrum is running at full speed, but we've got some great new things opening up as well.
As an example, this summer we're going to have the park, the six-acre park being opened up and that's amazing. This is really the green heart of Regent Park and it's going to be a key attractor for those people thinking of buying here. It's connected to Nelson Mandela's school so it's wonderful linear park that we've created as well, which is just at the south of Dundas Street. All these areas become a destination zone for people within Region Park and it's a tremendous time to be thinking about calling Regent Park your home.
Andrew la Fleur
That's excellent. For people who aren't familiar let's go back a little bit before we get into more detail about Regent Park, what's happening here and about the opportunity that people have to buy at the One Park Place Building today. Before we get into that let's talk about the history a little bit about Regent Park, for those people who may not know.
Take us back to way back, I'm talking to the '40s, '50s when Regent Park was originally built. What was the original idea with the original Regent Park? Why was it built the way it was? How did it come about? What can you tell us about that?
Martin Blake
Sure. When you go all the way back, Regent Park was the original cabbage town. Back in the '40s, the City of Toronto was looking at what Regent Park was, the lack of sanitation, the slum dwellings, all of those things that were going on and they looked to create a revitalization of the area that would transform it and create housing for people who could really begin to call Regent Park a place to live.
The concept was that they would shut off all of the roads, the streets, the connectors to all of the communities to the north, to the south and to the west.
Andrew la Fleur
Hold on. They wanted to shut off a neighborhood to the surrounding neighborhoods and they thought that was going to be a good idea?
Martin Blake
They did. They were following something called the Garden City concept and that came from England. It was giving people an opportunity to grow within a community without being affected by cars. There were no two streets that went through. There were no connectors. This gave the kids an opportunity to play in the streets and play in the grass without really being affected.
The problem was that was a very different concept to how we live. If you think about how you live today, you have a street. When you order a pizza that pizza guy can actually come to your front door and deliver your pizza and that couldn't happen in Regent Park.
Regent Park went through a period of decline that came with the design issues of the original Garden City concept and so much so that the people at Regent Park were demanding of a change or finding a way to reconnect themselves and integrate them back into the neighbourhood.
When were people seriously talking about, "Okay, we really need to change what's happening here"? When was that?
Martin Blake
Probably the mid '90s it began but it really got serious in the early 2000s. When the province of Ontario downloaded housing to a municipality, one of the first things they did was to look at Regent Park and say how do we transform this, create something which is going to be a destination and also something that the City of Toronto is going to get excited about? How can we create something which will be revitalization that the world will look at and say this is how to change our community.
They absolutely spent all their time looking at that and came up with an approach which has been so successful to-date. In 2006, TCHC, Toronto Community Housing went out and they selected Daniels as their development partner. We've been here working, shoveling in the ground in November of 2006. We've been working here ever since.
Andrew la Fleur
Wow. Tell us a little bit about this scope. How big is this project? What is the big picture? People say they're ripping down an entire neighborhood and building it from scratch. Is that accurate? Is that what's happening?
Martin Blake
It's 69 acres. We're about 12 and a half minute walk from the Eaton Centre here, the east side of Toronto. Yeah, we actually are taking down every single building in this 69 acres and we are replacing each of the buildings, but we're doing more than that because we're building the roads again. We're incubating the community back into the fabric of Toronto which is so, so important. In fact, if you were to drive through here today in the west portion of the revitalization you'd have a hard time understanding where the original Regent Park was because it just has blended into the community.
Andrew la Fleur
You're really undoing the mistakes of the past or the previous generation and really, in a sense, the bones of Regent Park bringing them back almost 100 years to what they originally were.
Martin Blake
We are. Let's tell people that we're not doing anything that's avant garde. We're not doing something which is untested, untried, untrue. We are doing things that people have done for millennia when it comes to living. Isn't it nice to have a front door on the street? Isn't nice to be able to go outside to a shop and go to grocery store or the bank? All of those things.
Andrew la Fleur
You alluded to the pizza analogy, ordering a pizza. Explain that a little bit further. I know what you're saying but maybe somebody listening they don't understand what do you mean by that. If I lived in Regent Park 15 years ago and I ordered a pizza or I was hungry I wanted to order a pizza, what do I do?
Martin Blake
You could have called and you could have tried to describe how you could find a front door so that the delivery person could then find your apartment or your townhouse, but the reality was everything was off parking lots. The addresses sometimes didn't even meet the street that they were on because of the locations and it literally was impossible.
In fact, not only was it bad for the pizza guys but it's also bad for policing. Almost impossible for the police to be able to drive through a community as they do in my community and every community in the city just to do patrols.
With this revitalization, literally brand new streets are being integrated into the fabric. We're building them as we built the buildings. That allows us to seamlessly create a community that's connected to and part of the surrounding area.
Andrew la Fleur
What are we, about five, six years into the process here, the revitalization process?
Martin Blake
Yes. I think we're a little further ahead. We're about eight years now. We started in November of 2006. It's not 2014, so about eight years and we are halfway through phase two of Regent Park and phase one and phase two represent 50% of the geographic area of Regent Park. We're significantly into this revitalization.
Andrew la Fleur
You're almost at the halfway point?
Martin Blake
Yeah, we're at the halfway point. In fact, all of the buildings in Regent Park now are either under construction or finishing development and about to begin construction. Just to jump one step ahead, we're also at a great and exciting time right now because we're talking about and we're beginning phase three, which is again a much, much larger phase which is going to allow us to not only complete all of the work on the south side of Dundas, portion of work on the north side so that as you drive from Parliament Street towards Don Valley, all of Dundas on the north and south will be complete. It's an amazing time right now.
Andrew la Fleur
That's going to really define the neighborhood in a sense when you can drive from one end to the other and see old Regent Park is all gone and the new Regent Park, visually you'll see it.
Martin Blake
It is. It's great we have three streetcars that effectively go through Regent Park; the Dundas streetcar, the Gerrard streetcar and the Queen streetcar. When you're driving, when you're riding on the Dundas streetcar and you're coming through Regent Park a few years from now, you won't even know you went into Regent Park let alone go out of Regent Park because it's going to feel like this is incredible area that's connected to the communities.
Andrew la Fleur
Take us back to 2004, 2005, 2006. Daniels was pretty bold to take on, I guess, this project working with the city. What were some of the naysayers saying at the time? What were some of the things maybe from other developers that were saying you guys are crazy to do this or what were some of the resistance that people would say to you at the time? Now that we're five, six years into this and obviously it is successful and it is working, looking back, what were some of the things people were saying at the time?
Martin Blake
I was asked one question more than any other question and that was, "Who is going to be buying in Regent Park?" That was the question that came all the time. For us it was one of those opportunities to start talking about the people who find Regent Park and find the opportunity to be part of a revitalization so exciting.
These are people who look at the opportunities they're coming in. Where else in the City of Toronto can you say that you've got a brand new six-acre park, an Aquatic centre, an arts and cultural centre, a brand new 60,000 square foot community centre? Where else can you see that you have all these things as well as commercial and office space being introduced in such a short period of time?
The people who bought came to Regent Park to see the model that we had talk about the story to walk the streets with us to understand how a transformation can literally change a community in such a short period of time. That was the single biggest thing that happened all the time in interviews with me.
It's changed now because now people are actually coming in and saying, "Wow. It's obvious that you guys have been successful," because we have done so well with people coming in and recognizing the opportunities here that each of the buildings that we've been putting up we're actually building first and going on sale closer to the move in date, which is great because it gets certainty to people.
Andrew la Fleur
Yes. Talk to us about that with respect to Daniels. I don't think there's any other builder that does that model of condominium development. Daniels is actually able to, as you said, build the buildings first before they go on sale. A lot of people they ask me when they see the building or they see there's a sales event they say, "Oh, so the building's almost done. What were the prices like before the building was constructed?" I would say, "There was no sales." No sales have taken place until in the case of One Park Place, what we're talking about right now until today. Talk to us about Daniels and how is Daniels able to do that.
Martin Blake
We've been doing this now since around 2000 on certain projects that we feel are worth the investment and certainly Regent Park is worth the investment. I think anytime you're going through a large transformation, one of the things that you're trying to do is to demonstrate to people just how big a change will take place. We wanted to put the buildings up first. When we went on sale we weren't promising to people that would come later.
We were able to sit there and say to them, "Hey listen, this is going to be happening right here, right now and you're going to be moving in six month's time." That allowed people to take advantage of less marketing costs on Daniels behalf. It also allowed us to give certainty that move in which meant that they could get the best possible rate when it came to mortgages they were getting. It really changed the tenure of the community because people were buying in here, they were living here, this was their home.
Andrew la Fleur
Yeah. That's one of the things that I've noticed and that I always point out to people who are thinking about buying into these buildings that because the buildings are built first, that attracts a different sort of buyer and basically, it attracts more end-user type buyers, people who are moving into the suites as opposed to the average downtown condo building which is, quite frankly, the vast majority is investor owned. It's not necessarily a bad thing but it results in a very different building, a very different feel in the building, different community once the buildings are actually finished.
Martin Blake
I would agree with you. I'd say one of the things that we've probably seen which is even the investors that we do have who've bought in Regent Park are long-term investors. They're buying because they want to actually own something and they feel that this is going to be a great carrier for value. They've seen that value in the price escalation of the units that they have here, which is great.
Andrew la Fleur
How did Daniels actually get picked to be the developer to build Regent Part? I imagined there were quite a few developers at the time who were looking to partner with the city and be part of this project.
Martin Blake
There were. In fact, in the first RFP, which is a request looking for a partner, Toronto Community Housing actually didn't choose Daniels, they chose a different developer. Their relationship with the developer didn't go through and then on the 89th day of a 90-day due diligence period they parted ways. When Toronto Community Housing went out the second time, what they were looking to do was exactly what we were hoping for which was they wanted to find a partner. They wanted to find someone who is going to work with them not just to come and buy land but to actually work with them to change a community.
One of the big things that goes on within Regent Park is support for the ongoing community that's here. It's a very proud community within Regent Park. People are very proud to live here. It's great that we are replacing the housing that were taking down. All that's happening in Regent Park is that we are adding housing as opposed to just replacing housing.
Yes, we are replacing the 2,000 units that we're knocking down with new units. We're also adding a further 4,000 or so units on top of that and that changes the community because now more opportunities are happening within the community as well. It was a very important for us to think of a partnership with Toronto Community Housing as the model going forward for the revitalization. Both Daniels and TCHC have firmly held to that partnership model since day one.
Andrew la Fleur
That's great. Shifting gears to today and the opportunity before it's today with the current building One Park Place Sell Tower. Maybe give us a little rundown of One Park Place, the building, and what makes it unique or special versus the other buildings that are already existing, Paintbox, One Park West, One Cole. What makes One Park Place a unique offering?
Martin Blake
What I would say is that we learn all the time and we get better all the time and that's a great thing to be able to say. We have certainly listened to everyone who've bought in Regent Park, who's a homeowner, who's come forward with suggestions.
One Park Place is the largest project we have in Regent Park. It's a two-phased project which means that we're able to do an awful lot more in this project than we have been able to do to-date. To give you an example, one of the things that's key for us is amenities and amenity packages and building things that people will use.
As an example, we have a tremendous response from the green roofs that we've built. The accessible green roofs where people are able to garden and almost have a picnic for themselves in their own little space.
Andrew la Fleur:
Right. Like a private garden.
Martin Blake
Absolutely. We've done the same thing in One Park Place and along with that, we've also heard from people about how important it is for them to be able to grow things and to be able to have agriculture within their communities, so we have gardening pots for people.
Inside the building we've also been able to think about wow, we've got a lot of people here. We can create a larger living space. It can also have gym to it, so we have a basketball court as part of this space which is something we haven't been able to do to-date.
All the way along we listen to people and what they're saying to us with respect to finishes in their suites and how important kitchen finishes are to them, how important floor finish is. We're looking at all of those things in each of the buildings and we're getting better all the time.
I'm thrilled with the finishes we have here. I'm thrilled with the spaces that we've created here. When you walk in, the building feels like a high-end condominium in Toronto and that's exactly what it should feel like, it's exactly what it is and it's in a community which is going through this incredible revitalization at the same time.
Andrew la Fleur
I know there's a large retail component to One Park Place. What can you share with us today about what the plans might be or can you give us any teasers about what might be counting in the retail portion of One Park Place? What can buyers expect there?
Martin Blake
We're very excited about this and probably, unfortunately, just a couple of weeks too early to talk about specifics at this point. I can tell you that for the last two years, all of us had been working towards a singular goal and that is to bring something unique to Regent Park. In about two weeks time we're expecting to be able to make a major announcement about what's coming.
It's something that we have looked at and said to ourselves, "If we were in a community, a new community, what is it that singles, that families, that seniors, what is it that people would really appreciate to have in a community that they would want to be able to access, to use and really get value from?" We're about two weeks away from announcing that and I'm thrilled to tell you when we get there.
Andrew la Fleur
Great. It's a good teaser for us, thanks. We'll have to come back and talk about that again once the announcement has been made. Moving on, what are the next 12 months looking like for Regent Park? The construction is going to be completed obviously, but then, what's next? What's the next big push in the area after One Park Place, after the park has been completed? Of course very soon it will be completed as well. What's next?
Martin Blake
Literally four days ago, Toronto Community Housing's Board of Directors approved the remaining phase two and phase three business plans. What that means is 12 months from now all of the projects in phase two will be under construction and all of the buildings in the phase there will have been demolished. That's key for us because part of what we like to be able to do is to keep the momentum going.
As you spoke earlier about the fact that Daniels likes to build first and then once we have something ready for people we can go on sale, we're trying to keep that exact same momentum as we go forward. We're not waiting until we finished phase two, before we start phase three. Quite the opposite, this time next year I'd like to have at least one maybe two projects in phase three also under construction while we're finishing off phase two.
What that does is allow people to really understand the scope and scale of the momentum that goes with Regent Park. Talking about the commercial space within One Park Place about 45,000 square feet, we want to add to that. We have people coming to us and saying, "Okay, so I've seen everyone else been successful. How do I come here?"
As an example, the Toronto Birthing Centre, the first birthing centre in Ontario. That's a midwife driven birthing centre and it came to Regent Park as its home base. You're already beginning to see some of the medical opportunities that are coming down there. We got the dentist opening up soon as well.
You will see an evolution of Regent Park in 12 months but really it's a continuation of all the things that have happened today and building on the successes we've had.
Andrew la Fleur
That's great. I'm looking forward to more exciting things in the next year. Now, there are a lot of misconceptions I find. I've been working and selling condos in Regent Park and investing in myself as you know over the last five years. I find that there's common misconceptions that I hear from perspective buyers or people looking at the neighborhood time and time again. I thought maybe I'd put some of these misconceptions out to you, things that people will frequently say about the area and then I'd just love to hear what your thoughts were on them and how would you respond.
The first one, the big one, maybe the most commonly heard one is Regent Park is not a safe area. What would you say to that and people who have that conception?
Martin Blake
I'd start off and talk about the community. The community is incredibly proud. We have 2,000 homes in Regent Park before we started. All 2,000 homes are being replaced. All of the people who live in Regent Park have what's referred to as a right to return. They signed a document with Toronto Community Housing that guarantees their right to return. The people who are living here now cannot wait to get back and you see that in the percentages of people from Regent Park who are moving back. That's a very important thing to see because what that says is that the community itself is happy to be here, they want to be here.
You then go to the next step which is, are people buying in Regent Park? Are people feeling safe in moving in here? The answer is an absolute yes. One of our biggest demographics that we have in Regent Park are single women. Single women are a huge demographic in Regent Park who come and buy here. They love the transportation. They love the concept of how the streets are lit at night. They love how this really feels like a community.
We have families moving in and we have families with kids moving in and I love to see that because what that really says is not only do they have a belief in the community but they also want to be able to understand how their kids are going to be able to enjoy it.
We had a small gathering about six months ago now where we invited people with kids to come and see some of the designs we're working on in phase two and phase three and we were expecting 10 to 12 families to show up. We had over 30 families show up who live in the community who were saying, "Here's what I want for my next building. Here's what I want for my next condo." That reinforces the fact that having lived here for a few years, they're thinking about their next house in Regent Park.
I think that a concept of a safe area certainly has been played out and you hear it more in media than you do in the community. I would invite everyone that come to Regent Park walk the streets, have a look at the area and, quite frankly, try to understand where Regent Park extends to because with the integration of the streets now and the connections to communities is getting harder and harder to understand the geographic area of Regent Park.
Andrew la Fleur
Another common thing that I hear is Regent Park is a bad place to invest. What would you say to somebody who thinks that?
Martin Blake
I would encourage them just to look at the facts. Look at how much people have paid for their original house, what it's selling for today, see that people originally bought at in Regent Park and One Cole back in 2009 and have made tremendous profit from what they've lived on.
The interesting thing is not very many people have sold. So many people have hold on to that because they were end-users or they were long-term investors, but the ones who have have done tremendously well. I'd also look at this and say for those people who are thinking about Regent Park as an investment that's going to be renting, check out what the rents are. Go on Kijiji, go on Craigslist, go on MLS and have a look and see what people are getting for rents.
We actually have purpose built rental companies coming to us now and saying, "Wow. You guys are leading the charge out here. You're doing so well. How do we get a piece of what's going on in Regent Park because it's been so successful?"
Andrew la Fleur
You mean companies are looking to purchase in bulk from you?
Martin Blake
Yeah. People talk to us about buying a building and being part of Regent Park. How could they bring their name, their brand to Regent Park and piggyback on the success of the revitalization?
Andrew la Fleur
Million dollar investment, real estate investment companies are coming to you and looking to put their money in here. It's not an opportunity that exists but they're looking to do that. That's speaking to the demand there.
How about this one: "I don't want to buy a condo in Regent Park because I don't want to live in a building where there's subsidized housing."
Martin Blake
An absolute misconception has been there since day one. The community is integrated, which means that there are buildings that are part of the TCHC replacement, but those buildings are exclusive to Toronto Community Housing. There are also buildings which are market buildings, so a market condominium where you can own a unit.
We haven't integrated those together. Their buildings are side by side. As you walk down the street it's almost impossible to tell which townhouse row would be Toronto Community Housing rental or which would be a market ownership. There is not cross-integration within the building themselves.
Andrew la Fleur
How about this misconception about Regent Park or something I hear frequently. The price points in Regent Park are so low that the quality must be pretty bad in these buildings, right? I mean, you guys as developers you have to make money so you must be cutting corner somewhere. How is the quality? It's not that good or … ?
Martin Blake
I always like to get the purchasers to tell us. That's most important things. In 2012, when we were voted as the High Rise Builder of the Year and that was all of the work that we were doing here in Regent Park, that spoke to what we were putting out. This is the carry-on awards so it's not the industry voting for their developer of choice, it's the actual purchasers responding to the Ontario New Home Warranty Program and saying, "Of all the places that I'm living, this is the best possible place, this is the best possible builder." That's what we're delivering. That level of quality is phenomenal. We were again a finalist last year and this year as well. That speaks to the importance that we put on the qualities in here.
The price points that we have in Regent Park are really good, but they're really good because we were able to look at Regent Park as a larger investment, not just one building. The quality is absolutely front and center and I would encourage everyone to come and actually have a tour of the units because they are spectacular.
Andrew la Fleur
Here's the last one: Regent Park, the neighborhood, is not downtown enough, I hear a lot. It's not a good location.
Martin Blake
I think we started off talking about how long does it take you to walk to the Eaton Centre. I always think of the Eaton Centre as being downtown because you are a minute or two being in the towers and you're also a minute or two just going up to Dundas and being at Dundas Square. It's about 12 and a half minute walk from where we are today to the Eaton Centre.
One of the things that's most important for me is the fact that you can jump on three streetcars. Take the 24-hour Queen streetcar, take the Dundas streetcar, the Gerrard streetcar, jump on a Bixi bike. Go there. At the same time, we also have zipcars and autoshare. Everything is here in Regent Park.
The connections are great but what's interesting about that question though is that it's also right beside the Don Valley Parkway. People move here because they're actually driving up and commuting somewhere else because the Don Valley is right there for them and they're going against traffic when they're doing it. We look at the location we say not only are we thrilled with location but we are just north of the Pan Am Village, we're just north of all the investments that's going into the west [inaudible 00:29:39] into those areas into the waterfront down there. People who are buying here have access to downtown to the lake to the transportation to the highways. It's for us a center eyes location.
Andrew la Fleur
Have you personally invested in Regent Park yourself?
Martin Blake
I have indeed.
Andrew la Fleur
Can you tell us a little bit about that? What have you bought? Speaking to maybe perspective condo investors always interested to know what other people are doing, what have you bought, why did you buy what you bought and what's your long-term plan with your investments in Regent Park on a personal level?
Martin Blake
I bought two units I own in Regent Park both as long-term rental. I bought my first one in 2009, I bought my second in 2012. I look forward to buying my next one as well. One of the things that I'm trying to do is to diversify a little bit. I have a two-bedroom and a one-bedroom. I'd like to be able to [inaudible 00:30:38] about a one-bedroom plus 10, maybe even buy a townhouse.
All of these, to me, are great investments because I believe in the community. The people who are renting here for me are key as well because they've chosen this community. A lot of places they'll live and endow in Toronto but they've chosen to live here because they live in it.
To our earlier conversation about the single biggest demographic I've also had a single woman who's rented from me as well. All of them have been multiple year rentals and all of them have been, for me, a great experience.
Andrew la Fleur
What are you most proud of? I know obviously anybody listening can tell it's more than just a professional job thing for you, Regent Park, it's very personal to you. You put a lot of yourself into these projects. What are you most proud of personally? We're still on the early stages and there's still a lot of good things to come, but to-date what are you most proud of in Regent Park?
Martin Blake
I'd say the constant evolution. When we began, we had an idea of what we want to do and that was to begin to create a community. We didn't have an idea that we were going to get to a point where Regent Park would become a destination for theater as an example, with Daniels Spectrum opening up, the arts and cultural centre.
What we had been able to do as a group, Toronto Community Housing and Daniels, is to take advantage of opportunities to change the nature of the community and to allow opportunities to come that we would never been able to dream of when we started off. I think that's probably the single biggest thing that we are all proud of and that is to not stop thinking and re-imagining and listening to what else we can do with a community like Regent Park.
Andrew la Fleur
It's an evolution. You have your plans in place, your big picture for the neighborhood over 15, 20 years, however long it takes, but you also want to be responsive to the needs of the community as things evolve and what things could change. If there's ways to make things better you're open to changing the master plan.
MMartin Blake
Absolutely. I think that the success of Regent Park has been from the evolution that comes with it. One of the trends that I see happening now is we have a number of people who are buying here and they may also have a home outside of the city. Thinking about how to program and how to make spaces work for them, but also families. We're seeing so many people come in here starting off a family and choosing Regent Park. I'm excited to have them come to me and say to me, "You know what you're missing? This is what we'd like to have next because that's going to get us excited."
As an example, this arrangement we've just made with Maple Leaf Sports & Entertainment for the new athletic centre that's going into phase three which is going to have refurbished ice rink, the new basketball court, the soccer pitch which is convertible to a cricket pitch was well as the kids' play areas and community gardens. All of those things say that we listen and we adapt because that wasn't there originally.
We heard from people and they said, "We need a space for the kids to play, to have organized sports, to do all those things," and instead of just going out and just building a field we went out and drove a partnership with Maple Leaf Sports & Entertainment to allow them to come down here. They are tremendously excited to be able to go and raise money to come here and program space where the Leafs, the Raptors and Toronto SC will be coming and taking practicing.
Andrew la Fleur
The sports field which is in southeast corner of the neighborhood, which we didn't talk too much about this interview, that's going to be a big part of the community. That was not part of the original plan.
Martin Blake
Not at all and I'm excited to say that's the first thing that we're starting construction on in phase three. Again, it's build it first. What we're saying is it's more important for us to have the infrastructure in place in phase three before we put the buildings out.
Andrew la Fleur
It just makes for a much better [inaudible 00:34:53] it means that when you're moving into these new buildings, you're now moving to a place with no infrastructure where everything is just a construction mess and you have a house, you have nothing else. You actually are moving into a community that you hit the ground running as a resident of the area.
Martin Blake
Let me paint a picture for you. It's the end of 2014 or early 2015, you're taking your dog for a walk off to the off-leash dog area. You're walking past a community bake oven, looking into the green house and seeing what's being built there. You're cutting across the park through this splash pad towards the Aquatic Centre, walking down to the Maple Leaf Sports & Entertainment athletic grounds and you're seeing kids playing on the soccer pitch. You're seeing the basketball cup beam in use. You're seeing parents watching their kids have fun. That's the Regent Park that we're driving towards and it's just around the corner.
Andrew la Fleur
It's just around the corner. It's not 5, 10 years away. It's not a pipe dream. It's under construction. It's almost ready to go.
Martin Blake
It's exciting.
Andrew la Fleur
Just a final closing question. You've been interviewed a lot of times by a lot of different media and print and online and TV and radio. Is there one question that no one has ever asked you that you wished or that you wish that someone would ask you about Regent Park?
Martin Blake
I don't often get asked about how the existing tenants, those people who are living here before, how they're finding coming back to Regent Park because obviously, things are changing. It's different from when they left. That's a really interesting question because if you think about that this really is saying, "I'm sorry Mr. and Mrs. Smith, we're going to have to knock down your house. You have to leave and in three years you're going to go back." "What it's going to be like when I come back?"
What I would say is that this revitalization has created opportunities not only for the people who are buying here and becoming owners in Regent Park. For those residents who'd been part of the revitalization who had to move, we've created over 770 jobs from this revitalization to-date.
We have created opportunities for programs to start and to flourish, the Daniels Centre of Learning. We have created opportunities for things like the Dixon Mill Centre to be able to build all of the thank you gifts that we give our purchasers as they come in.
We've been able to find opportunities for the residents to be able to start careers in the culinary arts by starting to work at the Paintbox Bistro, the restaurant in Regent Park and then going from that at George Brown College. We found opportunities for people to be able get their degrees from universities not included in Canada recognized through accreditation at University of Toronto, York and Ryerson.
All of these things speak to a community that is completely bought into the changes that are happening here and excited about the future of Regent Park.
Andrew la Fleur
That's great. Well, thank you very much Martin for your time. Appreciate you sharing your insights and your passion with everybody listening today. Would you be okay if we came back in a few weeks once you've made that big announcement about the retail partner at One Park Place? Maybe we'll have another conversation again about who that is and what the significance is to Regent Park.
Martin Blake
I'd love to be able to tell your listeners about what's coming up. Yes, absolutely.
Andrew la Fleur
Great. Okay, thanks a lot Martin.
Martin Blake
Appreciate your time.
Andrew la Fleur
Okay, so there it is. My interview with Martin Blake of Daniels Corp. I hope you enjoyed the interview and I hope you learned something new. If you're interesting in learning more about what's happening in Regent Park and the opportunity that exists right now specifically with the launch of One Park Place, just sent me an email, andrew@truecondos.com, and I'll be sure to get back to you right away.
I'm Andrew la Fleur and you've been listening to TrueCondos.com.