Regent Park Revitalization Plan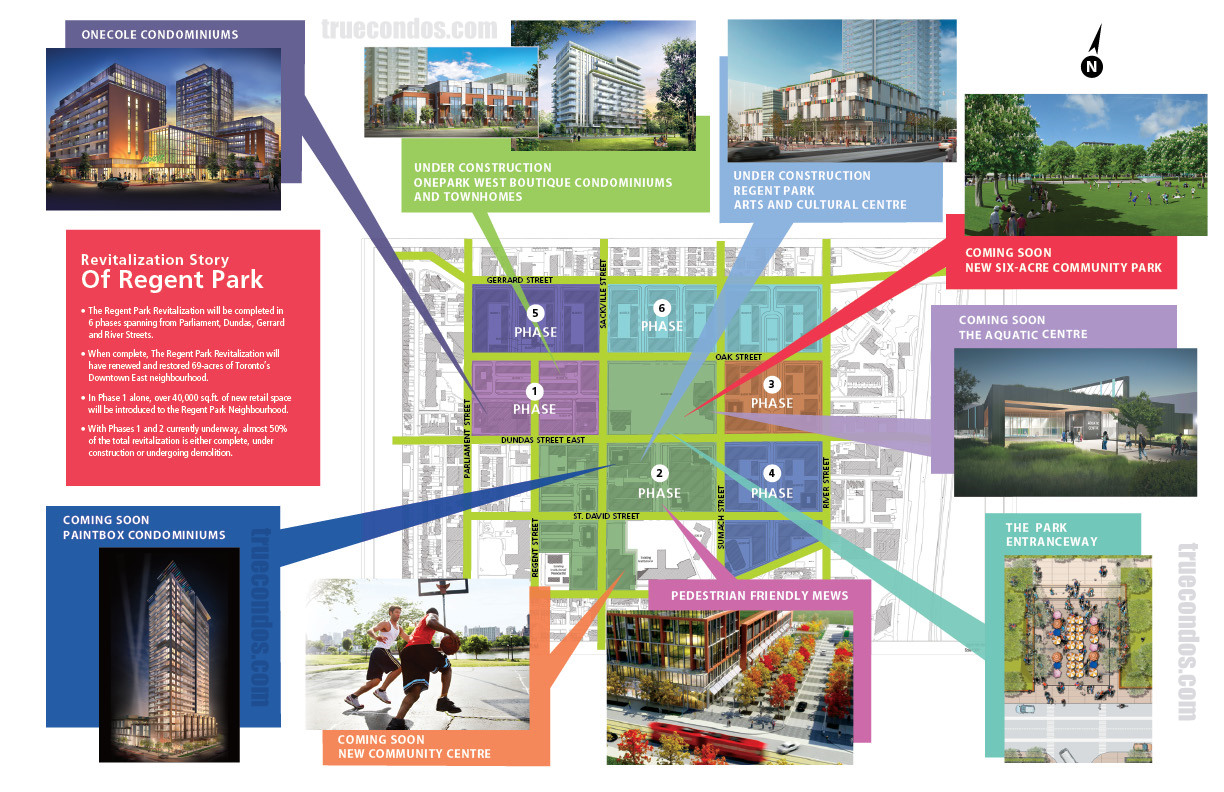 I had the opportunity last week to attend a special luncheon event for the Regent Park Platinum Producers Club (agents who have special insider access to all the upcoming Regent Park condos including Paintbox). They outlined some of the details for the much anticipated project Paintbox Condos, and they also filled us in on the progress of the entire Regent Park Revitalization plan.
I find the above graphic very useful in explaining to first time buyers and investors about what exactly is happening in Regent Park today and over the next several years. [Click on the graphic for the full size image]. Highlights of the new Regent Park will include a massive Aquatic Centre, 6-acre park, pedestrian mews and the Arts and Cultural Centre.
You can quickly get a sense of the scale of the project, as well as in what order things are going to be constructed. Phase 1 is WELL underway with One Cole finished, Sobey's/Rogers/Tim Horton's/RBC are all open for business, and One Park West will be completed this summer. Phase 2 is where the real action begins and Paintbox will be right in the heart of it. The two things that will potentially be real 'game changers' for Regent Park will be located here:
Regent Park Arts and Cultural Centre. This building has millions in federal funding behind it and sounds like it will be incredible. This will be a building for TORONTO, not just Regent Park. Key events will happen here. Movers and shakers will spend time here. This could be HUGE for this neighbourhood.
Pedestrian Mews. This will be a European-style urban park/walking area that will be landscaped and apparently will have cafes, shops, restaurants attached to it. This will be a car-free zone. Think about the Distillery District feel and how much people love spending time there. On a smaller scale, that is exactly what they are aiming to have in the heart of Regent Park. Very exciting!
If you are interested in investing or living in the new Regent Park, please contact me.