Savile on the Roe Towns
| | | | |
| --- | --- | --- | --- |
| | Address | 413 Roehampton Avenue, Toronto | |
| Developer | Block Developments, Tiffany Park Homes | Occupancy | December 2023 |
| Area | Yonge and Eglinton | Deposit | 15% Before Occupancy |
| Storeys | Townhomes | Maint. Fees | $0.40 psf/m |
| Units | 28 | Prices | $1.1M |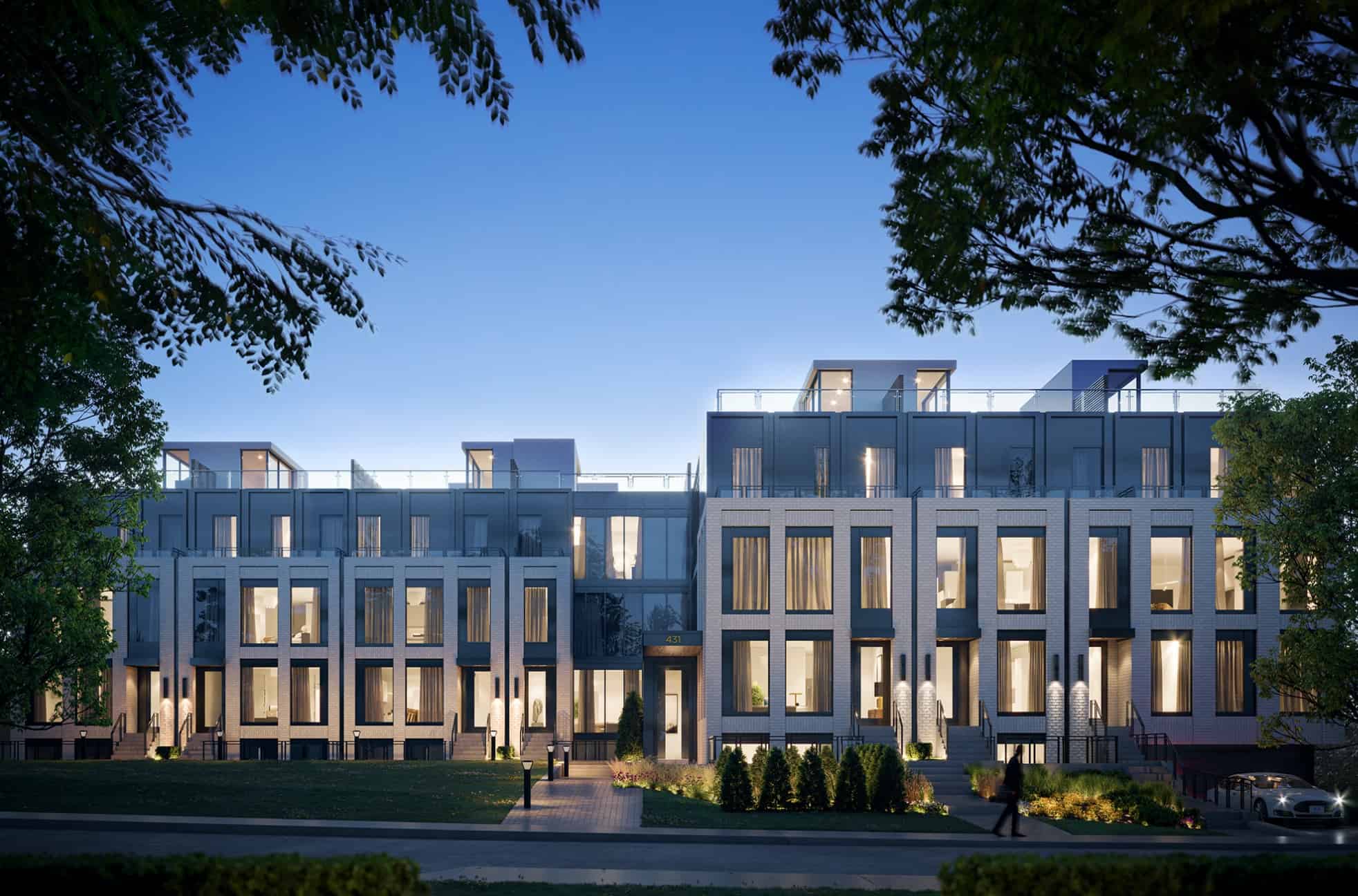 About Savile on the Roe Towns
Welcome to Savile on the Roe, a limited collection of twenty- eight luxury residences tucked into the enviable Mount Pleasant neighbourhood, just moments from Yonge & Eglinton.
Considered a symbol of luxury synonymous with high-end bespoke tailoring since the late 18th Century, this iconic London street represents an elite level of customized distinction. Inspired by Savile Row, experience an exquisitely crafted bespoke lifestyle perfectly tailored to your taste.
More than just a beautiful building, experience unequivocal elegance blended effortlessly with contemporary style. Classic brickwork complements the surrounding neighbourhood, while the accent of charcoal metal panels adds modern drama. Choice layouts include private rooftop terraces, front yard patios, and enviable backyards for intimate and exclusive al fresco living.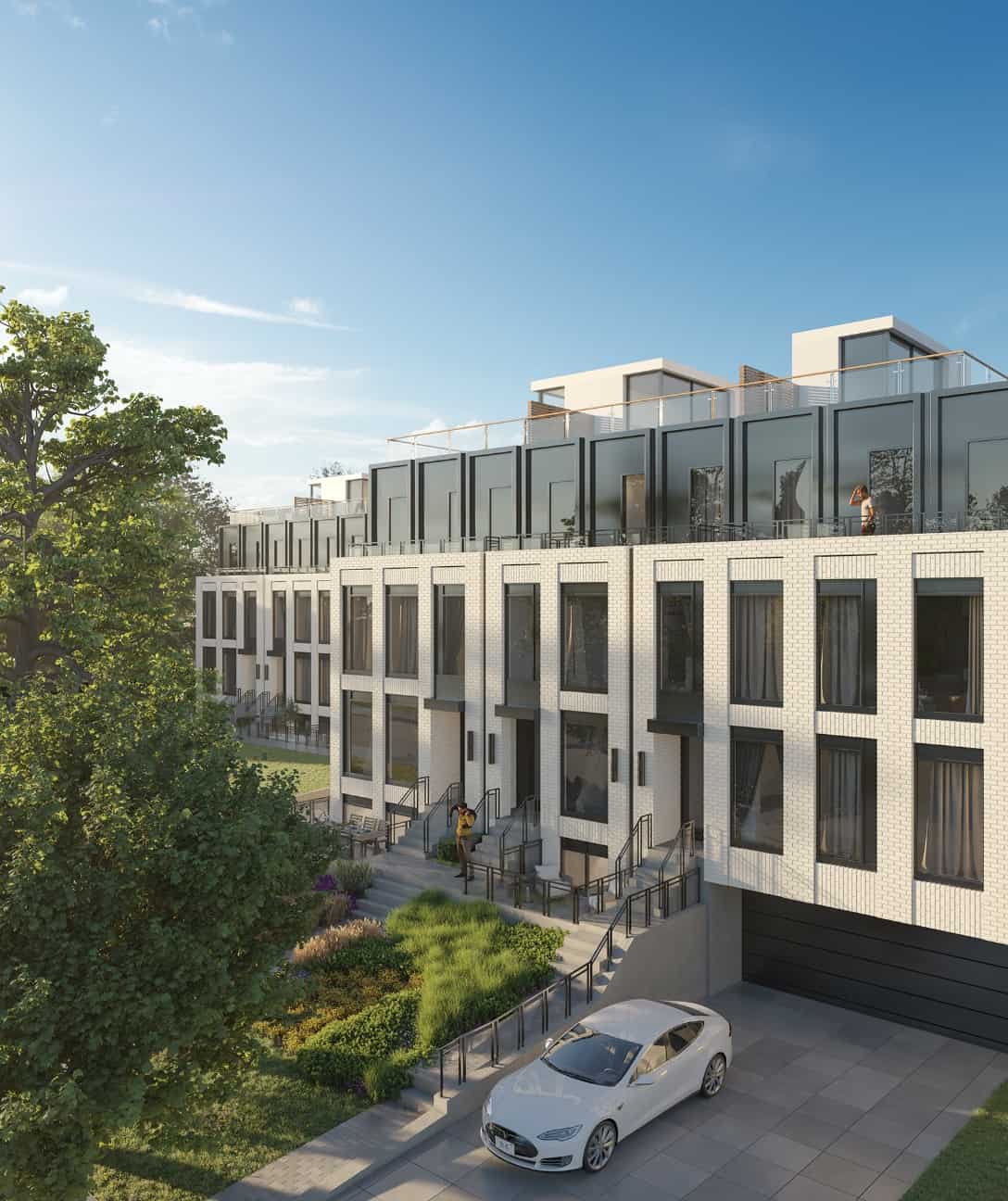 Savile on the Roe Towns Location
Experience the cachet of an enviable neighbourhood in the heart of the city – Mount Pleasant offers exclusive living with all the benefits of being moments from Yonge & Eglinton.
Embraced by forested ravines and an abundance of parks and paths yet moments from luxury shopping, sublime lifestyle amenities as well as diverse cuisine, social wine bars and an eclectic café culture, this bustling midtown location has it all.
Just a 15 minute walk to the Eglinton Subway station and only a 7 minute walk to the upcoming Crosstown LRT stop, Savile on the Roe perfectly positions you at the centre of the city in a secluded sanctuary.
Savile on the Row Towns will be located just east of Mount Pleasant Road, north of Eglinton Avenue East at 413 Roehampton Avenue in the Yonge and Eglinton neighbourhood of Toronto, ON.
The area is booming, yet still maintains more of a sense of community, while also giving you all the amenities of the core – abundant green space, proximity to top-rated schools, Toronto's next big transit hub, and quick access to downtown Toronto, look no further than Savile on the Roe Towns, where the city comes together!
TOP RANKED SCHOOLS
Midtown Toronto is consistently rated as being home to Toronto's most sought after schools. Savile on the Roe will be in close proximity to top-ranked schools such as:
– Blythwood Public School
– North Toronto Collegiate Institute
– Northern Secondary School
– St Clement's School and more!
ONE STOP SHOPPING AND DINING
Savile on Roe Towns is near some of the best shopping and restaurants in the city, with many favourites restaurants nearby, as well as popular brands at Yonge-Eglinton Centre:
– Cibo Wine Bar
– Sephora
– Five Doors North
– Winner's
– Grazie
– The Keg
– Bar Buca
– Little Sister
– Khau Gully
– Tabule
– Byblos Uptown
– M Boutique
– Indigo
– De Mello Palheta
– La Carnita
– LCBO
– Starbucks and so many more!
TRANSIT AT YOUR DOOR
Savile on the Roe Towns has a number of amazing transit connections, making getting around a breeze:
– New Crosstown LRT (Line 5) provides and underground rapid east-west transit connection, located at Yonge and Eglinton (the city's newest transit hub)
– TTC Line 1 (Yonge-University-Spadina Line), the city's most crucial subway line, connecting residents of 55 Eglinton Ave East to Yonge and Bloor, the financial district, North York, University of Toronto, Ryerson University and more
– Plenty of local bus routes as well as Bike Share stations abound, this neighbourhood truly is a paradise for walking, cycling and using transit
About the Developer
Block Developments is a real estate investment and development firm with a mandate to provide homebuyers with beautifully designed and meticulously crafted homes in outstanding locations. Our guiding philosophy is to create dynamic urban revitalization with vibrant master planned mixed-use communities offering sustainable green living and cutting-edge technology. Featuring superior amenities and premium features and finishes, every suite is developed to the highest standards with the resident's ultimate enjoyment in mind.
At Tiffany Park Homes we believe we're earning our customer's trust and respect with every home that we build. From our beginnings as a small family business, our commitment to quality construction and customer service has helped us to grow into one of the most reputable homebuilders in the GTA, with an enviable reputation of thousands of fine homes built over 20 years.
Each of the principals brings a different skill-set to the company — construction, design and management — and together, we have built a support team of professionals around us that ensure that we always create the finest possible homes and communities. We care about our customers, and we're always prepared to go the extra mile to provide the highest quality of service.
Savile on the Roe Towns FAQs
How do I reserve a unit in this project?
After you review the floor plans and prices, if you know what suites you are interested in, you may reserve a suite online using our online reservation worksheet form at https://truecondos.com/worksheet.
Does filling out the worksheet form mean I'm committing to buy a suite?
No it is not a formal commitment, it is an expression of interest and the first step you must take if you are thinking about getting a unit in this project.
What does it mean that Andrew la Fleur is a "Platinum Agent"?
Platinum agents are the top selling agents who get preferred status with developers and first access to new projects before regular agents and the public.
Andrew la Fleur has been a top-selling pre-construction agent since 2007, and during this time he has achieved platinum status with many of the top builders and sales companies in the Greater Toronto Area.
For more information on about Platinum agents see this article: https://truecondos.com/5-things-to-know-about-buying-a-condo-with-a-platinum-vip-realtor-real-estate-agent/
How does it benefit me as a buyer to work with Andrew la Fleur as my Platinum Agent?
Working with me as your Platinum agent gives you several benefits
You get the

highest level of access

in the building

You pay the

lowest possible price

for the unit (prices are typically increased significantly after the Platinum sales event)

The best possible

incentives

I do not represent the builder. I represent you. You benefit from my expertise of being a top selling pre-construction agent and investor myself since 2007.

Access to my personal network of mortgage brokers, lawyers, property management, HST rebate services, handymen and much more.

My services to you as a buyer are

free
Do I get a cooling off period? What is it for?
Yes, after you sign the contract to purchase a suite you will have a standard 10-day cooling off period. It's 10 calendar days, not business days from the time you sign.
The 10 days are primarily for 2 things: 1) to have a lawyer review your contract with you if you wish and 2) to get a mortgage pre-approval letter
Do I need to have a lawyer?
You don't need to have a lawyer at the moment that you sign the agreement, however I always recommend that you have a qualified lawyer review your agreement of purchase and sale after you sign and during your 10-day cooling off period.
Not sure who to talk to? Don't worry – getting a lawyer is something I can help you with. Contact me for more details.
Do I need to have a mortgage pre-approval to buy?
95% of all builders will require you to provide them with proof of financing capability in order to purchase. This is not required before you sign a contract, but it is usually required within 60 days of signing.
Not sure where to begin? Don't worry – getting a mortgage pre-approval is something that I can help you with. Contact me for more details.
Do the prices include HST?
If you are purchasing for yourself and plan to move in, then yes, prices include the HST and there is nothing you will have to pay at final closing.
If you are purchasing as an investment rental property, then you will have to pay approximately 7.8% of the purchase price as HST on final closing.
This money is remitted to the CRA and as an investor renting out your property you can apply to the CRA immediately to get this money back. It usually takes about 1 month to get your rebate back.
For more information on the HST, see here:
https://truecondos.com/tag/hst-rebates/
Contact me for more details.
What are my closing costs on a pre-construction condo?
Closing costs on a pre-construction condo will vary greatly depending on the actual purchase price of the unit you are buying, but it also depends on the builder, the city that you are buying in, and the type of unit that you are buying.
Roughly speaking in Toronto you can expect to pay approximately 3-5% of the purchase price in closing costs when purchasing a brand new condo.
Check out this article for more info on closing costs:
https://truecondos.com/5-things-to-know-about-closing-costs-when-investing-in-a-pre-construction-condo/
Contact me for more details
Are there any 'hidden' costs when buying a pre-construction condo?
No, there are no hidden fees when buying pre-construction condos because all fees must be disclosed in the agreement of purchase and sale. All purchasers have 10 days to review the agreement and have a lawyer advise them on the exact closing cost amounts. If you need a lawyer to help you we can suggest to you to several expert law firms that will review your agreement in detail.
Is it possible to assign my condo? How much is the assignment fee?
Most condo builders do allow you to sell your unit before the building is complete. This projcess is called selling by "assignment".
There is usually an assignment fee and a legal fee associated with selling. Costs can range from $1000-7000. Contact me for more details.