The Moderne Condos
| | |
| --- | --- |
| Developer | Spallacci Homes and Valery Homes |
| Address | Royal Connaught Square Community | 112 King Street East, Hamilton |
| Neighbourhood | Hamilton |
| Number of Storeys | 36 |
| Number of Units | 0 |
| Occupancy Date | TBA |
| Maintenance Fees | TBA |
| Priced From | TBA |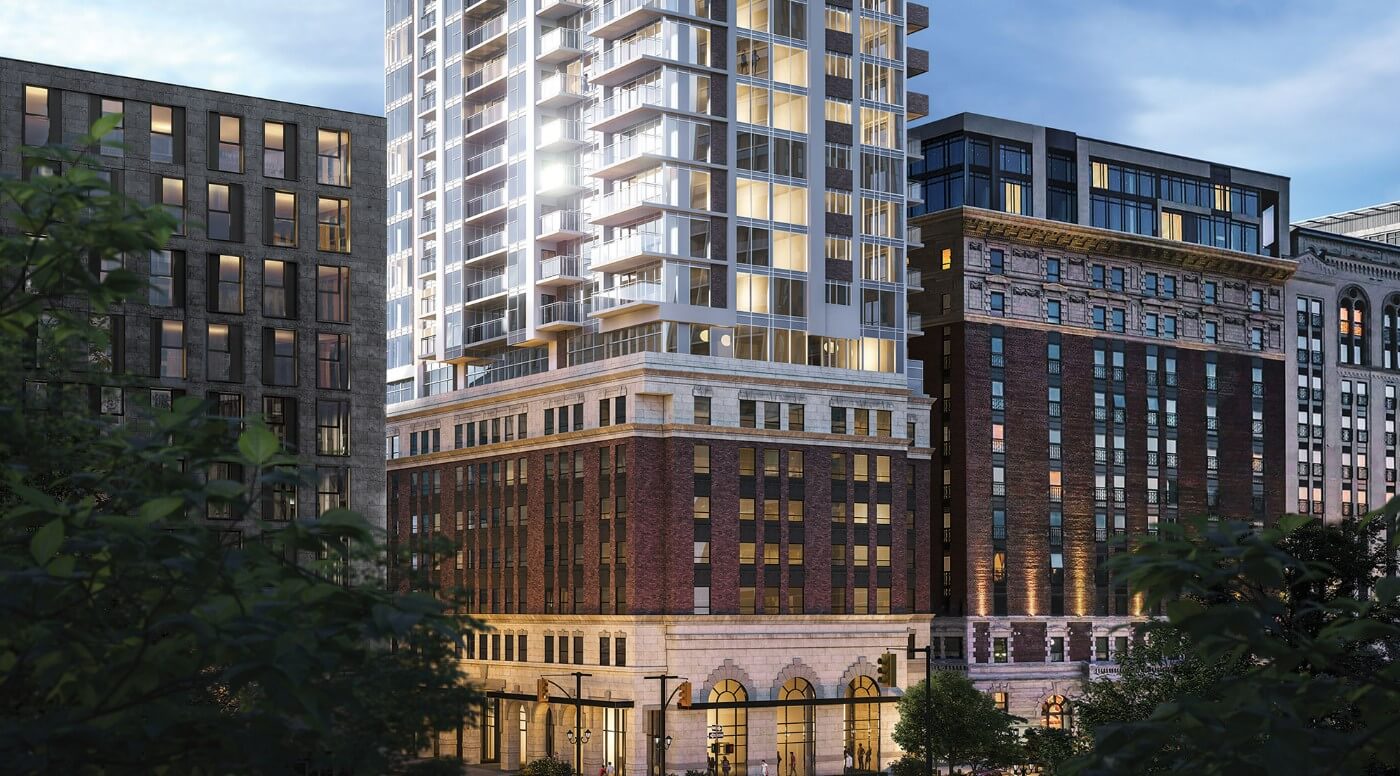 About The Moderne Condos
LUXURIOUSLY APPOINTED SUITES
Spallacci Group and Valery Homes introduce the Moderne, the newest legacy on the rise in the iconic Royal Connaught Square. Soaring as high as 36 stories, this exquisite building will stand as the tallest condominium tower, that will transcend the imagination, in downtown Hamilton. The exterior façade features a monumental deco inspired podium, state-of-the-art sleek and reflective glass, with intricate accents of elemental precast. Residents have access to exclusive amenities that will enrich and enliven their condominium living, as well as, thoughtfully crafted living spaces that are unrivaled by any other residence in Hamilton.
THE ENTRANCE-AN ELEGANT ARRIVAL
Upon entering the lobby, you will be greeted with an elevated sensibility of exquisite proportions and materials that are always unexpected, richly textured, and beautifully illuminated. Porcelain and bronze inlay walls evoke the classic feel of an era bygone, yet undeniably modern. Discover places to gather before ascending to your distinctive condo residence or exclusive social club.
THE RESIDENCES-BREATHTAKING VIEWS EVERY DAY
The spectacular panoramic views of the city maximize the living space, delivering incredible visuals of the city's monumental architecture, Hamilton's downtown core, and crimson sunsets into your residence. Condominium spaces range from 1 bedroom, 1 bedroom + den, and 2 bedroom floorplans, all of which are a celebration of craftsmanship. The Moderne also includes elite penthouse suites, that reign atop of this monumental building.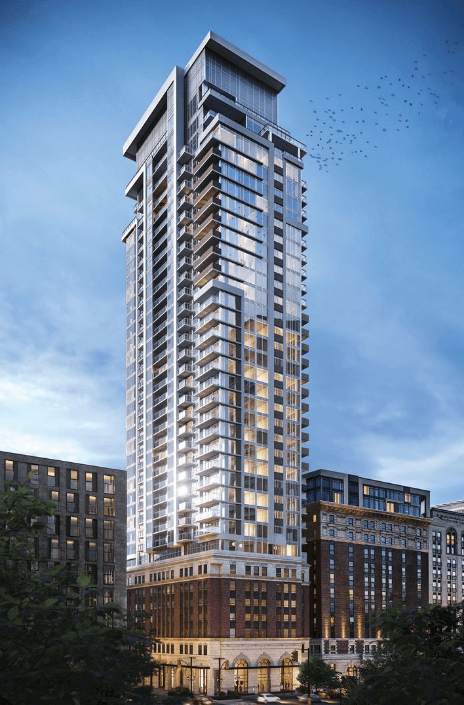 The Moderne Condos Location
THE AMENITIES-THE MODERNES' WORLD-CLASS AMENITIES
The Moderne boasts an abundance of amenity space, with bright and vibrant design that inspires a sense of community and play. Distinct spaces spark conversation and comfort with their interplay of soft fabrics, natural materials, and layered details. Every need is catered to, from a games room and wine tasting bar to an outdoor park, and lounging area. Discover a little neighbourhood nestled right inside the building.
THE LOCALE-DISCOVER ALL THAT DOWNTOWN HAMILTON HAS TO OFFER
The Moderne is located in Hamilton's downtown core, granting residents convenient access to boutiques, restaurants, speakeasies, the university, a cinema, the city's public transportation hub, and much more. Uncover a range of remarkable and independently owned shops, that establish the latest eclectic fashion trends, as well as world renowned art galleries and theatres. Downtown Hamilton's booming restaurant scene offers gourmet dining and tapa bars that provide unique and locally sourced menus that you can enjoy in aesthetically pleasing dining spaces.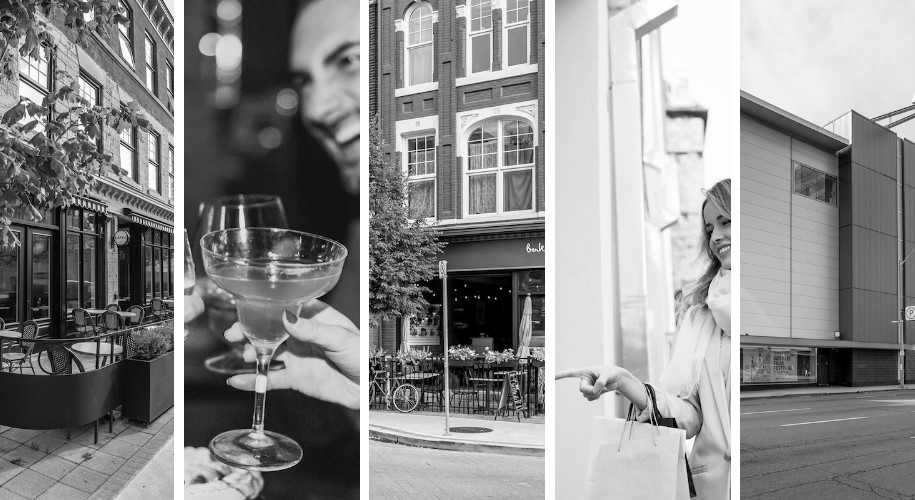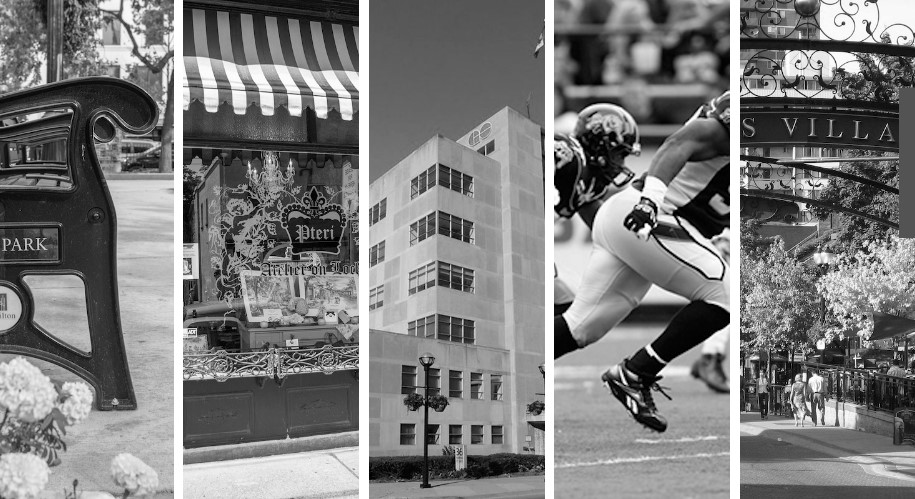 About the Developer
Spallacci Homes is a privately owned real estate development and investment management company with over 60 years of expertise in the real estate property sector.
Proud Hamilton builder, Spallacci Homes, has garnered a sterling reputation and loyal following for designing and building beautiful custom homes, visionary lifestyle communities and quality residential neighbourhoods. Spallacci Homes' mission is to continue to uphold the old-world craftsmanship and dedication to quality construction passed down from their European ancestors. Working closely with customers and trades, Frank, Rudi and Loren Spallacci ensure the quality and integrity of the Spallacci vision, instilled by family Patriarch Adriano, is always achieved. The Spallacci family's pride and reputation are firmly established within the homebuilding community through word-of-mouth referrals and repeat homebuyers.
Valery Homes has been building on a tradition of excellence for over 60 years. Attentive service, pride in craftsmanship, superior design and unsurpassed luxury are only a few of the values you can expect from a longstanding family-run business. Throughout the years, Valery Homes has been pairing artistic vision with the functionality of comfortable and inviting living spaces in an upscale and luxurious fashion. Valery produces leading-edge designs in the most welcoming neighbourhoods, where family values and quality of life go hand in hand. The Valery family tradition continues by delivering a personalized home buying experience while building exceptional quality homes throughout Southern Ontario.
How do I reserve a unit in this project?
After you review the floor plans and prices, if you know what suites you are interested in, you may reserve a suite online using our online reservation worksheet form at https://truecondos.com/worksheet.
Does filling out the worksheet form mean I'm committing to buy a suite?
No it is not a formal commitment, it is an expression of interest and the first step you must take if you are thinking about getting a unit in this project.
What does it mean that Andrew la Fleur is a "Platinum Agent"?
Platinum agents are the top selling agents who get preferred status with developers and first access to new projects before regular agents and the public.
Andrew la Fleur has been a top-selling pre-construction agent since 2007, and during this time he has achieved platinum status with many of the top builders and sales companies in the Greater Toronto Area.
For more information on about Platinum agents see this article: https://truecondos.com/5-things-to-know-about-buying-a-condo-with-a-platinum-vip-realtor-real-estate-agent/
How does it benefit me as a buyer to work with Andrew la Fleur as my Platinum Agent?
Working with me as your Platinum agent gives you several benefits
You get the

highest level of access

in the building

You pay the

lowest possible price

for the unit (prices are typically increased significantly after the Platinum sales event)

The best possible

incentives

I do not represent the builder. I represent you. You benefit from my expertise of being a top selling pre-construction agent and investor myself since 2007.

Access to my personal network of mortgage brokers, lawyers, property management, HST rebate services, handymen and much more.

My services to you as a buyer are

free
Do I get a cooling off period? What is it for?
Yes, after you sign the contract to purchase a suite you will have a standard 10-day cooling off period. It's 10 calendar days, not business days from the time you sign.
The 10 days are primarily for 2 things: 1) to have a lawyer review your contract with you if you wish and 2) to get a mortgage pre-approval letter
Do I need to have a lawyer?
You don't need to have a lawyer at the moment that you sign the agreement, however I always recommend that you have a qualified lawyer review your agreement of purchase and sale after you sign and during your 10-day cooling off period.
Not sure who to talk to? Don't worry – getting a lawyer is something I can help you with. Contact me for more details.
Do I need to have a mortgage pre-approval to buy?
95% of all builders will require you to provide them with proof of financing capability in order to purchase. This is not required before you sign a contract, but it is usually required within 60 days of signing.
Not sure where to begin? Don't worry – getting a mortgage pre-approval is something that I can help you with. Contact me for more details.
Do the prices include HST?
If you are purchasing for yourself and plan to move in, then yes, prices include the HST and there is nothing you will have to pay at final closing.
If you are purchasing as an investment rental property, then you will have to pay approximately 7.8% of the purchase price as HST on final closing.
This money is remitted to the CRA and as an investor renting out your property you can apply to the CRA immediately to get this money back. It usually takes about 1 month to get your rebate back.
For more information on the HST, see here:
https://truecondos.com/tag/hst-rebates/
Contact me for more details.
What are my closing costs on a pre-construction condo?
Closing costs on a pre-construction condo will vary greatly depending on the actual purchase price of the unit you are buying, but it also depends on the builder, the city that you are buying in, and the type of unit that you are buying.
Roughly speaking in Toronto you can expect to pay approximately 3-5% of the purchase price in closing costs when purchasing a brand new condo.
Check out this article for more info on closing costs:
https://truecondos.com/5-things-to-know-about-closing-costs-when-investing-in-a-pre-construction-condo/
Contact me for more details
Are there any 'hidden' costs when buying a pre-construction condo?
No, there are no hidden fees when buying pre-construction condos because all fees must be disclosed in the agreement of purchase and sale. All purchasers have 10 days to review the agreement and have a lawyer advise them on the exact closing cost amounts. If you need a lawyer to help you we can suggest to you to several expert law firms that will review your agreement in detail.
Is it possible to assign my condo? How much is the assignment fee?
Most condo builders do allow you to sell your unit before the building is complete. This projcess is called selling by "assignment".
There is usually an assignment fee and a legal fee associated with selling. Costs can range from $1000-7000. Contact me for more details.