Will Rental Prices in Toronto Increase by 11% in 2019?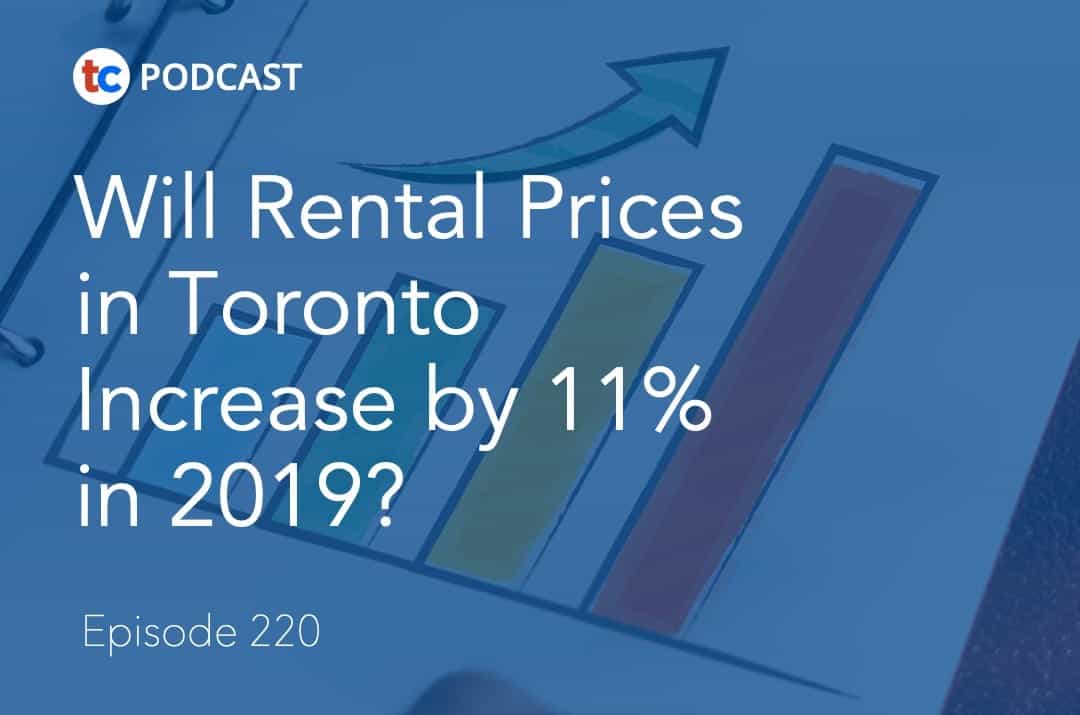 Rentals.ca and Ben Myers put out a report recently that predicts rental prices in Toronto will go up by 11% this year. This headline has been getting a lot of attention in the mainstream media and on this episode we get a chance to hear from Ben in depth about the prediction and what landlords and investors can expect in the condo market in 2019!
Andrew la Fleur: Will Toronto rental prices increase by 11% this year? Find out on today's episode.
Speaker 2: Welcome to the True Condos podcast with Andrew la Fleur. The place to get the truth on the Toronto condo market and condo investing in Toronto.
Andrew la Fleur: Hi, welcome back to the show. Thanks for listening in to the True Condos Podcast, as always. On today's episode, we have a very special guest, Ben Myers. Ben's been on the show a number of times, one of the top experts in the Toronto Condo market for many, many years.
Andrew la Fleur: And Ben has recently done a report in partnership with rentals.ca. That's a website for rental properties, and they have a lot of data there that Ben has analyzed and looked at, and come out with predictions for rental prices across Canada.
Andrew la Fleur: So this one's been getting a lot of play in the media over the past week or so, with the headline being that they're predicting, based on their data from their website, that rental prices in Toronto are set to increase by 11% this year. So obviously, great news to hear things like that for us condo investors. So looking forward to sharing this interview with you from Ben, to talk about how he came up with those numbers, what they mean, what the limitations are, obviously, on the data that he's working with. Whenever you're doing this type of analysis, nobody has a perfect full set of numbers for the entire rental market, because it is a very fragmented market. So we do the best we can with the data that we have available. And in this case, it's the data from the website rentals.ca.
Andrew la Fleur: But that being said, I think that while the forecast is maybe a little bit higher than what others are forecasting for this year, it's certainly not out of line with what we've seen in the past two years of rental increases in Toronto. Certainly it is a good time to be a landlord and it's a good time in particular to be a landlord in a property where your tenant is moving out, who's been there for a few years, and you're getting a new tenant in because the rental rates today are much, much higher than they were just a few years ago, even 12 months, 24 months, 36 months ago.
Andrew la Fleur: If you're looking for a new tenant in your property right now, you're pretty excited because you're getting a raise. And that's a good thing.
Andrew la Fleur: But the bottom line is … I'll let you listen to Ben about the bottom line. Of course the story continues to be that we have a shortage of properties in the city, and we are not meeting demand on the rental side and on the resale side of things. Hence, prices are rising and people are coming into this city … more and more people every year. Immigration targets moving up and everything else, as we talk about all the time on this podcast.
Andrew la Fleur: So more good news for condo investors. But without further delay, I'll let you hear it from Ben on this interview. Hope you enjoy it. Here it is, my interview with Ben Myers.
Andrew la Fleur: All right. It's my pleasure to welcome back to the show, Ben Myers. Ben has been a guest on the podcast many times before, one of the best known real estate analysts in Canada. Ben, it's great to have you back.
Ben Myers: Thanks for having me.
Andrew la Fleur: Yeah. So obviously we want to talk about this rentals.ca report that was out this week. It's gotten a massive amount of coverage. Are you surprised? Maybe I'll start with that. Are you surprised with the amount of media coverage that this report has gotten? A lot of people talking about it.
Ben Myers: Yeah. I mean, rentals.ca and I kind of partnered on doing a national rent report. And we thought, "Hey, it's coming up to be the end of the year. Let's do a forecast. Let's kind of throw that in there."
Ben Myers: And so I looked back at the listings of the last two years on their website and just essentially did a linear trend line. You kind of looked at that moving forward … and it was really kind of like the last graph that I put on there. And then rentals.ca decided, "Hey, let's turn this into a larger blog. Let's talk to some other people across the country." Until we put our press release out, we didn't even put it on the wire. We just had our PR team send it out to a few people. But it kind of blew up. It was on Citytv, and on Global News, and on CBC, and [inaudible 00:04:36].
Andrew la Fleur: CNN's calling?
Ben Myers: Yeah, no. No, no CNN yet. No Wolf Blitzer or anyone has called yet.
Ben Myers: Yeah, I mean, we try to make our forecast as accurate as possible. And funny thing is that it'll probably be a decline from the level of rent increases, on a percentage basis as 2018.
Andrew la Fleur: Right, so … I mean, the big [crosstalk 00:05:06] picking up on is … is this 11% prediction for Toronto, 11% rent growth in 2019 … which, that's what everybody's talking about, everybody's buzzing about. It's interesting, like you said, because that's actually down from what the rental increases have been for the last couple of years. So it's almost like … why wasn't anybody interested in these rental numbers a year ago, two years ago? And now suddenly you're saying, "Yeah, they're going to keep going up." But it looks like according to our data that it'll go up a little bit less than it has been. And suddenly people are-
Ben Myers: Yeah, I mean obviously there's been … You know, I mentioned several factors that have gone into this rent spike. We've got the same amount of completions, essentially, as we had the last couple of years, in around 18 to 20,000 … apartment completions I'm talking about. We had a stress test come in, which was huge. And interest rate increases, so it pushed people out of the ownership market. We had this market correction that happened in 2017 and just scared some people. Definitely scared some people who said maybe I'm not going to buy if this could happen to me. So I don't want to … maybe I'll just rent for longer.
Ben Myers: And there's obviously the other major factor was rent control, where it causes people to stay in their units longer, and it reduces the number of listings at any one time. So it causes an allocation problem. Like I said, there may be … I use the example of a T-shirt. If you went to the store, and there may be 10 T-shirts, but if they're all XXL, and you're a medium, well, then you're going to overbid on the medium. You're not going to buy a XXL, because it doesn't fit, or it's too expensive.
Ben Myers: And in getting back to the real estate terms, XXL may be the three bedroom unit. So you don't need a three bedroom unit, you need the [inaudible 00:07:17], that's the one you can afford, but have to slightly overpay for, because that's the only one that's one there and available.
Ben Myers: So that's I think the hardest part for people to understand, is if there's less supply in the marketplace, even if the number of apartments are the same, but there's less of them available at any one time, then it spawns a misallocation problem and cause, essentially, bidding wars. And we've seen that. If you look at the MLS data, there's several areas that are … and buildings that are leasing for 103, 104% of the list price, so kind of unbelievable growth.
Andrew la Fleur: Yeah, so … now obviously, there's limitations to any analysis in any data set that you're looking at, when you're doing these sorts of predictions and things, and every study's going to be slightly different in how it's done, so you're going to get different results. So some people are looking at the report and some people are saying, these numbers are high, we think maybe the numbers might be lower than that. What are sort of the other factors to consider as we are going into 2019 that could make this prediction of 11% come to pass, or not … what sorts of things are you going to be watching in 2019 moving forward, to see how it actually plays out in reality?
Ben Myers: Yeah, I mean obviously supply's a big one. We're expecting more apartment completions in 2019 than we have in 2018. But as someone that watches this number very, very closely, there's been so many years where we've forecasted huge amounts of completions and construction was delayed, and those buildings didn't get completed on time, and those rental units, or those resale units never came to pass, right? In any forecast, one frigging bomb gets dropped in the Middle East, and that changes everything. If there's something that throws off the balance of the global economics and … all these things change in a second. You can never take into consideration all factors.
Ben Myers: So supply is definitely something to watch. There was the latest news from the Bank of Canada, seems like they may not be raising interest rates, at least to the fall, and maybe not at all in 2019. And some people are even calling for a potential cut. If they reduce interest rates, then that will incent people to get back into the ownership market. If we some softness in pricing, maybe that gets people in, or maybe we see some increases, and that encourages people to say, okay, now the market's back, maybe I'll get back into the bond [inaudible 00:10:11] rise, or something like that. There's always several factors that can impact the market.
Ben Myers: Another huge one could be if they change the stress test. Maybe a plus one or a plus fifty basis points, instead of a two. That could certainly change the balance of ownership versus rentals.
Ben Myers: A million different factors. Again, I'm working off a data set that can be skewed. And again, this is maybe … more than your audience cares about, but I'm looking at asking rents in the rentals.ca versus the actual rent. It suffers from what's called "survivorship bias." Either it doesn't get leased because it's overpriced, stays on the market until the next month, and it skews the data outwards. So there's a potential that the information and the numbers that we're reporting in terms of averages are slightly skewed higher because of that.
Ben Myers: Again, I'm not a Ph.D. statistician, so I can't tell you completely how inaccurate the numbers are, in comparison to the entire stock of vacated units, but we feel that it's a pretty good sample size.
Andrew la Fleur: Right, right. And at the end of the day, people's eyeballs are jumping off the page at 11%, but again, it's … this is what we've been seeing for the past two years. This is … to a lot of people it seems to be news, but to those of us who are in the business and who are gone to investors, we know this to be true, not just at this moment, but for the last … this has been going on for two years. In other words … double digit rental increases, compared to … and you've been tracking this for more than a decade. What would you say is sort of … what's been the normal rental increases, like this is abnormal … what typically has been the normal rental increase to be expected over time, in Toronto?
Ben Myers: I'm trying to think back what the year I started the Urban Rental report, when I was at Urbanation. It might have been around 2010, and rent increases were 2 to 4% a year. And then when we got to 2015, and there was … depending on your data source, 25 to 30,000 condo apartments got completed that year, which was based off of the super strong year that we had in 2011, at 28,000 pre-construction sales. That all came to close in 2015. We saw some flatness in rent, even some declines on an absolute basis. On a per square foot basis, it never went into decline. But on an absolute basis, it actually declined, year over year, at one point in time.
Ben Myers: Again, supply comes on to the market, it depresses the level of rent. After … the second half of 2012 was a very poor year for pre-construction sales. 2013 was really, essentially, the worst year of the last decade for pre-construction sales. 2014 was a little bit better. And then 2015, it became hot again. So what was being completed in 2016, 2017 was based off of the second half of 2012, 2013, and early 2014, where there wasn't as many projects. So that essentially caused these rents to go up to 5, 6, 7, even the last quarter, on a per square foot basis, Urbanation number just came out this morning, 11.3% growth in rents on a per square foot basis. This is across the entire GTA. So the rentals.ca forecast is only for the formal city of Toronto. It also includes, not only condominium apartments, but purpose-built rental apartments, and single family homes and townhomes. So the numbers can be skewed by a fact that there's a home in the beach for rent for $1,800 a month. We've cut off the $5,000 and above lease rates. But there's stuff in the beaches for $9,000 a month, $12,000 a month. It's crazy, but we've got to eliminate the short term ones, and the furnished units. But again, it's not always easy to eliminate those things.
Ben Myers: The growth, I think, if we took an average over time, is probably 4 to 5% per condo apartment, but yeah, the last few years has just been outsized growth, because of this huge population growth, solid job growth. We have … we experienced this kind of shift, where less affluent people are moving out, and more affluent people are moving in. And that's changing the balance as well.
Andrew la Fleur: Can you dive a little bit more into that?
Ben Myers: Yeah, so I mean … we're getting immigrants that are skilled and that are coming to Toronto and getting tech jobs, and getting high income. And the folks that are … that can't afford the city are moving out to Barrie. They're moving to Hamilton. They're moving to Cambridge. They're looking for more affordable places to live, where they may not have a job that has an upward trajectory. My wife works for the government, so the wages that they pay in Toronto are similar to what they would pay to do the exact same job in Windsor. And so you could buy a single detached home for $200,000 out there, whereas good luck trying to find something under a million bucks anywhere in the city of Toronto.
Andrew la Fleur: Right, right. And yeah, that's something that comes up a lot with people in conversation, a question of … people look at the price of, like you say, $1,000,000 simple house in Toronto, it's like, people would say, "Who is buying these houses? Who can afford this?" But there's sort of … I don't know what you'd call it officially, but a historical bias, where you're sort of thinking about how it was back in the day, or when you grew up, or whatever your frame of reference is from the past, but not realizing, like you said, that the buyer of today is not the buyer of yesterday. The people who are entering the market today, of course, they are different from the people who were 20, 30 years ago, because the prices are exponentially higher. They have to be, in order just to qualify for these mortgages.
Andrew la Fleur: So the properties are being sold at these prices. People are buying them. Therefore, it follows that people are making more and more money, essentially, in this city. The new buyers coming in, which are a small percentage of the overall total real estate market of all properties, are … the marginal buyers, I guess you could say, are much more affluent than the existing buyers from … that are from last year and last decade.
Ben Myers: Yeah. People always want to make the comparison, look at the incomes versus the house prices.
Andrew la Fleur: Right, average income, yeah, very different.
Ben Myers: You're comparing 100% of the people in the sample of incomes, versus the people that are buying in Toronto are now only 50% of the population or less. So what's the top 50% of people buying, and on top of that, add to the fact that a lot of them have affluent parents that are … bought a house for $20,000 and that house is now worth $1.4 million. It's just madness to think about. That are happy to gift their kids.
Ben Myers: But even … a situation like me, I hardly had any money to put down. And then my condo went up, and then I leveraged that to buy a townhome, and now that townhome's doubled in price. So I could technically go out and try to buy a larger single family home, but I don't need it. I love where I live and I'm not going to overstretch myself just to keep up with the Joneses. But because the real estate market has appreciated, it's allowed me to build this huge equity. And certainly, that's happened across the entire GTA.
Ben Myers: So the people that didn't get in are … they haven't built that equity and they … obviously they say, a lot of people say, well, if you rent and you invest, well, not everyone's very good at investing. I essentially invested in real estate, where I'm my own … I'm the landlord, and it's tax-free for the equity. So I feel good about that investment. I align very well with my landlord and what we want to do with the property, so that's what I always like to tell people. Just be your own landlord. Then you're always aligned with what the landlord wants to do.
Andrew la Fleur: Right, right, good point. Let's shift gears, talk about the resale market as you see it, the whole resale market in Toronto. So the numbers are now out for 2018, for the Toronto Real Estate Board. And the total number of transactions in 2018 just slightly above the low point of 2008, in terms of total volume of sales. So down dramatically from 2016 peak, 2017 went down again, 2018 went down again. I know this is something that I am interested in tracking closely. I wonder how closely you're looking at this and how you sort of interpret the fact that we have this growing population every year in the GTA, massive growth, immigration coming in. But yet, the number of transactions are down dramatically, to a point where they were similar 10 years ago. How do you interpret that? Do you see a big problem brewing? Do you see a lot of pent up demand? Is this all just a stress test rearing its ugly head? How do you look at those numbers and where do you see things going in the next few years?
Ben Myers: Yeah, I mean, there's just so many different factors that are affecting the market, but I think yeah, the stress test is certainly the biggest thing that happened. A lot of people that are in condominiums would love to move up to a single detached or a townhome, but they find that they can't qualify for the one that they want. So okay, we gotta stay and keep going. Obviously there's been this flatness in the market, and everyone's thinking, oh, maybe let's just wait a little bit longer, and maybe it'll come down a little bit farther. There's always that factor that's impacting [inaudible 00:21:46].
Ben Myers: The huge immigration that's coming in, but a lot of people are … these boomers are holding on to their homes. They don't want to move down. They don't want to move out of the GTA. They like where they live. And the other options for them are … there's just not a lot of them. I see a little bit more success lately with larger, new condominiums, just looking at the waterfront, some of the stuff that Tridel's doing on the waterfront. They sold a bunch of big units at their Auberge project, which I was a little shocked to see, some of the end selling prices on some of those units that they sold up there. There's a little bit of that happening, but I think for the most part, people are staying where they're at. So there's just not the homes to buy.
Ben Myers: And again, when you have a major correction in the market, pricing went from, on average, 920 or whatever it was in April of 2017, few months later, it's 730. That scares people. They don't want to lose their entire down payment, so they're just going to be cautious until they start to see consistent growth, month over month of pricing going up and they feel a little bit more confident in that investment. So until we start to see that, I don't think you're going to see a huge increase in the market.
Ben Myers: And again, we keep getting told … speculators are driving this market. Well, when prices aren't going up, speculators aren't … speculators don't buy. That's the point that I always try to make. Speculators don't make pricing go up. Something makes pricing goes up, which causes speculators to get in. We gotta look at what's the initial source [inaudible 00:23:36] pricing to go up. But I think … if interest rates get cut again, or if there's [inaudible 00:23:48] stress test, we'll probably see transactions start to go up again. Maybe we'll see the speculators back into the market again.
Andrew la Fleur: Where do you see condo prices going this year? Obviously, rental prices, we talked about that, you see them going up 11% or thereabouts. Where do you see the resale condo market in 2019?
Ben Myers: Yeah, I think it's going to be probably in the 3 to 4% growth rate. Yeah, I don't see … there just has to be a slowdown after what we experienced in 2017. And [inaudible 00:24:26] prices continued to go up in 2018, which was definitely shocking. But again, it's … people being pushed down the ladder. People that normally would have considered buying a townhome or a single detached just couldn't afford it, and so they chose to buy a larger condominium apartment instead. Or not buy at all. So I definitely see that kind of small level of growth moving forward.
Ben Myers: And I think that will … part of that growth is going to be just compositional. We're going to get these more completions. These completions are coming in at values that are a lot higher than what's in the market, so that's going to pull up. Same [inaudible 00:25:15], if I was to look at the same sample, maybe it would be 1 to 2%, but overall, probably 3 or 4%, because of the new supply that's coming on.
Andrew la Fleur: Interesting. So yeah, that's … you're looking at a dramatic slowdown, compared to what has been in the past. Sort of a more return to historical norms for-
Ben Myers: Yeah, just kind of getting slightly ahead of the inflation rate, that's kind of what I see for 2019. I think the low rise is going to be the same.
Andrew la Fleur: Right. And like you said, there's so many factors that go into it, the stress test and everything else, and this could change. But based on where we're at right now, that's what you're seeing.
Andrew la Fleur: The other big story that we've watched over the past couple of years is the gap between house prices and condo prices, sort of low rise market and high rise market. The gap reached a record high around 2016, I believe, and then we saw … Houses have sort of flattened out or come down, and condos, of course, have absolutely soared in the last 24 months. And so the gap is much smaller between a condo and a house today than it was a couple years ago. Do you think at some point as well, like that is a factor where people say, you know what, it's time to buy a house instead of a condo, just because the gap has shrunk?
Ben Myers: Yeah, this one's always hard to project. I think 2016 or 2017, we were all ground oriented, or low rise housing was definitely influenced too much by investors. They saw pricing drop dramatically, they came in and bought. It's hard to make those numbers stand still. It's hard to buy a single family home and make that be cash flow [inaudible 00:27:03], because people are willing to pay a significant premium to own a single family home, versus rent it, because it's typically families, and they want to be close to the school and their jobs and all the … the skating rink and the gym and all that type of stuff. So we put a little bit more premium on it. So we've seen that premium kind of come off, as pricing went down and speculators realized that that's … once the price growth goes away, there's not much there in terms of the investment.
Ben Myers: But I think just getting around the GTA is impossible. I walk to work now. I've talked about that a lot on Twitter and how fantastic that is. It essentially gained an hour in my day of work, which is important. But I just can't imagine living in Newmarket and trying to get downtown. It's just only going to get worse. Even though they talk about adding lanes to the highway. But that … as we know, that just causes induced demand. It just makes more people drive, until it's just as jammed up as it was before. You have to add 20 lanes … until we have any meaningful difference in commuting times.
Ben Myers: It's hard to say where that relationship is growing. I think the preference still is for people to have their piece of dirt, to have their backyard, to be able to enter from the ground level, to have two parking spaces out front. It makes life easier for people who have families, who have babies and who have groceries and have dogs to walk, and strollers, and all that type of stuff. I still think there's still going to be huge demand for that product type.
Ben Myers: But they're just not building any more of it. The only stuff that we're building is out in the burbs. And obviously we've seen how poorly those sales have gone for the last year and a half, for that type of product. I still think it's … it will hold its value in the long term. People always get confused by long term trends and short term trends. Pricing just went down, and a lot, so well, I guess single family homes aren't desirable as they … as you make them out to be. I'm like, yes, they are. Look at the long term. Look at the long term [inaudible 00:29:40] versus the short term [inaudible 00:29:42].
Andrew la Fleur: Yeah, absolutely. Like you said, at the end of the day, people want what they want. Most people are always going to want and prefer low rise type of housing, all things being equal. But we're just not building it anymore. There's just no supply in that … the new supply is shifting more and more and more towards high rise. So yeah, long term, low rise will be fine, absolutely. But, long term, low rise will continue to become more and more unaffordable for most people.
Ben Myers: Yeah, yeah.
Andrew la Fleur: [crosstalk 00:30:23]
Ben Myers: I'm glad to see that condo developers are starting to cater their projects to people with families, putting in kids' rooms and a Lego playroom, and stroller storage and some different things that are going to attract families to those buildings. I just hope that the city makes a commitment to adding more affordable daycare spaces. Because it's just unbelievable. At one point … I mean, I took my kids … I live in Toronto. I took my kids to Scarborough for daycare, and it still was costing me more than my mortgage. At one point in time, I was paying $2,300 a month for two kids in daycare. It's crazy. You can see how being downtown, it's even more expensive.
Ben Myers: Underneath me, underneath my office is … they turned retail into a daycare. I'm hoping that some of those dead retail spaces that we're seeing in response to the e-commerce maybe can be repositioned as daycares, because it seems like we have a restaurant or a café in every single one of these new retail spaces that are coming in. I like my specialty coffees as much as the next guy, but maybe we can get some slightly better uses.
Andrew la Fleur: That's a great point, and a great business to get into. Daycare.
Andrew la Fleur: Maybe the last question. Thank you so much for your time today, Ben. Last question, I'll just pick your brain and hear your thoughts on … you touched on a little bit, but where do you see interest rates going this year? Where are you at … which side of the fence are you on, in terms of are interest rates going up, down, sideways, in 2019?
Ben Myers: Yeah. I've been reading the different opinions of the economists and the guys that work in credit unions and whatnot, trying to get their sense of it. I'm kind of leaning now still one rate increase in the fall of 2019. That's kind of where I'm thinking it's going to go, just 25 basis point increase, so I don't think it will have as big an impact on the market as rate jumps in 2018. So that's a good thing. I think it's stable.
Andrew la Fleur: Stability is good for the market, yeah.
Ben Myers: Exactly.
Andrew la Fleur: [crosstalk 00:33:01] expecting big changes, that's instability. If they're expecting little to no changes, that brings some stability, as well. Yeah, who knows what buttons Trump is going to push this year, and how that will affect things, as well.
Ben Myers: The forecast for GDP growth, and job growth, and unemployment, and immigration, and population … they're always just changing so dramatically quarter over quarter. Depending on what source you have, they'll pick out the five negative things. You'll read someone else, they've picked out the five positive things. So it's always hard to get a read, when you're taking national information, where you're taking … the energy provinces, and they're slumping, and then you've got the Ontario and BC, and they're booming, and then you've got the Atlantic provinces and they're kind of treading water. How do you set policy across a country with such dramatic swings in their economies? I'm glad I don't work for the Bank of Canada, that's for sure.
Andrew la Fleur: Awesome. Good stuff, Ben. Thank you so much. If people want to get a hold of you, or learn more about what you do, what's the best place for people to do that?
Ben Myers: Yeah, my website is bullpenconsulting.ca. I have an email newsletter, I send out some stuff on the rental market. If people are interested in the high density land market, I look at that, as well, with my partner [inaudible 00:34:34] Management. And then I'm active on Twitter, @benmyers29. I try to talk about what I'm seeing and give my thoughts on the market, and share a couple of articles here and there, and that's kind of the way I communicate with the world.
Andrew la Fleur: Awesome, great. Thanks, Ben. And we'll hopefully talk to you again soon.
Ben Myers: Sounds good. Take care, Andrew.
Speaker 2: Thanks for listening to the True Condos podcast. Remember, your positive reviews make a big difference to the show. To learn more about condo investing, become a True Condos subscriber by visiting truecondos.com.