Trend Living Condos
Trend Living Condos is pre-construction condo project by New Horizon Development Group coming to Dundas Street East in the Waterdown Community of Hamilton, ON.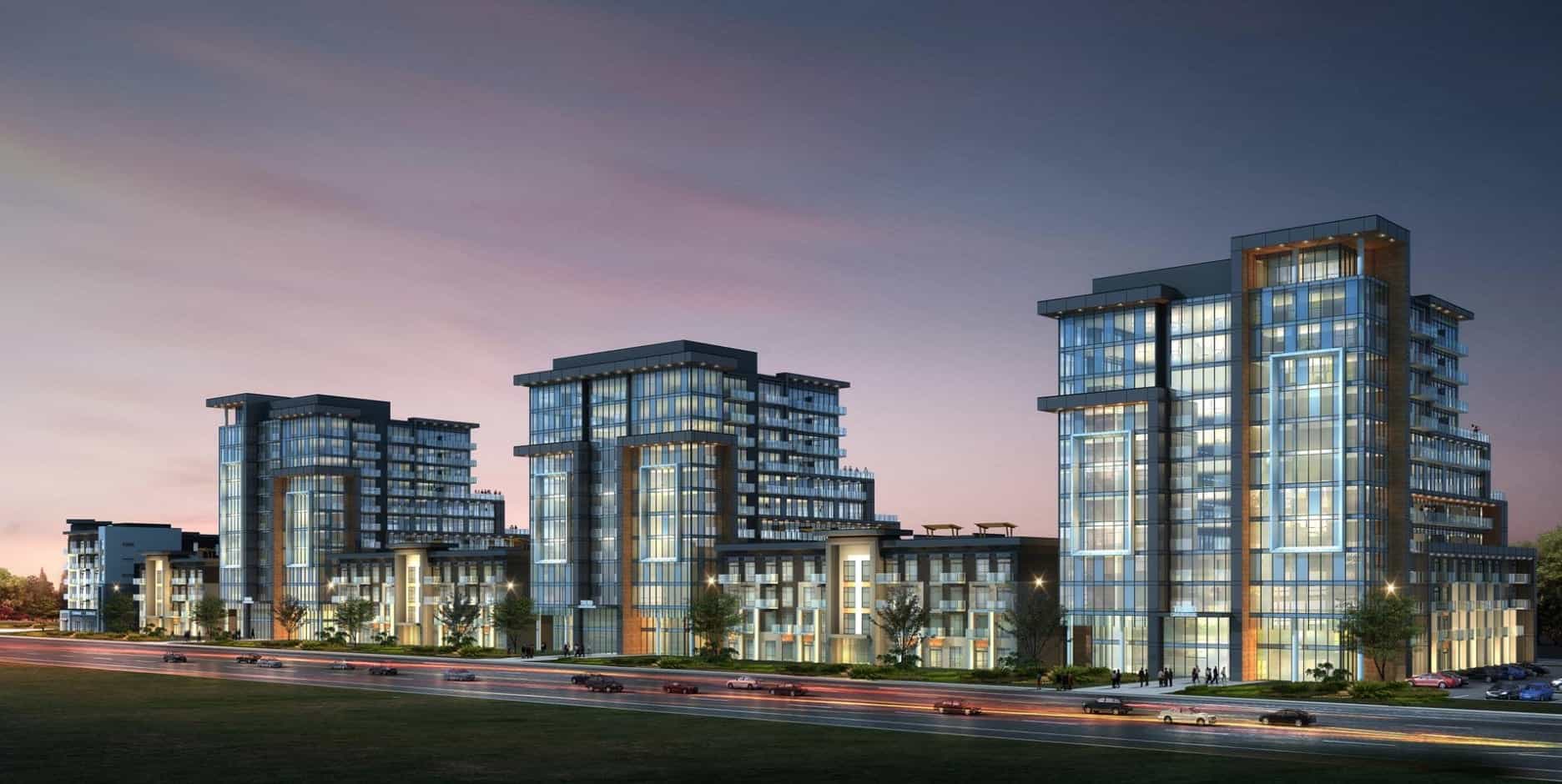 About Trend Living Condos
Trend Living Condos brings everything from cozy one-bedrooms to elegant two-bedrooms with a den to the heart of Waterdown.
You will notice that Trend Living Condos features one-of-a-kind unit layouts in the building amongst some of New Horizon's thoughtfully planned and perfected market-favourite designs – appealing to both Trend Setters and Followers.
Selecting your unique condo layout and designing it to feel like home at New Horizon's award-winning Design Centre will create a custom-build-like experience, fueling your anticipation and excitement for what's to come at every step along the way.
Between the first impressions created in the elegant lobby, and the tasteful interiors you will find in your suite, Trend Living Condos will consistently have you and your guests feeling welcomed home.
Experience the convenience of connected condominium living in Waterdown.
Trend Living Condos Details
| | |
| --- | --- |
| Developer | New Horizon Development Group |
| Address | Dundas Street East, Hamilton |
| Neighbourhood | Waterdown |
| Number of Storeys | TBA |
| Number of Units | TBA |
| Occupancy Date | Fall/Winter 2021 |
| Maintenance Fees | $0.55 psf / month |
| Priced From |  $249,990 |
Trend Living Condos Location
Just down the road from Trend Living Condos you will find cafes, clothing boutiques, antique stores, gyms and yoga studios, tearooms, fine dining, soccer fields, parks, hiking trails, and waterfalls.
From the quaint and growing downtown of a chic village to the vibrant arts scene and connectedness with nature, Waterdown truly has it all.
Overlook the welcoming greenery of north Burlington from Trend Living Condos while travelling only 10 minutes to reach the Aldershot Go Station, 15 minutes to downtown Burlington and 18 minutes to downtown Hamilton. Trend Living is a first for Waterdown.
It is the opportunity you've been waiting for.
About the Developer
NEW HORIZON DEVELOPMENTS
Since 1993, New Horizon has continually proven itself to be a leader in building communities with picturesque settings, where savvy design and high quality craftsmanship provide convenience and comfort. Whether it be custom estates, planned neighbourhoods, or condo developments, New Horizon has been driven to redefine the buyer's expectations for what a home can be.
New Horizon developments cater to all types of people; from first time buyers defining their independent lifestyle in a town home or stylized condo; to new families looking for a loving home in a planned neighbourhood, to multi-million dollar custom estates for those who want to realize their dream home. Through creative foresight and superior construction, we are committed to building new developments that will benefit the community and provide our clients with the quality spaces and amenities to meet their current and evolving needs.
Trend Living Condos Frequently Asked Questions
How do I reserve a unit in this project?
After you review the floor plans and prices, if you know what suites you are interested in, you may reserve a suite online using our online reservation worksheet form at https://truecondos.com/worksheet.
Does filling out the worksheet form mean I'm committing to buy a suite?
No it is not a formal commitment, it is an expression of interest and the first step you must take if you are thinking about getting a unit in this project.
What does it mean that Andrew la Fleur is a "Platinum Agent"?
Platinum agents are the top selling agents who get preferred status with developers and first access to new projects before regular agents and the public.
Andrew la Fleur has been a top-selling pre-construction agent since 2007, and during this time he has achieved platinum status with many of the top builders and sales companies in the Greater Toronto Area.
For more information on about Platinum agents see this article: https://truecondos.com/5-things-to-know-about-buying-a-condo-with-a-platinum-vip-realtor-real-estate-agent/
How does it benefit me as a buyer to work with Andrew la Fleur as my Platinum Agent?
Working with me as your Platinum agent gives you several benefits
You get the

highest level of access

in the building

You pay the

lowest possible price

for the unit (prices are typically increased significantly after the Platinum sales event)

The best possible

incentives

I do not represent the builder. I represent you. You benefit from my expertise of being a top selling pre-construction agent and investor myself since 2007.

Access to my personal network of mortgage brokers, lawyers, property management, HST rebate services, handymen and much more.

My services to you as a buyer are

free
Do I get a cooling off period? What is it for?
Yes, after you sign the contract to purchase a suite you will have a standard 10-day cooling off period. It's 10 calendar days, not business days from the time you sign.
The 10 days are primarily for 2 things: 1) to have a lawyer review your contract with you if you wish and 2) to get a mortgage pre-approval letter
Do I need to have a lawyer?
You don't need to have a lawyer at the moment that you sign the agreement, however I always recommend that you have a qualified lawyer review your agreement of purchase and sale after you sign and during your 10-day cooling off period.
Not sure who to talk to? Don't worry – getting a lawyer is something I can help you with. Contact me for more details.
Do I need to have a mortgage pre-approval to buy?
95% of all builders will require you to provide them with proof of financing capability in order to purchase. This is not required before you sign a contract, but it is usually required within 60 days of signing.
Not sure where to begin? Don't worry – getting a mortgage pre-approval is something that I can help you with. Contact me for more details.
Do the prices include HST?
If you are purchasing for yourself and plan to move in, then yes, prices include the HST and there is nothing you will have to pay at final closing.
If you are purchasing as an investment rental property, then you will have to pay approximately 7.8% of the purchase price as HST on final closing.
This money is remitted to the CRA and as an investor renting out your property you can apply to the CRA immediately to get this money back. It usually takes about 1 month to get your rebate back.
For more information on the HST, see here:
https://truecondos.com/tag/hst-rebates/
Contact me for more details.
What are my closing costs on a pre-construction condo?
Closing costs on a pre-construction condo will vary greatly depending on the actual purchase price of the unit you are buying, but it also depends on the builder, the city that you are buying in, and the type of unit that you are buying.
Roughly speaking in Toronto you can expect to pay approximately 3-5% of the purchase price in closing costs when purchasing a brand new condo.
Check out this article for more info on closing costs:
https://truecondos.com/5-things-to-know-about-closing-costs-when-investing-in-a-pre-construction-condo/
Contact me for more details
Are there any 'hidden' costs when buying a pre-construction condo?
No, there are no hidden fees when buying pre-construction condos because all fees must be disclosed in the agreement of purchase and sale. All purchasers have 10 days to review the agreement and have a lawyer advise them on the exact closing cost amounts. If you need a lawyer to help you we can suggest to you to several expert law firms that will review your agreement in detail.
Is it possible to assign my condo? How much is the assignment fee?
Most condo builders do allow you to sell your unit before the building is complete. This projcess is called selling by "assignment".
There is usually an assignment fee and a legal fee associated with selling. Costs can range from $1000-7000. Contact me for more details.