Why Tretti Condos Offers Investors the Best Value in North York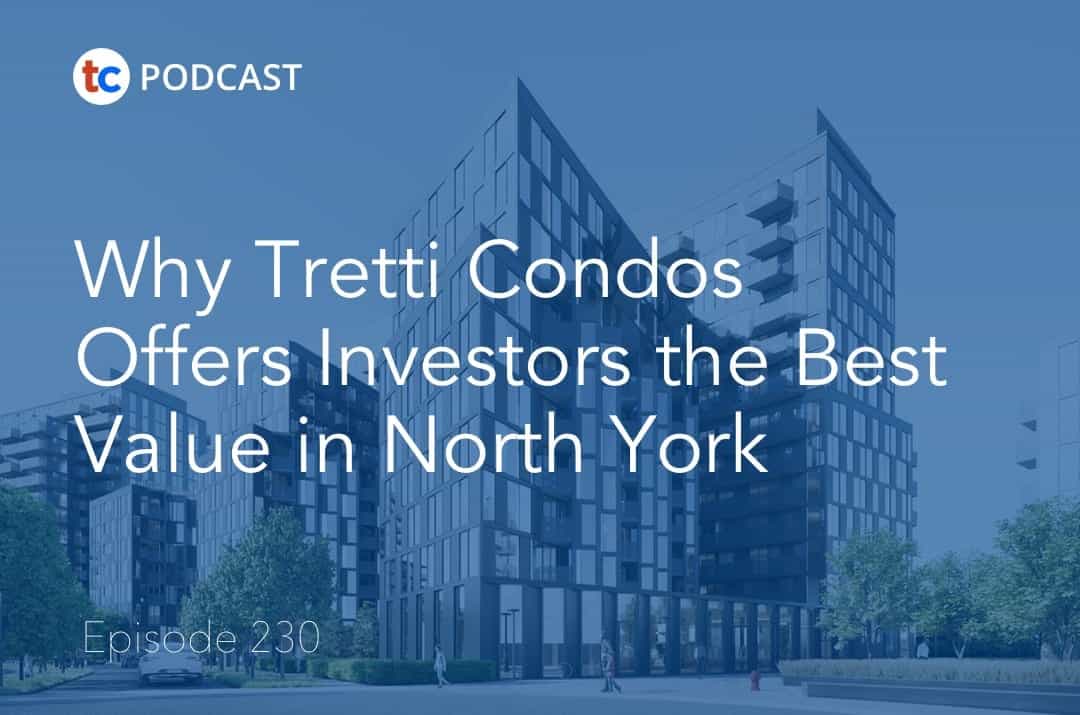 In this episode Andrew chats with Charles Jaque about Tretti condos at Wilson Subway. This project is an investors dream with perfect floor plans, amazing prices, a location that is in a rapidly changing area while still having the subway entrance just a few steps away from your front door. Top it off with the best deposit structure in the city for a pre-construction condo, and you've got the perfect recipe for a great investment.
Andrew la Fleur: On today's episode, find out why Tretti condos offers investors the best value in North York. Stay tuned.
Announcer: Welcome to the True Condos podcast with Andrew La Fleur, the place to get the truth on the Toronto condo market and condo investing in Toronto.
Andrew la Fleur: Hi there and welcome back to the show. Thanks for listening and thanks for your time. Thank you for your ratings and reviews of the show on iTunes as well. On today's episode, I had a chance to chat with Charles Jaque. Charles is with Milborne Real Estate. We've been working together on a number of different projects over the past five to 10 years or so. And it's great to finally get Charles on the show. We had some technical difficulties recording this conversation, so some of the beginning parts you won't get to hear, but that's okay. There's still lots of good stuff that you will hear.
Andrew la Fleur: And we are actually jumping right into the conversation where I asked Charles what are the sort of main points and main reasons why he's so excited about Tretti condos. So that's where we start off. If you're interested in learning more about this project or investing in Tretti condos, just go ahead and give me an email, andrew@truecondos.com or call me, text me (416) 371-2333. So without further delay, here is my interview with Charles Jaque talking about Tretti condos.
Andrew la Fleur: So Charles, what are the sort of key points about Tretti condos that condo investors need to know about? What are sort of three or four points that you want to highlight the most?
Charles Jaque: The developers designed for the building that really stands out with this one because they designed a quality end user building, 75,000 square feet of green space. Practical amenities designed for condo life, geothermal system, premium finishes, ERV systems, so that your pressure [inaudible 00:01:58] side. But what really sets it apart from an investor standpoint is the design of the suite. Now if you take a one bedroom condo that's 400 square feet and you take a one bedroom condo that's 800 square feet, the 800 square foot condo, they're both new and you're comparing apples to apples. It's going to cost you way more money because you're paying for the size. But the practical living space, one bedroom's a one bedroom. So from a rental perspective it's probably going to rent for about the same.
Charles Jaque: And so they've applied these design principles where they have very, very practical two bedroom, two bathrooms, very efficient with split bedrooms, but they're extremely efficient in terms of their size, which means that you can own it for significantly less than other two bedrooms in the market in Toronto and in the area, but you'll still be able to rent it for the same price as a typical two bedroom, two bathroom that you would normally find or very close to it. So that's one of the key design features of the building and the whole building is mostly two bedrooms.
Charles Jaque: One of the other major points for Tretti condos is the transit at the doorstep and the location. And so the transit is huge. Like this is one of the best locations in terms of transit connectivity. But the location itself is also surrounded by revitalization and development and growth during the [inaudible 00:03:28] regeneration area, which is booming. It's about eight acres in size. But if you think of a neighborhood like [inaudible 00:03:37] Village or [inaudible 00:03:38], those are about 40 acres in size, but imagine getting in on one of those neighborhoods near the beginning as it's still developing. And so from a micro perspective, the neighborhood that we're in is seeing this tremendous amount of growth with new commercial, new retail. Across the street there is about 800,000 square feet of commercial retail space coming to the property directly across the street. There's a number of condo buildings that are under construction and more to come in the neighborhood. The one across the street is 50 Wilson Heights [inaudible 00:04:17]. I think that's 700,000 square feet of commercial retail space.
Andrew la Fleur: That's massive. I mean, 700,000 is like roughly about 15 grocery stores.
Charles Jaque: Right, right. And they'll mix in some residential into that as well. And of course when you're bringing in all of these buildings and all of these people, there's going to be retail, there's going to be restaurants. And so it's really a neighborhood. The re-development of the neighborhood. And Tretti 30 Tippett puts you … You're basically the closest to the subway out of all of the rest of the other buildings in the neighborhood and that's a really nice feature to have.
Andrew la Fleur: Yeah. How close are you to the subway?
Charles Jaque: You are 50 meters. Like you don't even need to cross the street. It's essentially the on the edge of the property next door. So you're about as close as it gets. Can't get any closer. Yeah, right on [inaudible 00:05:18] subway and of course just zooming out a little bit with the satellite perspective on the site. Of course, right to the south, you have Yorkdale Mall one subway stop away. Right?
Andrew la Fleur: I think it was you who told me it was the most visited attraction Toronto or in Canada?
Charles Jaque: And it's amazing. I didn't realize until until we started looking into it, but there's more yearly traffic to Yorkdale Mall than the combined total yearly traffic of the Toronto Zoo, the ROM, the AGO, Toronto Harbourfront Center, the CN Tower, the Toronto Islands. Like if you combine all that traffic, you actually have more traffic on a yearly basis at Yorkdale Mall with over 22 million visitors. And Yorkdale Mall is owned by Oxford properties. And so this is an investment for them, obviously and it's an extremely profitable investment. And they're reinvesting in Yorkdale Mall through a recently submitted application to the city of Toronto where they've provided three options, all of which have varying amounts of office or residential components, but they're talking about adding 12 towers to Yorkdale Mall of around 28 stories in height. And because Oxford has this commercial background, it's got a really heavy focus on office, like office's like second nature to them.
Charles Jaque: And so that's adding a lot of new employment to the neighborhood and to Yorkdale Mall. We're so close to Yorkdale. We're literally a two minute ride by subway kind of just around the corner from us. So that is one of the things we can point you in the area that shows drastic change over the medium and long term to the local real estate market. And that's what's really puts upward pressure on the real estate property values for anyone that who owns in the Tretti neighborhood as well. So Yorkdale is right on Dufferin, right? There's also been a a plan put in place by the city to revitalize Dufferin. And when they do that, they talk about everything from benches and landscaping to urban plazas and density. They talk about mid rise and high rise developments. So Dufferin street between Lawrence and the 401, which is just southwest of our site and runs right alongside Yorkdale mall, will see tremendous amount of new development and growth as well. And then just to the east of that, you have the Lawrence and [inaudible 00:08:03] growth area, which is-
Andrew la Fleur: Right. Lawrence Heights. Yeah. Revitalization there. Yeah, 100 acres there.
Charles Jaque: 100 acres, 15,000 new residents and you've got Metropia and Context who are two major players that are sort of leading the charge with the city of Toronto there. By the way, some of the major stakeholders, some of the partners in Collecdev have roots with Shiplake, or they are Shiplake. And Shiplake's a big rental apartment owner, operator, retirement residence owner-operator. They did the Young and Eglinton Centre, which is now the Rio Can Center. They sold it to Rio Can. They've got roots with Greenland, which was the company that built the first master plan community in Toronto. Don Mills, Davis Mill Village.
Charles Jaque: So we're talking about one of the most influential real estate groups with some of the richest real estate history in the country. And they are partners in Collecdev. And so some of those key people and resources are shared. And I'm bringing it up now just because we mentioned Metropia. Well, Shiplake has been a major shareholder in many if not all of the high profile projects that Metropia has done in the past. And so Collecdev is another way for them to diversify into the condo market as part of their business model.
Andrew la Fleur: Right. So here Collecdev building Tretti condos and my understanding is they've got a big pipeline as well of many future buildings and some very high profile sites too. I think they've got one right on Bloor street. And is it Yorkville or is it more Annex? Right on Bloor street, right?
Charles Jaque: 300 Bloor Street West and it's bookended by two subway stations and that one's coming soon. It won't be long. That'll be a year or two from now and that'll likely be coming to market. And it's amazing. It's an amazing redevelopment, amazing location. They've got a big multi-phase, multi-towered site at Victoria Park and Shepherd. They've just acquired a new site at Young and Eglinton. They have a huge pipeline. We really, really honored and excited to be representing them and working with them. They're really on the leading edge of the real estate market.
Andrew la Fleur: They've got some really exciting plans and it's all starting here with Tretti coming up very soon. So we talked about the Tippett area, which is the immediate area surrounding Wilson Station and Tretti condos. We talked a little bit about just to the south, Yorkdale and Dufferin revitalization and the Lawrence Heights revitalization. So that kind of covers the south side and the immediate area. There's some big, big stuff. I know you know a lot about coming to the north side of Tretti condos. What's going on up there?
Charles Jaque: Right. So to the north, you've got the Alan District or the Alan Neighborhood. You've got Shepherd in Cheswood, William Baker, Stanley Green. So these are actually all neighborhoods that are part of what's known as the Downsview Lands or the Downsview secondary plan. And Wilson was actually part of it as well. So the area that Tretti then is one of the five neighborhoods identified by the city for growth. So the same growth that we're seeing in the surrounding neighborhood around Tretti, we have that coming to these other four neighborhoods as well, if they haven't already.
Charles Jaque: Like the Stanley Green districts, there's a lot of activity there. That's the one just south of Downsview Park, [inaudible 00:11:56] there. They're doing a few buildings there. There's town homes being built there and then to the north of the park, you have William Baker and Shepherd Cheswood and those ones have the subway and Go train station for Downsview Park. And there's other big developers and big names that are active in there. And all of this development is low rise and midrise development and the city has laid out the framework for 42,000 new jobs and residences to come across these five neighborhoods, which is huge if you think about it. Like VMC Vaughan, th city's anticipating 36,000 new jobs and residences.
Charles Jaque: When Amazon announced that they were going to Brooklyn, they were talking about 25,000 new jobs and we saw real estate values in the area spike and then they announced that they're pulling out, they were coming back down again. So 42,000 new jobs and residences is a really big impact. And those are already underway. Like all of the construction there, that growth is already starting to happen. Like everyone's been talking about the Downsview Lands for years and the amount of potential in this area, but one of the big catalysts for the upcoming change is the recent sale of the airport lands.
Charles Jaque: So Bombardier last year in 2018 put up for sale their airport because the CEO was saying we only use 10% of this airport, we might as well be leasing space at Pearson airport rather than having exclusive use of our own runway. And they sold it for $817 million and they were attracting some very high profile residential developers, North American and international developers that we're looking at the site. And it ended up being a pension fund that won the bid, PSP, the Public Sector Pension. They're pension fund for the RCMP. They're the pension fund for the Canadian Armed Forces. And their mandate is obviously to generate a return on their investment so they can pay their pensioners. So you've got Bombardier moving out, you've got a pension fund that owns it that needs to generate a return and Bombardier's out essentially in the next five years. So they have a three year lease and two one year options to renew. But in the next five years they're gone. And so we expect to see PSP submitting a plan to redevelop the airport land.
Charles Jaque: And so the question is what are the chances that there's another aerospace manufacturer that's circling the world looking to buy another airport who thinks that they can do what Bombardier couldn't, right? Like is Boeing thinking I'm going to buy an airport for $800 million because PSP needs to make a profit or lease it out for an exorbitant amount and be able to use 100% of the airport when Bombardier could only use 10%? It's not very likely. Right? So what happens is once that airport usage is gone, there's actually a height restriction in place on the surrounding real estate, on the area, because of the airport. And so if the airport redevelops, then height restriction is lifted. And you might remember when I was talking about the five neighborhoods around Downsview Park and the 42,000 jobs and residences, that's across mid rise and low rise development. Like a lot of those are town homes and mid rise buildings.
Charles Jaque: If you take the height restriction off, now you're opening up the plans and imagine how many new jobs and residences you could fit into high rise development. And you've actually got two subway stations there in addition to the Tippit one. So you've got the Shepherd West station and you've got the Downsview Station and the Downsview Go train station as well and they're right next to each other. And the Downsview Station happens to be the station on the TTC network with some of the lowest ridership. And the way that the, the city and the government increases ridership or helps or helps pay for infrastructure investments. Like they spent over a billion dollars on the subway extension. They went over budget. They want nothing more than for-
Andrew la Fleur: They want it to be full.
Charles Jaque: Yeah, they want to be full. They want the cost to justify-
Andrew la Fleur: Yeah, any underused station they say well, let's fix that. Let's fill it up. How do we fill it up? We've got to get people and jobs on the doorstep. Pretty simple.
Charles Jaque: And office buildings and real estate that'll pay property taxes. Property taxes and development levies and people that are going to ride the trains, like that's exactly what they want. But the reason why they don't really have any high density development there right now is because of the airport. So as that develops and as the airport usage goes, we're going to see those five neighborhoods boom. Now that's without talking about the actual size of the airport itself. If you looked at the airport itself in isolation and how much land that is, it's 375 acres. And it's currently employment and the government needs to protect employment. That's their mandate. It's very, very difficult to change uses because they want to protect jobs.
Charles Jaque: And so the city wants to have office buildings there. And where else in the GTA do you have clusters of high density office? You don't really have anywhere except for along Young street. If you go north in the central business district. And so what we're talking about here is really something that you have to take an international perspective on and go to for example, Canary Wharf in London, which is essentially a new business district developed outside of London based on transit that is just over 90 acres in size. And the Downsview airport lands are 375 acres. So it's almost four times the size of Canary Wharf. And it's basically at your doorstep if you live at Tretti. Like the edge of the airport is on the northwest corner. You're on the southwest corner of Wilson and and Alan and the expressway there. So on the northwest corner is the edge of the airport land. And then on the west of that is Downsview park. And so-
Andrew la Fleur: And the subway line as you go north from Tretti condos is abutting the edge of the airport lands all the way across and over.
Charles Jaque: That's right. That's right. And you've got the Allen district, the Allen neighborhood directly north of you.
Andrew la Fleur: Yeah. So you just have this massive 375 acre piece of property that is just transacted last year and over the next few years, the plans will come together in terms of what that is going to look like. But as you said, it's not going to be another airport. Those days are gone. It's not going to be another aerospace company. What will it be? We don't know yet, I guess. But like you said, it's going to be some combination of employment and residential.
Charles Jaque: Right. I mentioned Liberty Village before and City Place, if we look at those neighborhoods, those are 40 acres in size. So this is 10 times the size of City Place or Liberty Village. In fact, you can fit Liberty Village and City Place and Downtown Market, which is a huge development in Markham with over 70 acres of park and then another City Place all onto the lands of the airport.
Andrew la Fleur: That's maybe the best way to sort of give people a sense of the scale of it because most people will know at least one of the neighborhoods you mentioned. So to picture all these neighborhoods combined and you're starting to get a sense of the scale that is to come here again, right at your doorstep at Tretti condos. And the potential is unreal.
Charles Jaque: Just the fact that you're going to be able to own two bedrooms at these amounts that they'll be offered for at Tretti, essentially directly connected to the subway is enough in itself. And to be a two minute ride to Yorkdale mall and have that kind of connectivity to be under 25 minutes to Union station. You're 17 minutes to St George Station, which is also, by the way University of Toronto 89,000 students. And on the flip side you've got York University, which is a 10 minute ride away. So essentially a direct connection to York University with just a few stops in between with only a 10 minute subway ride.
Charles Jaque: I know housing developers that own and operate student housing that would do a building here just based on that university connection. If there was nothing else to talk about, if there was no Yorkdale, no airport, no area of revitalization and growth. Just the fact that you've got the building and the train and the university like 53,000 students at York is massive. It's such a huge impact. All of those students have worked very hard to get into university. They're focused on completing their education. They've got their parents supporting them. You know, we call students six pocket tenants. They've got their parents, they've got the grandparents that are helping them pay rent. If there's a recession, more people tend to go back to school to sharpen their skills in the labor force. There was a book written by Caroline [inaudible 00:21:52] that tracked every major US recession since the 1960s and how enrollments at top schools in the US actually went up. And she's a university of Stanford economist.
Charles Jaque: And so you've got this amazing play here as well with York University, right? Like the biggest school in the US, the biggest university is 64,000 students. It's the University of Central Florida in Orlando. And here we are with 53,000 students in one direction and 89,000 students at U of T in the other direction. So that's also an amazing amenity. And York University, there isn't that much housing. Like 95% of students don't have first year housing and you've got over 6,000 students that are international students that don't have any local housing. And 75% of the students that go to York, they transit and they've got a one hour average commute time. So I mean to this area with that subway connection would be perfect for York students that would pay premium rents for convenience so that they can focus on their studies. And that's going to drive rents up tremendously, which is also very good for the investors that are coming in to own at Tretti.
Andrew la Fleur: So we talked about the design of the building and the uniqueness of the floor plans and I've had a sneak peek at those and I can definitely attest to that. The floor plans are unreal. We talked about the location, the neighborhood, the Downsview airport. There's so much to the story there of what's going on in the immediate area. We talked the York University and U of T connection, the subway. It's such a strategic spot there. What else do we need to know about? Do you want to get into maybe talk some numbers? What prices? Deposits? What can you tell us?
Charles Jaque: Oh, the deposits. I'm glad you brought that up because the team behind the development is one of my favorite parts, right? We talked about Collecdev, their connections and their roots and their history is unrivaled in the city of Toronto. They've got connections to the Ontario government, like Shiplake had a partnership with one of the major casinos in Niagara. They're very, very well connected to the local government. They brought in Fingate Capital as a partner, who is a major investor and they've got a portfolio value of over $15 billion. And so the construction of the project is basically ready to start. There's machines on site, they're already doing the geothermal. And so when you asked me about the numbers, this is set up to sell very, very quickly. They want to get-
Andrew la Fleur: I like to hear it, Charles. My investors love to hear it. Tell us why, tell us more.
Charles Jaque: Yeah. And it comes down to to the way that it's designed and how aggressive the developers being in offering a product that is going to be at such attractive and prices. And with such an incredible deposit structure. Like when you have this kind of strength as a developer, you can also do an amazing deposit structure. So 5% in 30 days, 5% in 180 days, and then 5% in 450 days, which is like 15 and a half months to nine months after the six months payment. And so it's 15% deposits and then 5% in occupancy, which is like the down payment, right? So it's essentially 15% deposit and that has to be one of the most attractive-
Andrew la Fleur: How common is that, yeah? I mean, the seasoned investor hears that, they know exactly what you're saying. But for the newbie investor, how common is it to get this time to deposit structure? 15% over 450 days?
Charles Jaque: It's extremely rare. Normally builders want to get 10% before they start construction and then 5% shortly thereafter. And so in this case, this builder started construction and like right away essentially. And normally developers are taking 20% or 25% to try and take as much deposit as possible. This is really a testament to the strength of the developer and their commitment to making sure that this product is accessible to as many people as possible. So it's an outstanding deposit structure and that's one of the keys of a real estate deal, right? Price, location, terms. And so from a preconstruction, condo perspective, that's one of the most important terms is what's the deposit structure?
Andrew la Fleur: Yeah, I mean I'll just highlight it again as well that it's so hard to find something that is a less than 20% deposit up front. So here you've got 15 and let alone that, it's spread out over 450 days as well. Occasionally you might get 15, but it's rare. But if you do, you're usually going to have to pay it in six or nine months kind of thing. So to have it spread out over more than a year, it's probably the best deposit structure in the city for preconstruction.
Charles Jaque: Definitely. Especially in a project that's just launching. Like once a project starts construction, you'll notice deposit structures often will get-
Andrew la Fleur: Yeah, of course. Right after they raise the prices. Exactly.
Charles Jaque: Your clientele are getting, essentially, you're one of the few people who have access to this. It's a very, very exclusive launch. We work with the best of the best in the industry. It's really a pleasure to be working with you and your network of investors, Andrew. And your clients are getting the very first crack at some of the most attractive … I would say this is the most attractive offering on the market for investors right now.
Andrew la Fleur: Very excited. Very excited. Any other points you want to bring up? We've covered a lot of ground here, but anything else we missed out?
Charles Jaque: Yeah, I think we could go on and on. You know, there's-
Andrew la Fleur: Okay.
Charles Jaque: The area.
Andrew la Fleur: Yeah, I know we could talk for hours and hours just about the location because there's so much going on all around you in 360 degrees. But yeah, we've certainly covered a lot of good ground.
Charles Jaque: Yeah. The immediate neighborhood surrounding the buildings here, it's aboat 75% developed and 50% built-up. If you're looking at like Station condos, which by the way it was built with Shiplike as a partner. Station condos is one of the condo buildings that's already built in the neighborhood. It was built in 2016. That was completed. Like there's a handful of completed buildings, but there's a lot that are still under construction and there's a significant portion of the neighborhood that's still hasn't been developed. Maybe 25% of the neighborhood that still have to go through the planning and then go to market or start to get leased up if it's going to be commercial and retail. So it's an amazing time to be investing into this neighborhood from like a micro perspective, just looking at the immediate vicinity before it gets fully built out.
Charles Jaque: I can't emphasize that enough. Like how many of us if we could back and buy Liberty Village while half the neighborhood was still under construction, how many of us would jump at that opportunity? You know, if you could wind back time. So this is probably one of the last opportunities in the city to come into a community like this and to be investing early on. And it's certainly the only opportunity in Toronto to be investing next to such a huge regional redevelopment as we take into account the Downsview Lands neighborhoods and the airport, the Yorkdale Mall redevelopment, the Lawrence and Alan growth area. The Wilson Avenue revitalization. We didn't mention Humber River Hospital is a new build hospital in 2015. It's got 656 beds. It's zone as the most high tech hospital in the country. There's so much happening here. We're so well connected to transit. It's really a special opportunity.
Andrew la Fleur: Awesome. Great. Thank you so much, Charles, for your time today. Appreciate it. And hopefully … Yeah and I'm sure we'll have you again on the podcast soon. Thanks Charles.
Charles Jaque: Looking forward to it. Thanks, man. Bye now.
Announcer: Thanks for listening to the True Condos podcast. Remember, your positive reviews make a big difference to the show. To learn more about condo investing, become a True Condos subscriber by visiting truecondos.com.