XO Condos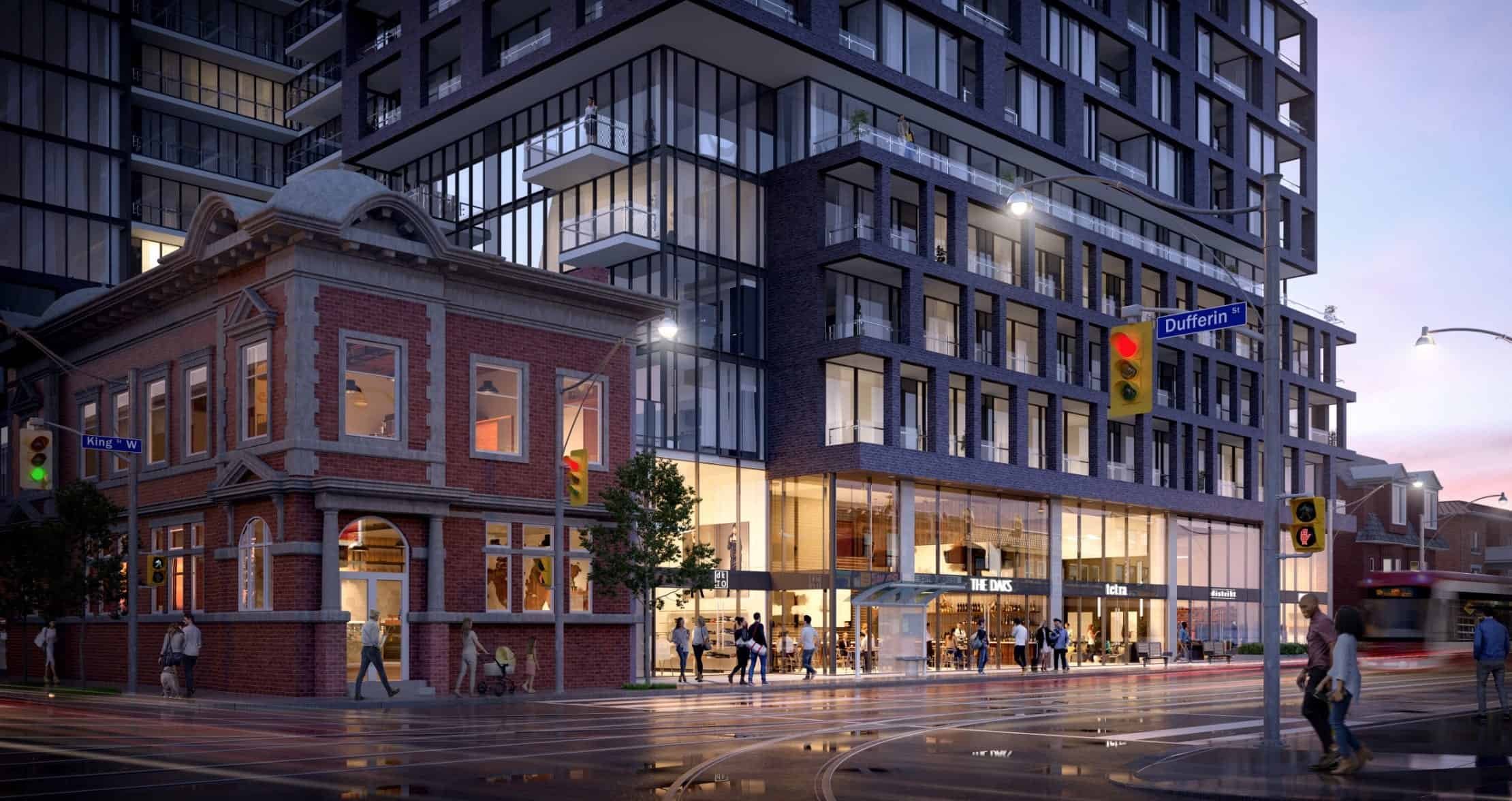 About XO Condos
Introducing XO Condos by Lifetime Developments and Pinedale Properties. Featuring 14-storeys of residential suites with convenient retail at the ground level. You're at the center of it all at kingxdufferin – we know you're going to love living here.
Stunning architecture collides past and future at a bustling intersection where iconic neighbourhoods intersect. Travelling pedestrians and charming streetcars whiz through the amenity-filled streets surrounding your home. It's more than a place, it's a feeling. Anything is possible when everything is at your doorstep.
Modern design complemented with classic brickwork, creates a contemporary ambiance that feels just right. Enter your urban lobby, watch the world pass from your spacious balcony, and take advantage of abundant amenities within and around your building.
XO Condos Details
| | |
| --- | --- |
| Developer | Lifetime Developments |
| Address | 1221 King Street West, Toronto |
| Neighbourhood | Liberty Village |
| Number of Storeys | 14 |
| Number of Units | 297 |
| Occupancy Date | Winter/Spring 2019 |
| Maintenance Fees | TBA |
| Priced From | $400,000s |
XO Condos Location
Where Toronto's most exciting neighbourhoods intersect. XO Condos overlooks a buzzing cityscape of eclectic urban amenities. Enjoy the best of Liberty Village, King West, Queen West and Parkdale because at kingxdufferin, you can have it all.
Liberty Village
Start your day with legendary blueberry pancakes from Mildred's Temple Kitchen. If you're feeling adventurous, make your way to Joe Rockhead's Indoor Rock Climbing. If you prefer taking it easy, stop by Liberty Village Park featuring a giant sculpture, children's playground, benches, and greenery. Don't skip Liberty Market Building, which is home to over 300,000 sq. ft. of revitalized space for retail, studio, and office tenants in a historical building. Plus, a King-Liberty pedestrian cycle bridge spanning from Douro Street to Western Battery Road is expected to open in summer 2019!
King West
Bring your kids to the splash pad at Massey Harris Park or earn your puppy love by bringing your furry friends to the Stanley Off-Leash Dog Park. Enjoy a stroll through the greenery and drop the little ones off at home before soaring up to Bisha's rooftop featuring an infinity edge pool and delectable dining at KOST. Prefer something low-key? Pop into Bar Buca, a small restaurant and café offering incredible Italian share-plates and an excellent selection of wines.
Queen West
Named one of the coolest streets in the world by Vogue, this neighbourhood is known for fantastic fashion, eclectic mom-and-pop shops, lovely parks, and excellent dining. Browse a myriad of stylish shopping, from high-end fashion to chic décor to vintage finds. Grab your selfie stick and walk Graffiti Alley, off Queen West and Spadina, where colourful walls showcase the work of the city's most remarkable street artists. Once you've worked up an appetite touring this brilliant area, pop into the beautifully designed Aloette restaurant for a modern take on a classic diner experience.
Parkdale
Home to renowned restaurants, indie cafés, art galleries, and sprawling parks, there's always something to do in Parkdale. Treat your sweet tooth at Glory Hole Doughnuts after getting your fast-food fill of greasy burgers and fries at the surprisingly vegan Doomie's. When you cannot eat one more bite, go for a walk along buzzing King Street West or the tranquil trails in Marilyn Bell Park.
Transit at your doorstep…
SmartTrack station is coming to King-Liberty – just a five-minute walk to XO Condos.
Travel time from King-Liberty Station to…
– Dundas West 3 minutes (save 22 mins.)
– Union Station 7 minutes (save 18 mins.)
– Scarborough 25 minutes (save 1 hour & 3 mins.)
TTC Streetcar and buses to get you to your destination – the choice is yours.
Travel time from XO Condos to…
– Exhibition Loop via 504 King 6 minutes
– Dufferin Station line 2 via 29 Dufferin 13 minutes
– St. Andrews Station line 1 via 504 King 15 mins
XO Condos Amenities
1. KIDS ZONE
The interactive Kids' Zone at XO Condos is designed to encourage curiosity, improve dexterity, free their imaginations, and help them socialize with other children in the community. Fully equipped to keep little minds engaged, it features an art room, reading room, movie hub and ball pit to use up any extra energy. There is also an outdoor play area for a good dose of fresh air and fun. Perfect for play dates or hosting your child's birthday party. This valuable amenity brings all the summer fun of a park, indoors right in your building for year-round activities.
2. LOUNGE & DINING ROOM
The dining room and social lounge at XO Condos are ideal places for celebrating life's happy occasions with your loved ones or hosting your infamous Superbowl party. Take your pick of chic seating around a long table, at the bar, the spacious lounge, or a more intimate setting in one of several cozy nooks which all feel like an extension of your living room. Take the party outside for a night under the stars on your stylish outdoor terrace.
3. SPIN ROOM
Going beyond the typical studio offered by most condos, XO Condos presents the Spin Room featuring one of fitness's most popular forms of exercise. Get your pulse pumping with an entire sport and fitness area dedicated to your health and wellness. Improve your cardio, tone your body and clear your mind as you challenge yourself spinning and rocking out to high energy playlists.
4. THINK TANK
Get focused and get ahead on your work or school projects in the Think Tank at XO Condos. Whether you need a comfortable space to meet with colleagues or an escape from every day distractions to study, the Think Tank is the place to get things done. Call it your personal home office or lounge to ponder great ideas, it features floor-to-ceiling windows that offer natural light, high-speed Wi-fi and an outdoor seating area for those warm sunny days to put your feet up and answer emails.
5. OUTDOOR TERRACE
Enjoy city skyline views, and beyond that, the blue waters of Lake Ontario stretching out to the horizon. Perfect for family time, alfresco dining, mingling with neighbours, and hanging out with friends and family, the outdoor terrace is designed for your utmost enjoyment.
Full List of XO Amenities
Legend
1. KIDS ZONE
2. LOUNGE & DINING ROOM
3. SPIN ROOM
4. THINK TANK
5. OUTDOOR TERRACE
6. PROPERTY MANAGEMENT OFFICE
7. FITNESS FACILITIES
8. CARDIO ROOM
9. YOGA STUDIO
10. OUTDOOR YOGA SPACE
11. BBQ TERRACE
12. CHANGE ROOMS
13. ENTERTAINMENT & GAMING LOUNGE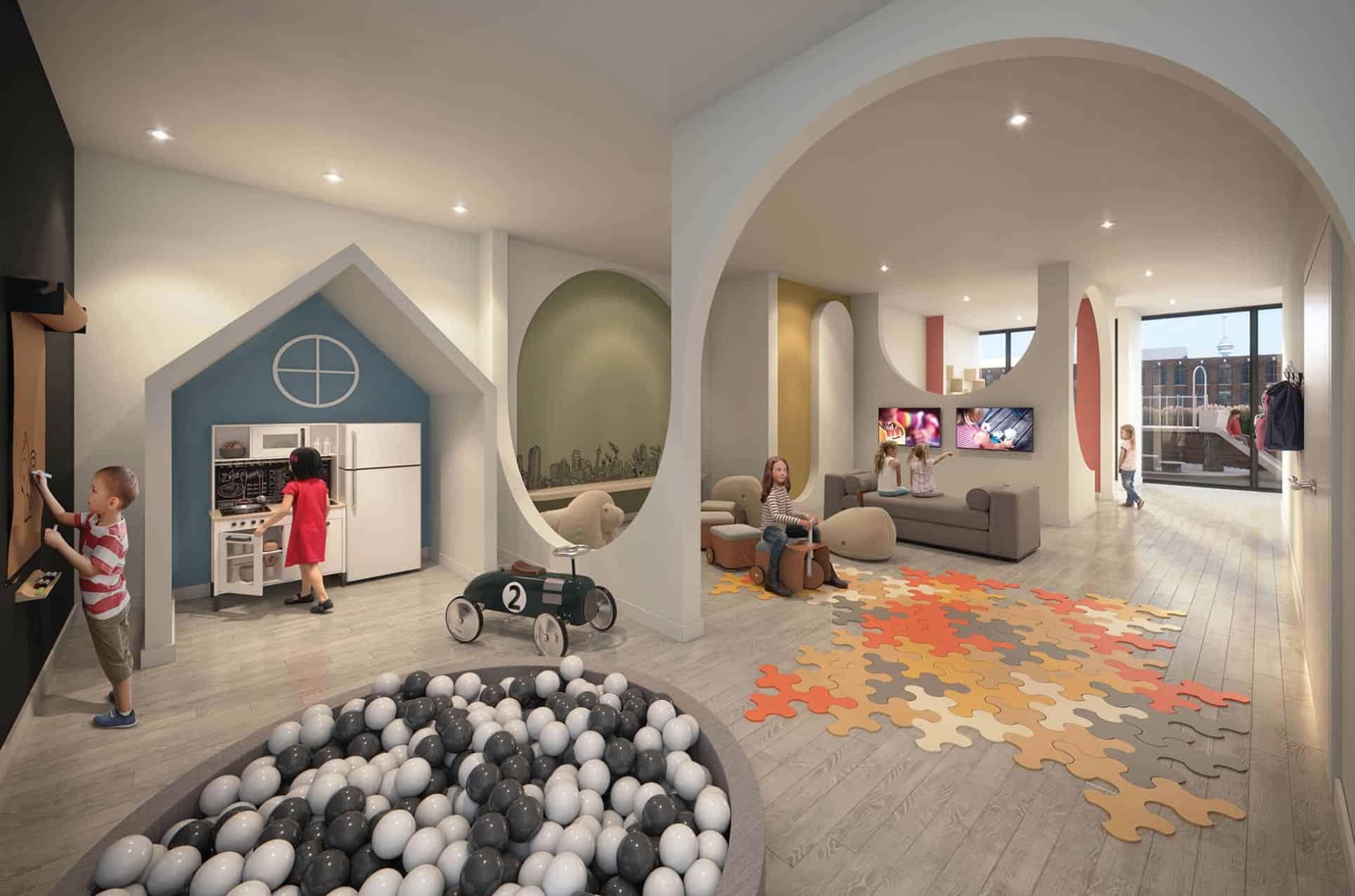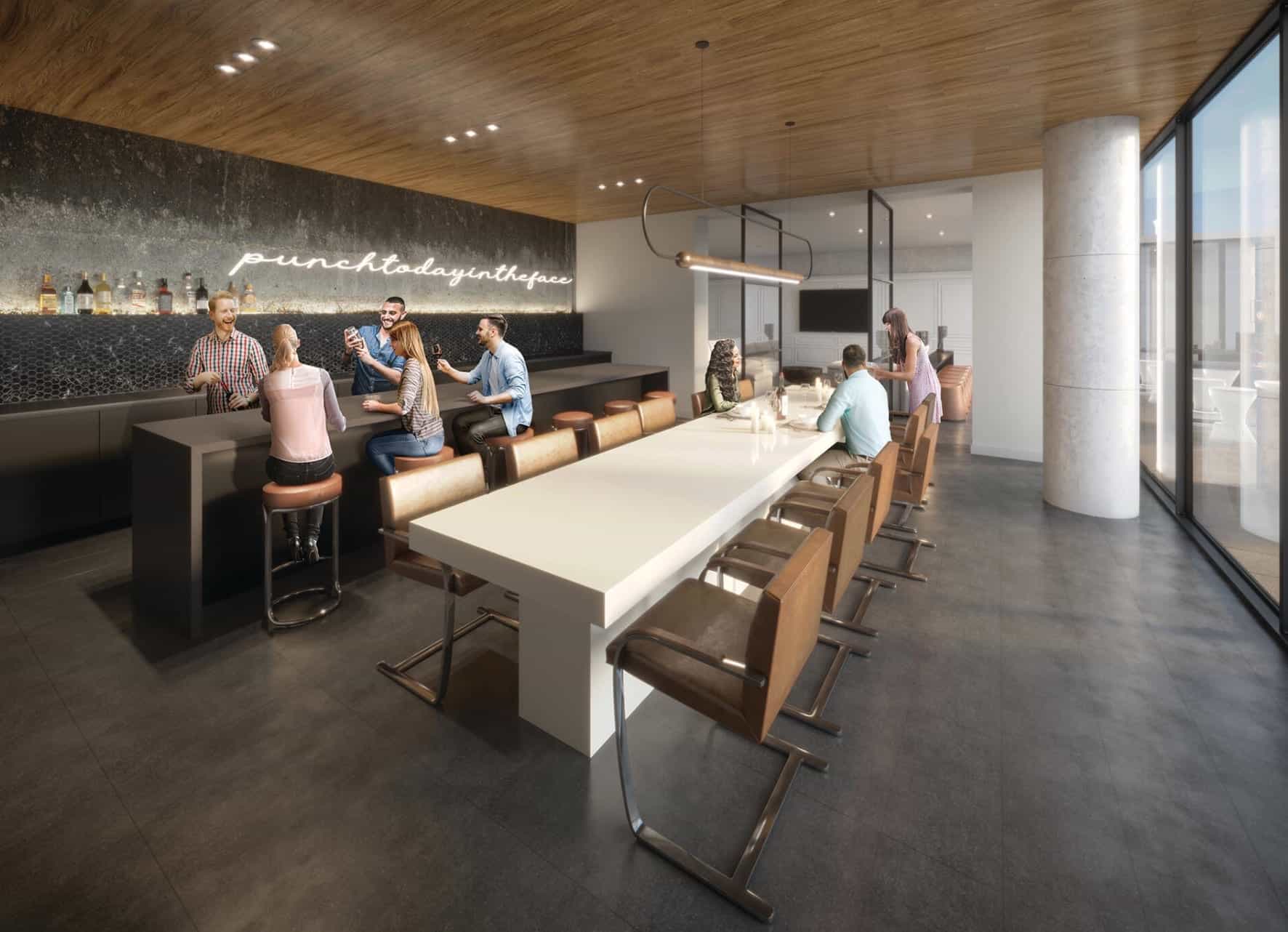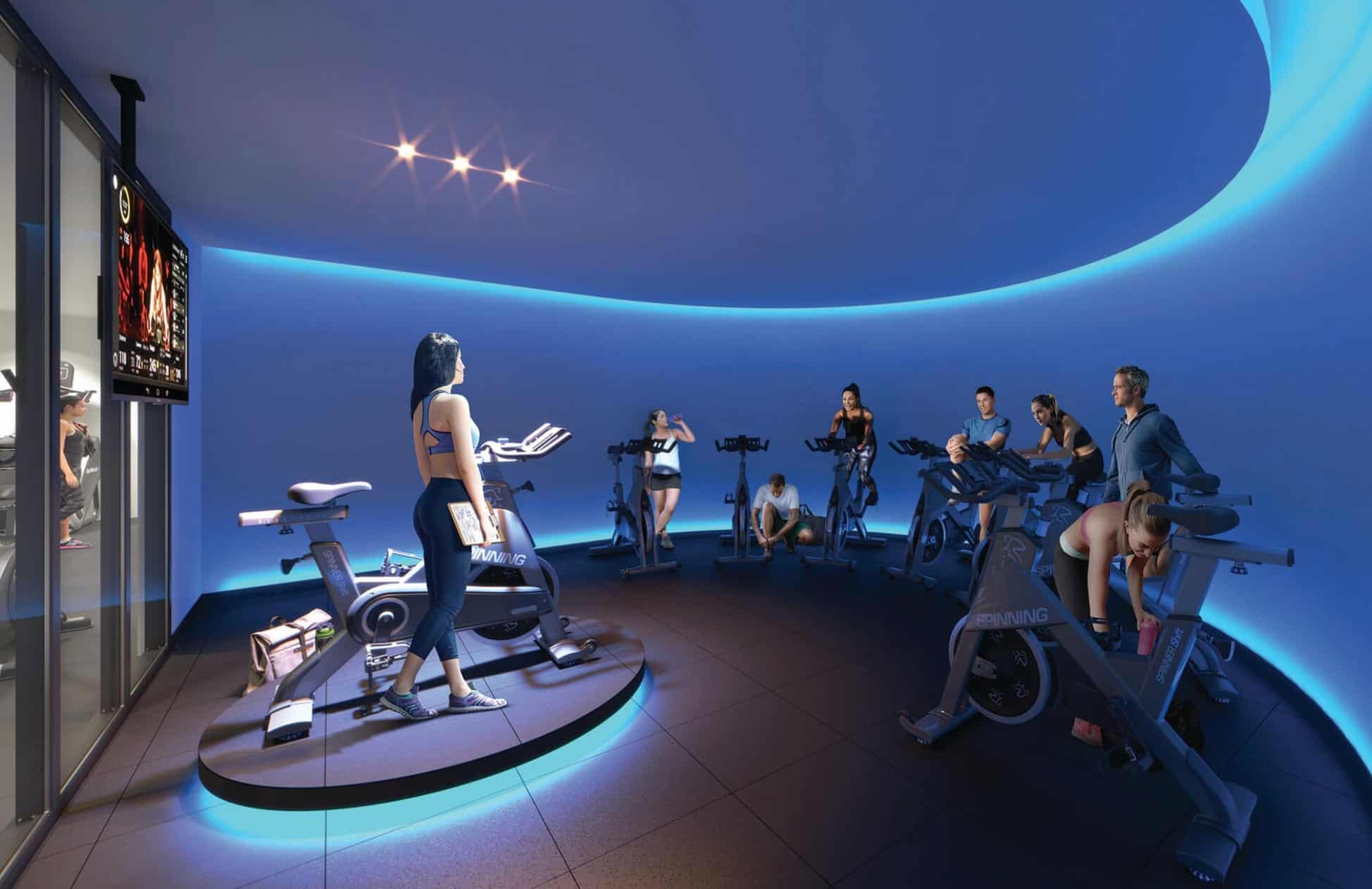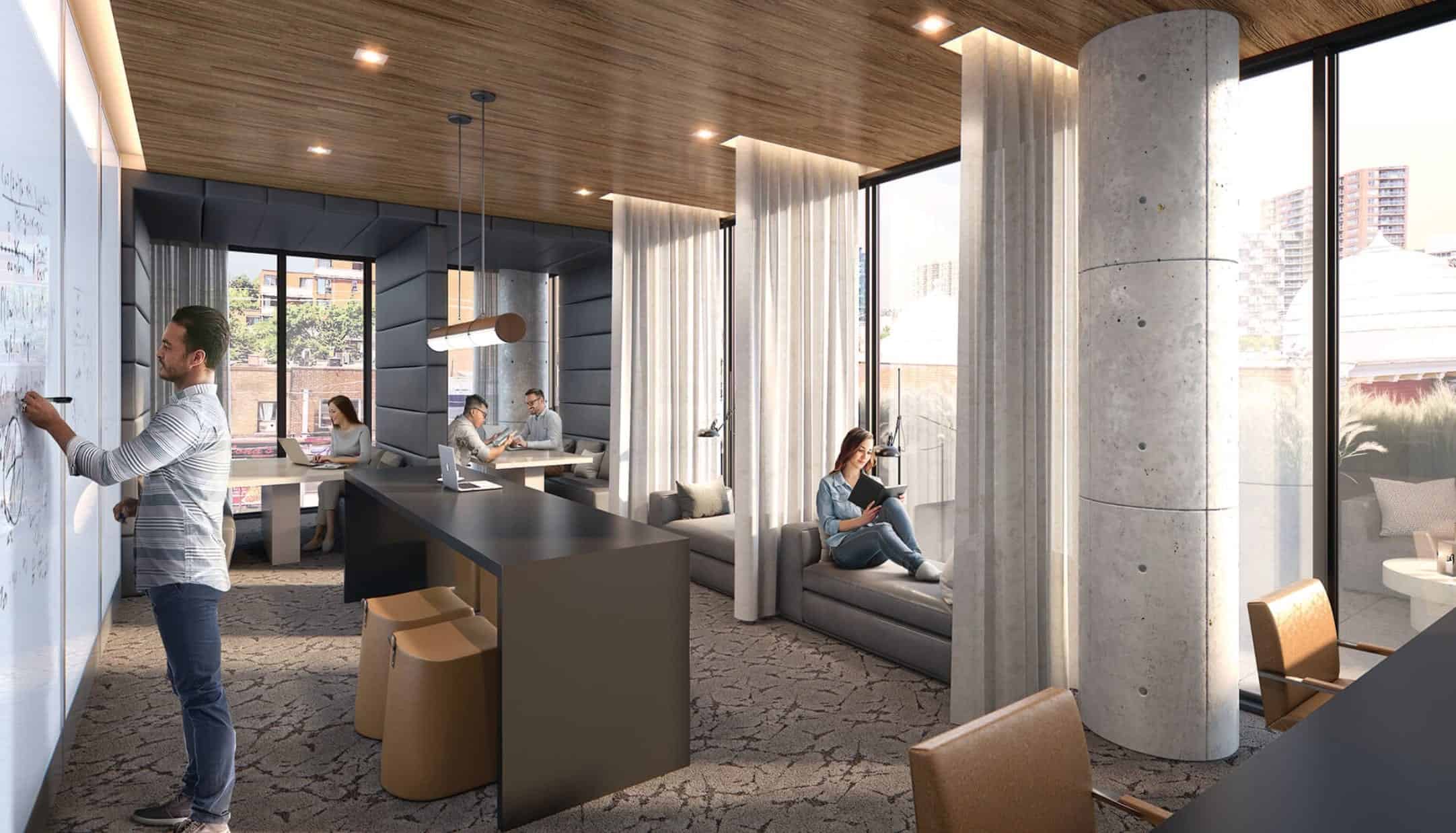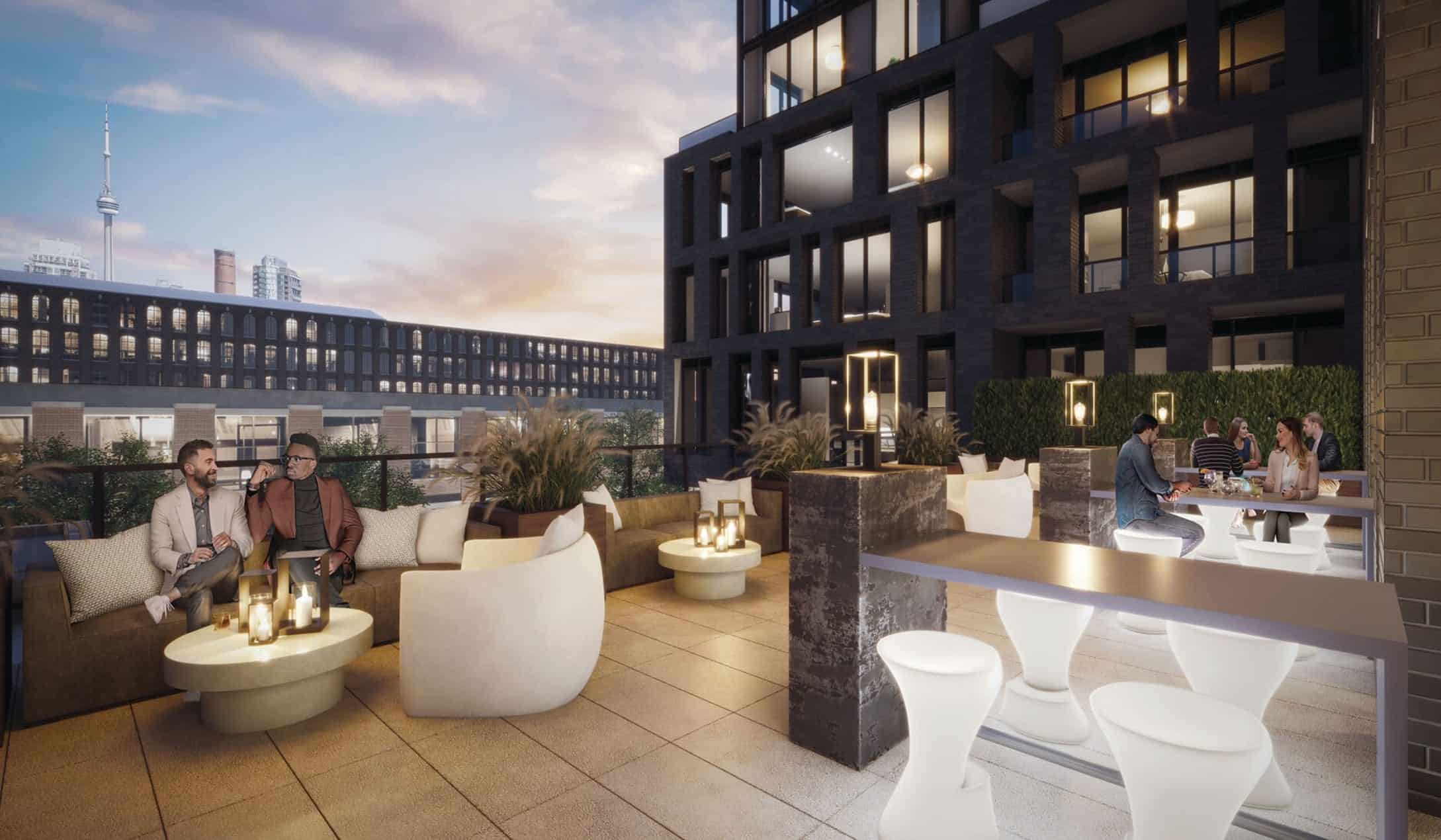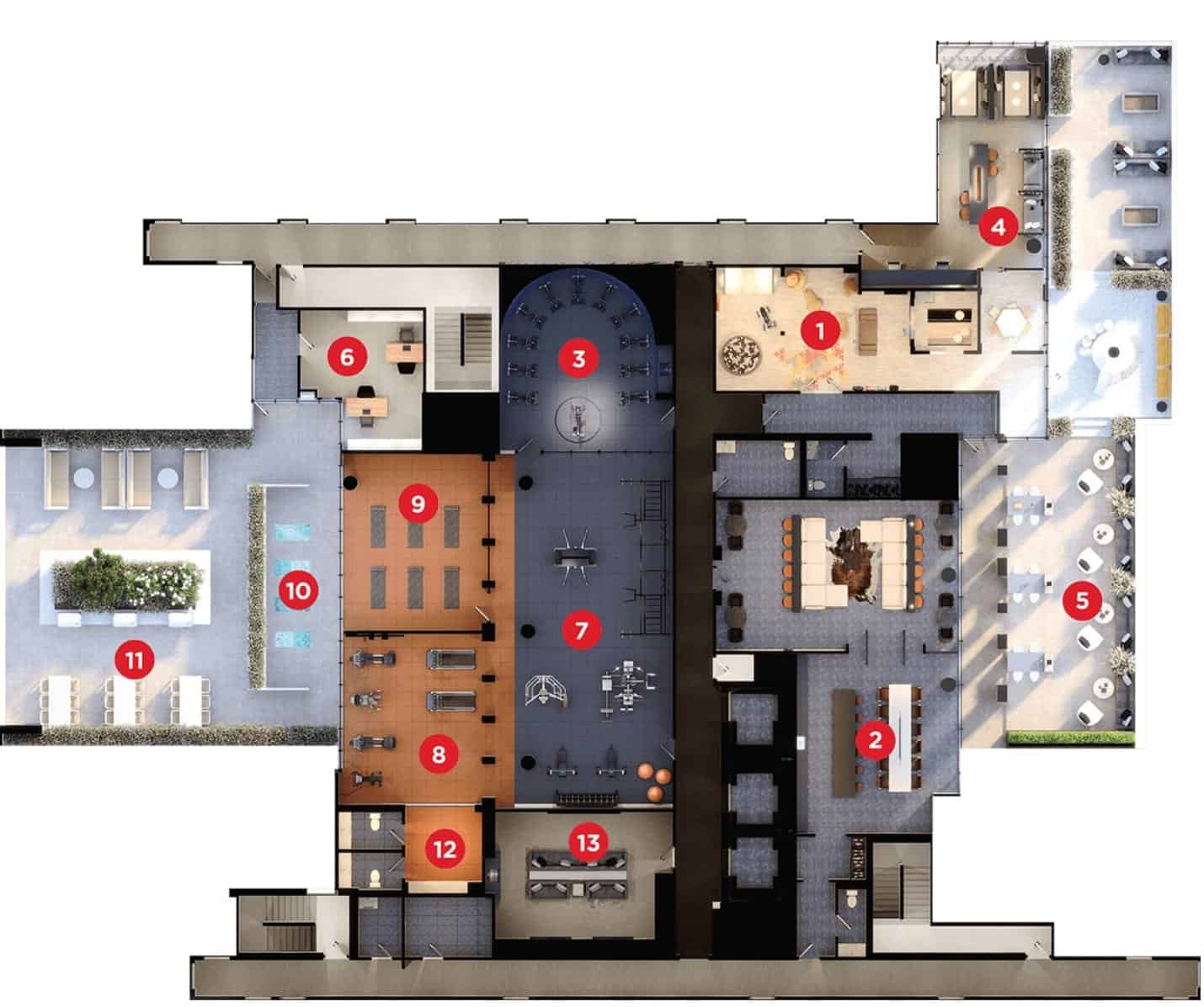 XO Condos Features and Finishes
DESIGN- INFUSED SUITES
9' ceiling heights (excluding areas with dropped ceilings and bulkheads)
Floor-to-ceiling windows provide downtown views, as per plan
Choice of designer-selected flooring in all principal rooms and bedrooms
Smooth finished ceilings
Solid entry doors with security view-hole
Contemporary painted baseboards, doorframes and casings
Insulated double-glazed windows
Spacious outdoor living space
Parking and storage lockers available, as per plan
NOUVEAU KITCHENS
Sleek kitchen cabinetry, custom-designed by Tomas Pearce
Choice of stone countertops and contemporary tile backsplash, as per builder's samples
Designer-selected stainless steel sink
Integrated refrigerator and dishwasher
Microwave oven hood fan and range
TIMELESS BATHROOMS
Modern bathroom cabinetry, custom-designed by Tomas Pearce
Designer-selected countertop and sink
Wall-mounted vanity mirror
Designer-selected tub and selected fixtures, as per plan
Glass shower stall and designer-selected fixtures, as per plan
Designer-selected accessory package
CONVENIENT LAUNDRY
In-suite laundry closet with stacked washer and dryer, as per plan
Contemporary tile flooring
TECH INNOVATIONS
Individual thermostat for suite temperature control
Emergency voice communications system, smoke and carbon monoxide detector
Pre-wiring for cable TV, high-speed Internet access and telephones, as per plan
Card and key access throughout all common areas
Enterphone in lobby entrance vestibule
Remote control/access card for private garage entry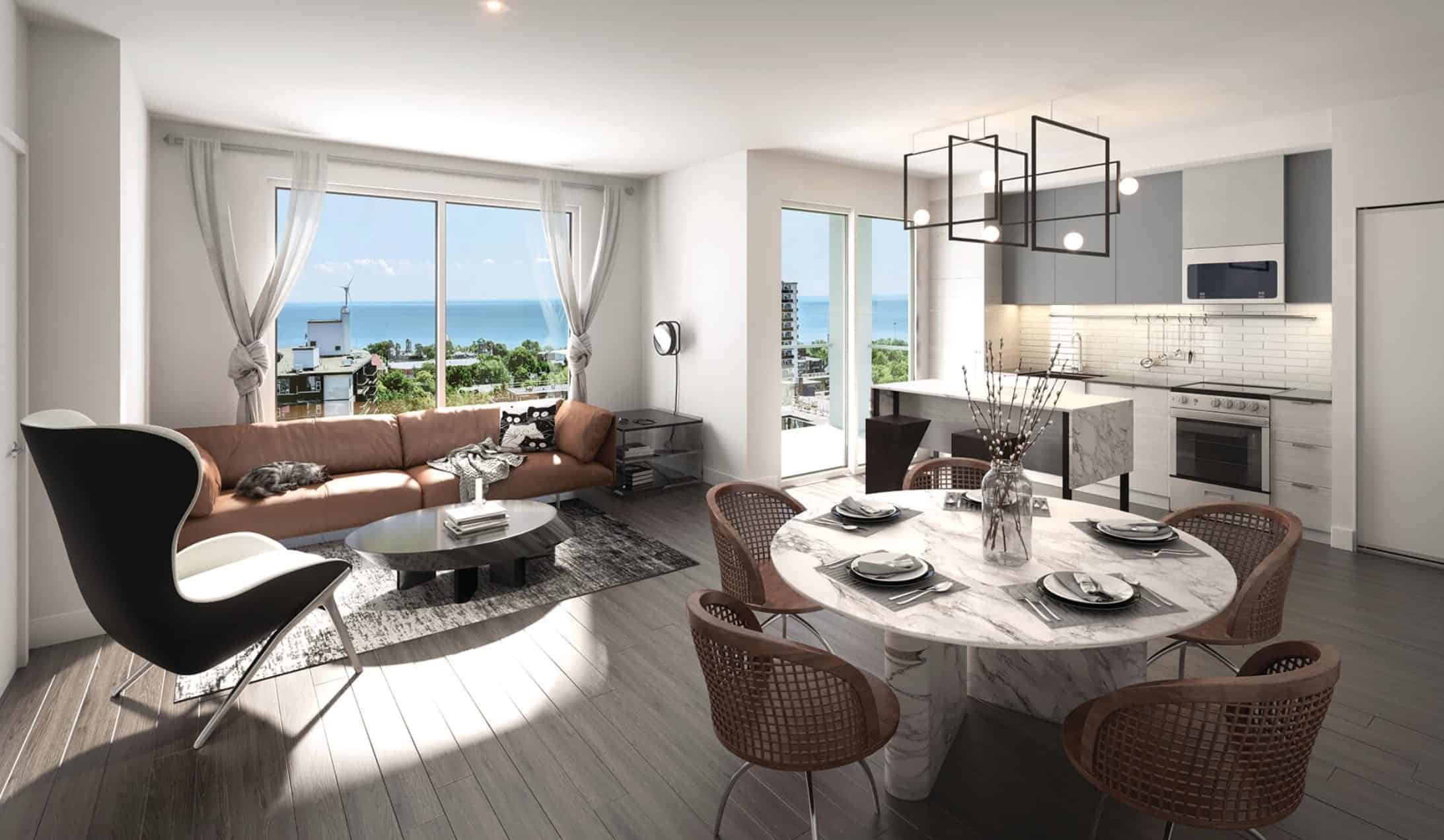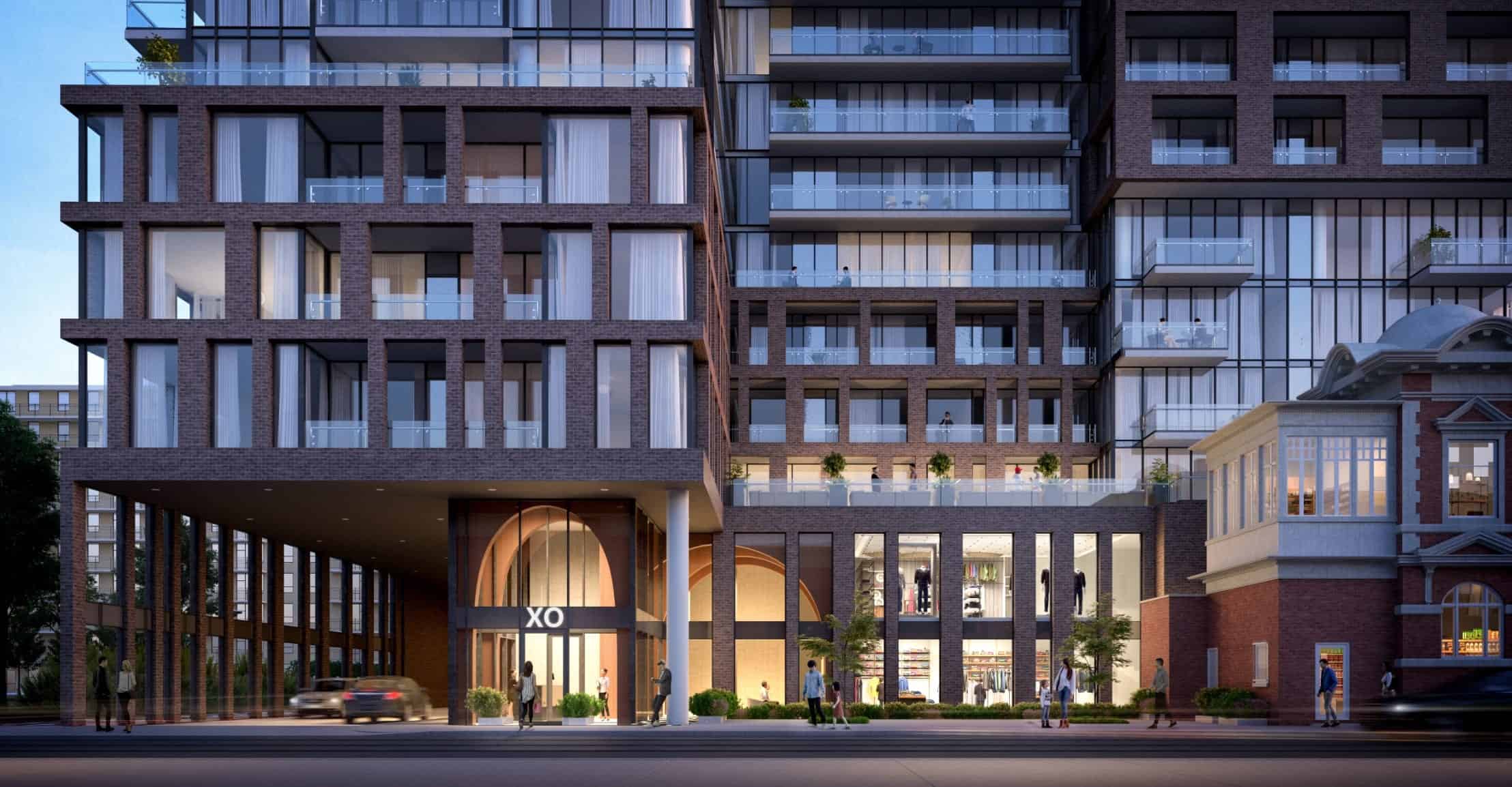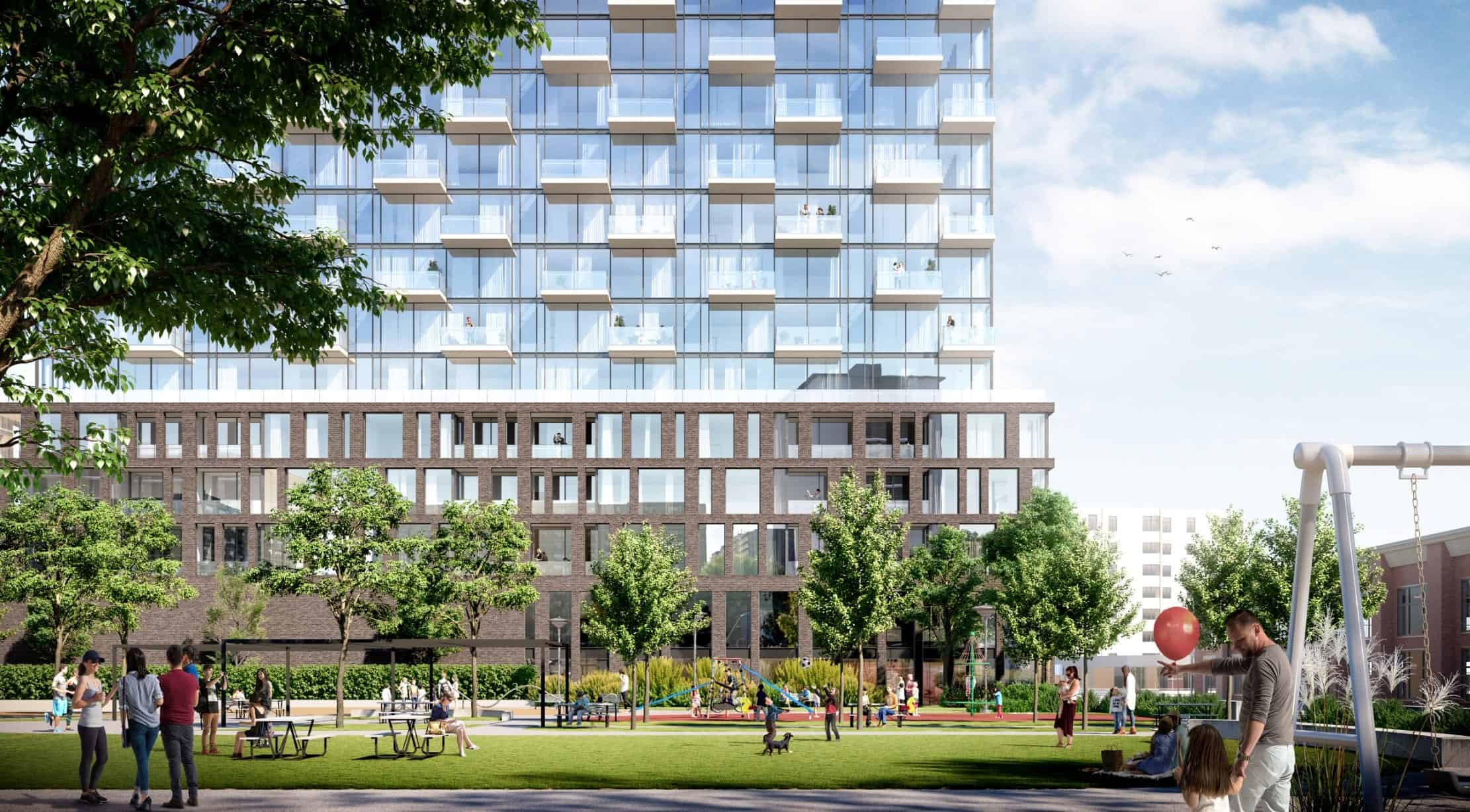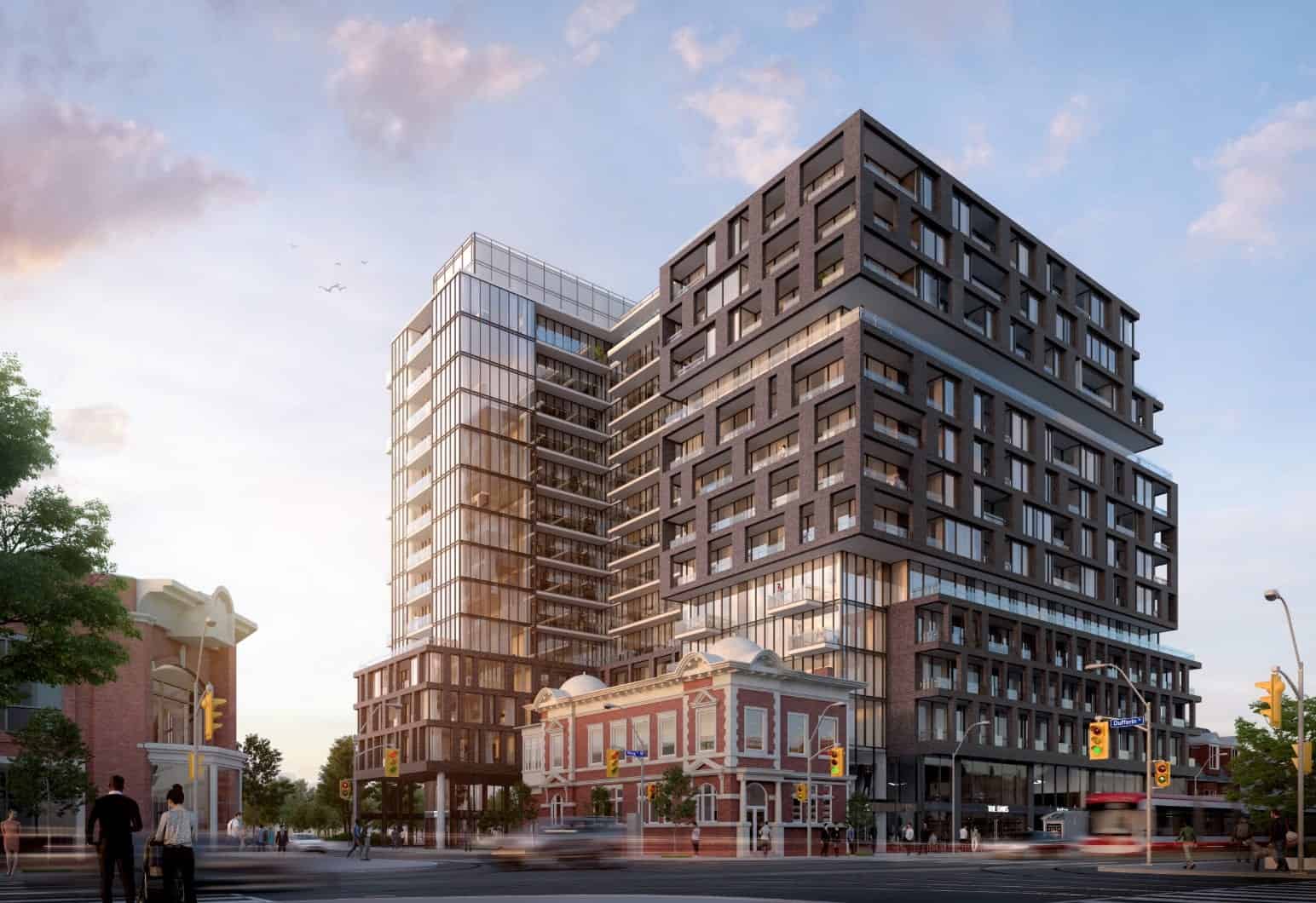 About the Developer
LIFETIME DEVELOPMENTS
For more than three decades, Lifetime Developments has created thriving residential neighbourhoods and successful commercial properties that continuously define new benchmarks in the real estate community. By consistently demonstrating the vision of identifying key locations poised for growth and inspiring the evolution of dynamic urban communities, Lifetime remains at the forefront of Toronto's real estate and development sector.
XO Condos Frequently Asked Questions
How do I reserve a unit in this project?
After you review the floor plans and prices, if you know what suites you are interested in, you may reserve a suite online using our online reservation worksheet form at https://truecondos.com/worksheet.
Does filling out the worksheet form mean I'm committing to buy a suite?
No it is not a formal commitment, it is an expression of interest and the first step you must take if you are thinking about getting a unit in this project.
What does it mean that Andrew la Fleur is a "Platinum Agent"?
Platinum agents are the top selling agents who get preferred status with developers and first access to new projects before regular agents and the public.
Andrew la Fleur has been a top-selling pre-construction agent since 2007, and during this time he has achieved platinum status with many of the top builders and sales companies in the Greater Toronto Area.
For more information on about Platinum agents see this article: https://truecondos.com/5-things-to-know-about-buying-a-condo-with-a-platinum-vip-realtor-real-estate-agent/
How does it benefit me as a buyer to work with Andrew la Fleur as my Platinum Agent?
Working with me as your Platinum agent gives you several benefits
You get the

highest level of access

in the building

You pay the

lowest possible price

for the unit (prices are typically increased significantly after the Platinum sales event)

The best possible

incentives

I do not represent the builder. I represent you. You benefit from my expertise of being a top selling pre-construction agent and investor myself since 2007.

Access to my personal network of mortgage brokers, lawyers, property management, HST rebate services, handymen and much more.

My services to you as a buyer are

free
Do I get a cooling off period? What is it for?
Yes, after you sign the contract to purchase a suite you will have a standard 10-day cooling off period. It's 10 calendar days, not business days from the time you sign.
The 10 days are primarily for 2 things: 1) to have a lawyer review your contract with you if you wish and 2) to get a mortgage pre-approval letter
Do I need to have a lawyer?
You don't need to have a lawyer at the moment that you sign the agreement, however I always recommend that you have a qualified lawyer review your agreement of purchase and sale after you sign and during your 10-day cooling off period.
Not sure who to talk to? Don't worry – getting a lawyer is something I can help you with. Contact me for more details.
Do I need to have a mortgage pre-approval to buy?
95% of all builders will require you to provide them with proof of financing capability in order to purchase. This is not required before you sign a contract, but it is usually required within 60 days of signing.
Not sure where to begin? Don't worry – getting a mortgage pre-approval is something that I can help you with. Contact me for more details.
Do the prices include HST?
If you are purchasing for yourself and plan to move in, then yes, prices include the HST and there is nothing you will have to pay at final closing.
If you are purchasing as an investment rental property, then you will have to pay approximately 7.8% of the purchase price as HST on final closing.
This money is remitted to the CRA and as an investor renting out your property you can apply to the CRA immediately to get this money back. It usually takes about 1 month to get your rebate back.
For more information on the HST, see here:
https://truecondos.com/tag/hst-rebates/
Contact me for more details.
What are my closing costs on a pre-construction condo?
Closing costs on a pre-construction condo will vary greatly depending on the actual purchase price of the unit you are buying, but it also depends on the builder, the city that you are buying in, and the type of unit that you are buying.
Roughly speaking in Toronto you can expect to pay approximately 3-5% of the purchase price in closing costs when purchasing a brand new condo.
Check out this article for more info on closing costs:
https://truecondos.com/5-things-to-know-about-closing-costs-when-investing-in-a-pre-construction-condo/
Contact me for more details
Are there any 'hidden' costs when buying a pre-construction condo?
No, there are no hidden fees when buying pre-construction condos because all fees must be disclosed in the agreement of purchase and sale. All purchasers have 10 days to review the agreement and have a lawyer advise them on the exact closing cost amounts. If you need a lawyer to help you we can suggest to you to several expert law firms that will review your agreement in detail.
Is it possible to assign my condo? How much is the assignment fee?
Most condo builders do allow you to sell your unit before the building is complete. This projcess is called selling by "assignment".
There is usually an assignment fee and a legal fee associated with selling. Costs can range from $1000-7000. Contact me for more details.