Cielo Condos
| | |
| --- | --- |
| Developer | Collecdev and Northrop Development |
| Address | 300 Bloor Street West, Toronto |
| Neighbourhood | The Annex |
| Number of Storeys | 29 |
| Number of Units | 249 |
| Occupancy Date | TBA |
| Maintenance Fees | TBA |
| Priced From | TBA |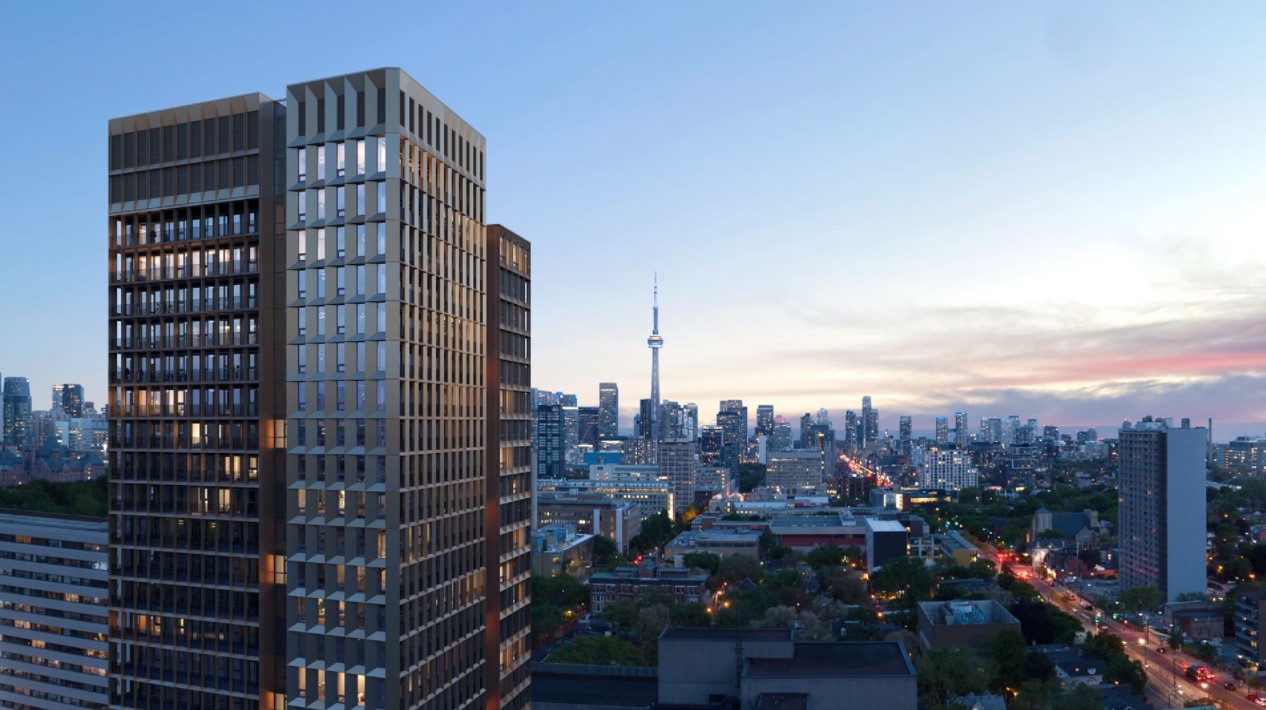 About Cielo Condos
At Cielo Residences, luxury defies expectation. Located in the Annex – Toronto's celebrated Arts & Cultural hub – this statement of refined architectural modernism, poised above a 19th century neo-gothic landmark, redefines Toronto's skyline.
Live just steps to designer boutiques on Mink Mile, across from the world-class University of Toronto, and next to the city's finest restaurants. With the Bloor subway at your doorstep, you're mere minutes from almost everywhere in the GTA. Discover breathtaking views above tree-lined Victorian streets.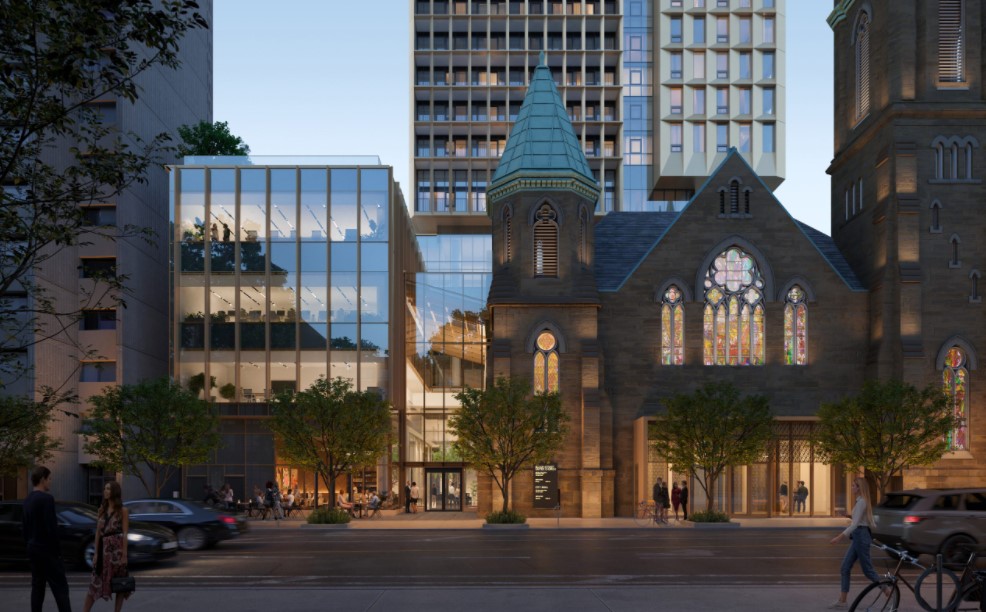 Cielo Condos Location
Sustainable architectural design is environmentally conscious, energy-saving, and utilizes responsive and renewable materials and systems. Collecdev realizes that ecological and environmental concerns have expanded beyond the issue of the consumption of non-renewable energy sources. True sustainability aims for ecological balance.
LEGENDARY INSTITUTIONS
Perhaps because of its close proximity to the university, the Annex quickly became the home of many of the city's most important arts and cultural institutions and, indeed, the biggest of them, The Royal Ontario Museum, was initially a department at UofT. Others quickly followed, including the Gardiner Museum, the Bata Shoe Museum (steps from Cielo), the University Art Museum, Galerie De Bellefeuille, and The Royal Conservatory of Music along with its stunning new performance space, Koerner Hall.
INTERNATIONAL LUXURY
Just a few blocks east of Cielo, starting at Queen's Park, Bloor West morphs into the Mink Mile, one of the world's most deluxe shopping streets, on par with New York's 5th Avenue, London's Bond Street, or LA's Rodeo Drive. Among the legendary luxury brands that have set up shop on the Mink Mile, and in nearby Yorkville, are Dior and Gucci, Louis Vuitton and Dolce & Gabbana, Burberry and Prada, Hermès and Cartier.
About the Developer
Collecdev is a development company dedicated to building better communities. They champion an integrated approach, based on five pillars of good development and design.
At Collecdev, sustainability is all-encompassing. It means innovative technology like geothermal energy systems that reduce a building's carbon footprint and help create predictable monthly costs for residents. It means building communities that will thrive for decades, anticipating the future while balancing the needs of today.
How do I reserve a unit in this project?
After you review the floor plans and prices, if you know what suites you are interested in, you may reserve a suite online using our online reservation worksheet form at https://truecondos.com/worksheet.
Does filling out the worksheet form mean I'm committing to buy a suite?
No it is not a formal commitment, it is an expression of interest and the first step you must take if you are thinking about getting a unit in this project.
What does it mean that Andrew la Fleur is a "Platinum Agent"?
Platinum agents are the top selling agents who get preferred status with developers and first access to new projects before regular agents and the public.
Andrew la Fleur has been a top-selling pre-construction agent since 2007, and during this time he has achieved platinum status with many of the top builders and sales companies in the Greater Toronto Area.
For more information on about Platinum agents see this article: https://truecondos.com/5-things-to-know-about-buying-a-condo-with-a-platinum-vip-realtor-real-estate-agent/
How does it benefit me as a buyer to work with Andrew la Fleur as my Platinum Agent?
Working with me as your Platinum agent gives you several benefits
You get the

highest level of access

in the building

You pay the

lowest possible price

for the unit (prices are typically increased significantly after the Platinum sales event)

The best possible

incentives

I do not represent the builder. I represent you. You benefit from my expertise of being a top selling pre-construction agent and investor myself since 2007.

Access to my personal network of mortgage brokers, lawyers, property management, HST rebate services, handymen and much more.

My services to you as a buyer are

free
Do I get a cooling off period? What is it for?
Yes, after you sign the contract to purchase a suite you will have a standard 10-day cooling off period. It's 10 calendar days, not business days from the time you sign.
The 10 days are primarily for 2 things: 1) to have a lawyer review your contract with you if you wish and 2) to get a mortgage pre-approval letter
Do I need to have a lawyer?
You don't need to have a lawyer at the moment that you sign the agreement, however I always recommend that you have a qualified lawyer review your agreement of purchase and sale after you sign and during your 10-day cooling off period.
Not sure who to talk to? Don't worry – getting a lawyer is something I can help you with. Contact me for more details.
Do I need to have a mortgage pre-approval to buy?
95% of all builders will require you to provide them with proof of financing capability in order to purchase. This is not required before you sign a contract, but it is usually required within 60 days of signing.
Not sure where to begin? Don't worry – getting a mortgage pre-approval is something that I can help you with. Contact me for more details.
Do the prices include HST?
If you are purchasing for yourself and plan to move in, then yes, prices include the HST and there is nothing you will have to pay at final closing.
If you are purchasing as an investment rental property, then you will have to pay approximately 7.8% of the purchase price as HST on final closing.
This money is remitted to the CRA and as an investor renting out your property you can apply to the CRA immediately to get this money back. It usually takes about 1 month to get your rebate back.
For more information on the HST, see here:
https://truecondos.com/tag/hst-rebates/
Contact me for more details.
What are my closing costs on a pre-construction condo?
Closing costs on a pre-construction condo will vary greatly depending on the actual purchase price of the unit you are buying, but it also depends on the builder, the city that you are buying in, and the type of unit that you are buying.
Roughly speaking in Toronto you can expect to pay approximately 3-5% of the purchase price in closing costs when purchasing a brand new condo.
Check out this article for more info on closing costs:
https://truecondos.com/5-things-to-know-about-closing-costs-when-investing-in-a-pre-construction-condo/
Contact me for more details
Are there any 'hidden' costs when buying a pre-construction condo?
No, there are no hidden fees when buying pre-construction condos because all fees must be disclosed in the agreement of purchase and sale. All purchasers have 10 days to review the agreement and have a lawyer advise them on the exact closing cost amounts. If you need a lawyer to help you we can suggest to you to several expert law firms that will review your agreement in detail.
Is it possible to assign my condo? How much is the assignment fee?
Most condo builders do allow you to sell your unit before the building is complete. This projcess is called selling by "assignment".
There is usually an assignment fee and a legal fee associated with selling. Costs can range from $1000-7000. Contact me for more details.