Coming Soon: Paintbox Condos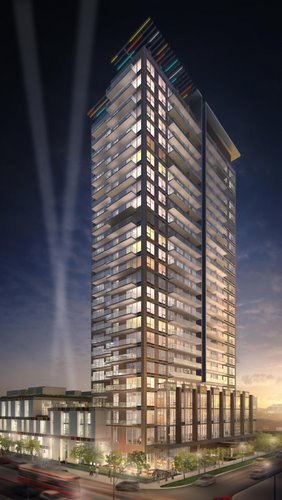 February 22 update: Sample Floor Plans Now Available. Contact me for more information.
Coming soon to Regent Park from Daniels: Paintbox Condos. Contact me today to register for this exciting new development.
After selling out One Cole in May 2009, then following that up with a near sell out of One Park West in September 2010, Daniels has already begun work on their next condo tower in the Regent Park neighbourhood. Paintbox will be larger and have more units than One Park West and will be the first development on the south side of Dundas Street. Presumably the name is derived from the fact that it will sit atop the brand new Regent Park Arts and Cultural Centre. The Centre is yet another example of the millions of dollars (much of it is government money) that is being poured into this neighbourhood over the next decade or so (the others being the aquatic centre and the park).
For those of you who are still doubting the potential of this neighbourhood from an investment perspective, seriously, you need to give your head a shake! Those who bought in the early days of One Cole have already seen as much as a 20% appreciation on their initial purchase price! 2 recent examples:
2 bed/2 bath unit that could have been bought for ~$348K (including parking) in May 2009 was sold in November 2010 for $420K.
1+den unit that could have been bought for ~$253K (including parking) in May 2009 sold for $305K in September 2010.
One Park West sold out of virtually every suite (except a couple larger units) before it even made it to the general public sales event! All indications are buyers in One Park West will also see excellent ROI.
I have helped several clients buy units in both One Cole and One Park West and they were all very happy with their purchases.  Once again my membership in the Daniels' "Platinum Producers Club" will grant my clients priority access to this project ahead of all the others. Register with me now for priority access and as always my services are FREE to you as a buyer.
Special note to all my clients: if you choose to register with Daniels and/or join their Inner Circle program via their website, in person, or on the phone, be 100% sure to indicate that you are working with me as your buyer's agent! Some of my would-be clients were left out in the cold (could not get a unit) when One Park West launched simply because they failed to inform Daniels that they were working with me as their buyer's agent. For more details, contact me and stay tuned to truecondos.com/wp for updates on Paintbox Condominiums over the next few months.