Copper Trail Creek
| | |
| --- | --- |
| Developer | SkyHomes Corporation |
| Address | Queen Street West & Creditview Road, Brampton |
| Neighbourhood | Brampton |
| Number of Storeys | Townhome |
| Number of Units | 43 |
| Occupancy Date | Fall 2021 |
| Maintenance Fees | TBA |
| Priced From | low $800,000s |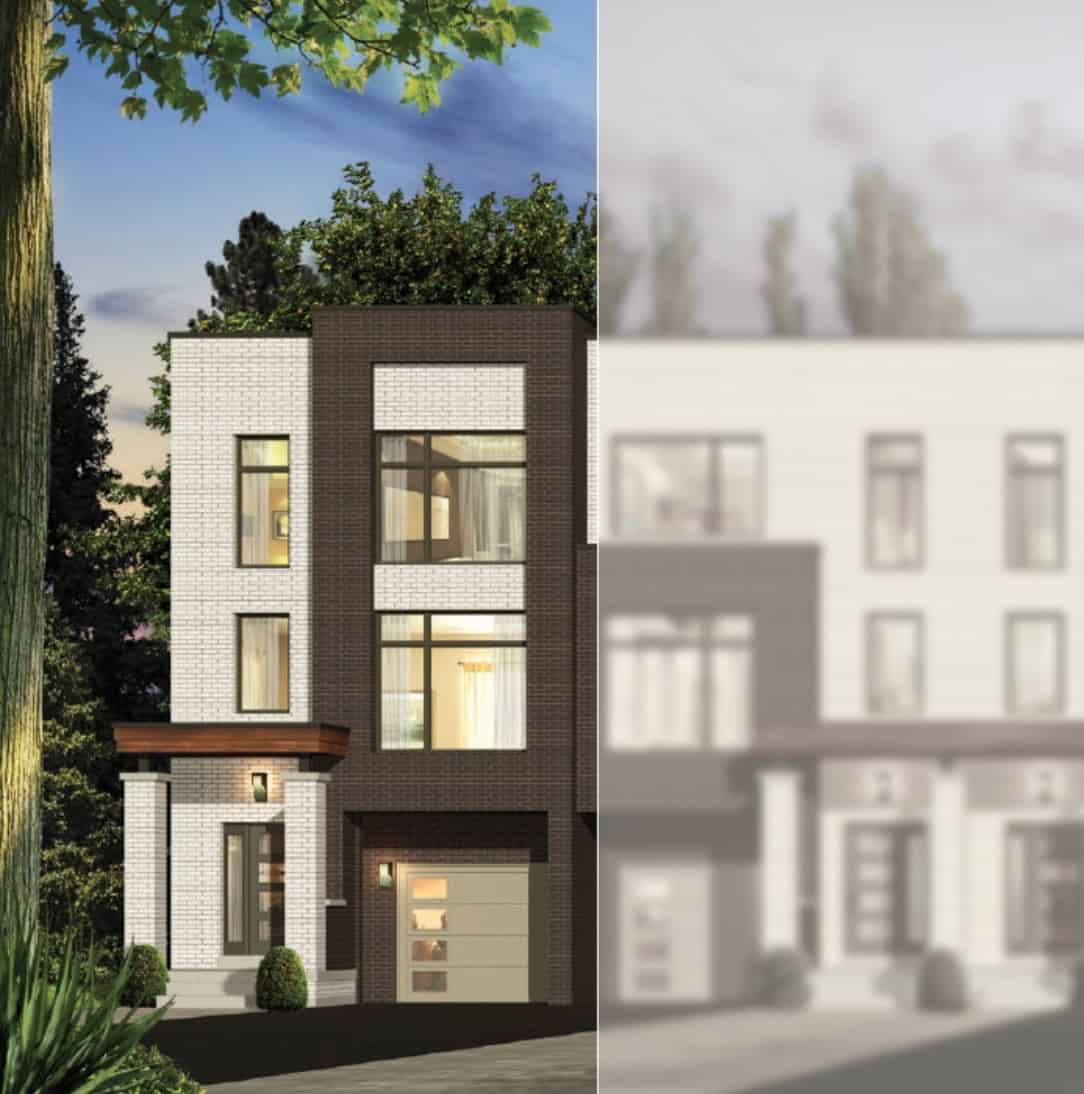 Get the True Condos Insider Market Advantage for FREE!
Along with instant access to this project, after signing up you will receive:
✅ Access to DAY 1 Platinum VIP pricing
✅ Best selection of units
✅ Opportunity to reserve your unit via worksheet before the general public
✅ Work with a condo investing specialist (someone who currently invests in the condo market and has sold hundreds of condos)
✅ Expert analysis on the 5% of condos worth investing in Toronto and the GTA
About Copper Trail Creek
Coming Soon to Brampton. Modern Luxury Towns.
Live in a Private Ravine Setting from the low $800,000's

Copper Trail Creek Location
Copper Trail Creek will be located near the intersection of Queen Street West and Creditview Road in Brampton, ON.
Steps to Zum Brampton Transit.
Sports & Recreations – Lionhead Golf Club
Designed and groomed to excite every level of golfer, Lionhead Golf and Country Club offers its guests one of Ontario's finest golfing experiences on two championship courses For those who appreciate a course that will challenge every club in your bag Lionhead Golf and Country Club recommends the Legends, a difficult and demanding layout set amongst steeply rolling terrain, wooded ravines and the picturesque Credit River. For golfers who prefer a vigorous but slightly less demanding course, the Masters fits the bill as a Florida-type course with unique bunkers and scenic ponds on several holes.
Green Open Areas – Parks and Playgrounds
Brampton has many great parks and open green areas including Eldorado Park, Sid Manser Park, Fletcher's Green Community Park, Meadowvale Conservation Area and the awe-inspiring Gage Park which hosts many city events including weekly concerts, Brampton Rotary Club's Annual Rib n' Roll, Classic Cars and Legendary Stars weekend and much more.
Education – Sheridan College
An award-winning institution, Sheridan attracts students from across Canada and around the world. Sheridan's 170,000 alumni play a critical role in shaping the future of our society in the fields of arts, business, community service, health, technology, and skilled trades.
Health & Wellness
Peel Memorial Centre for Integrated Health and Wellness
Peel Memorial Centre is a state-of-the-art, 591,000 foot facility with LEED® Gold certification, delivering care through an inter-professional and innovative partnership model.
Osler's health and wellness systems based approach includes excellence in Rehabilitation and Seniors Health, Mental Health and Addictions and Women's and Children's Health supported by urgent care, ambulatory surgery and diagnostic services.
Downtown Entertainment – The Rose
Originally Rose Theatre Brampton, a series of public events throughout September 2006 culminated in a grand opening on 29 September featuring Diana Krall. The theatre includes a main performance hall with seating for 880, and a smaller multi-purpose hall with seating for 130-160, depending on the configuration.
Lively Downtown – Garden Square
Garden Square continues to support Brampton's 2040 Vision 7: Arts and Culture, representing a mosaic of artistic expressions and production through the many events and programs produced at the core of the city.​
About the Developer
Skyhomes winner for the 2018 National Awards for Housing Excellence by the Canadian Home Builder's Association for their Design Studio. Their team is committed to the highest quality in home design, and were honoured to be recognized by the premier voice of the residential building industry in Canada!
We take pride in the fact that we are a family owned business, with the legacy of our reputation being carried on by our son and daughter, who have grown with the same spirit and passion for creating homes that leave their owners with the complete satisfaction that we have offered for years.
We have built over 6000 homes over our 40 year career. We take care of our customers and our reputation shows it. We have a tradition of extremely satisfied, discerning customers because we build the best homes, period. We are proud to say SkyHomes enjoys an impeccable standing with TARION New Home Warranty.
How do I reserve a unit in this project?
After you review the floor plans and prices, if you know what suites you are interested in, you may reserve a suite online using our online reservation worksheet form at https://truecondos.com/worksheet.
Does filling out the worksheet form mean I'm committing to buy a suite?
No it is not a formal commitment, it is an expression of interest and the first step you must take if you are thinking about getting a unit in this project.
What does it mean that Andrew la Fleur is a "Platinum Agent"?
Platinum agents are the top selling agents who get preferred status with developers and first access to new projects before regular agents and the public.
Andrew la Fleur has been a top-selling pre-construction agent since 2007, and during this time he has achieved platinum status with many of the top builders and sales companies in the Greater Toronto Area.
For more information on about Platinum agents see this article: https://truecondos.com/5-things-to-know-about-buying-a-condo-with-a-platinum-vip-realtor-real-estate-agent/
How does it benefit me as a buyer to work with Andrew la Fleur as my Platinum Agent?
Working with me as your Platinum agent gives you several benefits
You get the

highest level of access

in the building

You pay the

lowest possible price

for the unit (prices are typically increased significantly after the Platinum sales event)

The best possible

incentives

I do not represent the builder. I represent you. You benefit from my expertise of being a top selling pre-construction agent and investor myself since 2007.

Access to my personal network of mortgage brokers, lawyers, property management, HST rebate services, handymen and much more.

My services to you as a buyer are

free
Do I get a cooling off period? What is it for?
Yes, after you sign the contract to purchase a suite you will have a standard 10-day cooling off period. It's 10 calendar days, not business days from the time you sign.
The 10 days are primarily for 2 things: 1) to have a lawyer review your contract with you if you wish and 2) to get a mortgage pre-approval letter
Do I need to have a lawyer?
You don't need to have a lawyer at the moment that you sign the agreement, however I always recommend that you have a qualified lawyer review your agreement of purchase and sale after you sign and during your 10-day cooling off period.
Not sure who to talk to? Don't worry – getting a lawyer is something I can help you with. Contact me for more details.
Do I need to have a mortgage pre-approval to buy?
95% of all builders will require you to provide them with proof of financing capability in order to purchase. This is not required before you sign a contract, but it is usually required within 60 days of signing.
Not sure where to begin? Don't worry – getting a mortgage pre-approval is something that I can help you with. Contact me for more details.
Do the prices include HST?
If you are purchasing for yourself and plan to move in, then yes, prices include the HST and there is nothing you will have to pay at final closing.
If you are purchasing as an investment rental property, then you will have to pay approximately 7.8% of the purchase price as HST on final closing.
This money is remitted to the CRA and as an investor renting out your property you can apply to the CRA immediately to get this money back. It usually takes about 1 month to get your rebate back.
For more information on the HST, see here:
https://truecondos.com/tag/hst-rebates/
Contact me for more details.
What are my closing costs on a pre-construction condo?
Closing costs on a pre-construction condo will vary greatly depending on the actual purchase price of the unit you are buying, but it also depends on the builder, the city that you are buying in, and the type of unit that you are buying.
Roughly speaking in Toronto you can expect to pay approximately 3-5% of the purchase price in closing costs when purchasing a brand new condo.
Check out this article for more info on closing costs:
https://truecondos.com/5-things-to-know-about-closing-costs-when-investing-in-a-pre-construction-condo/
Contact me for more details
Are there any 'hidden' costs when buying a pre-construction condo?
No, there are no hidden fees when buying pre-construction condos because all fees must be disclosed in the agreement of purchase and sale. All purchasers have 10 days to review the agreement and have a lawyer advise them on the exact closing cost amounts. If you need a lawyer to help you we can suggest to you to several expert law firms that will review your agreement in detail.
Is it possible to assign my condo? How much is the assignment fee?
Most condo builders do allow you to sell your unit before the building is complete. This projcess is called selling by "assignment".
There is usually an assignment fee and a legal fee associated with selling. Costs can range from $1000-7000. Contact me for more details.