Poet Condos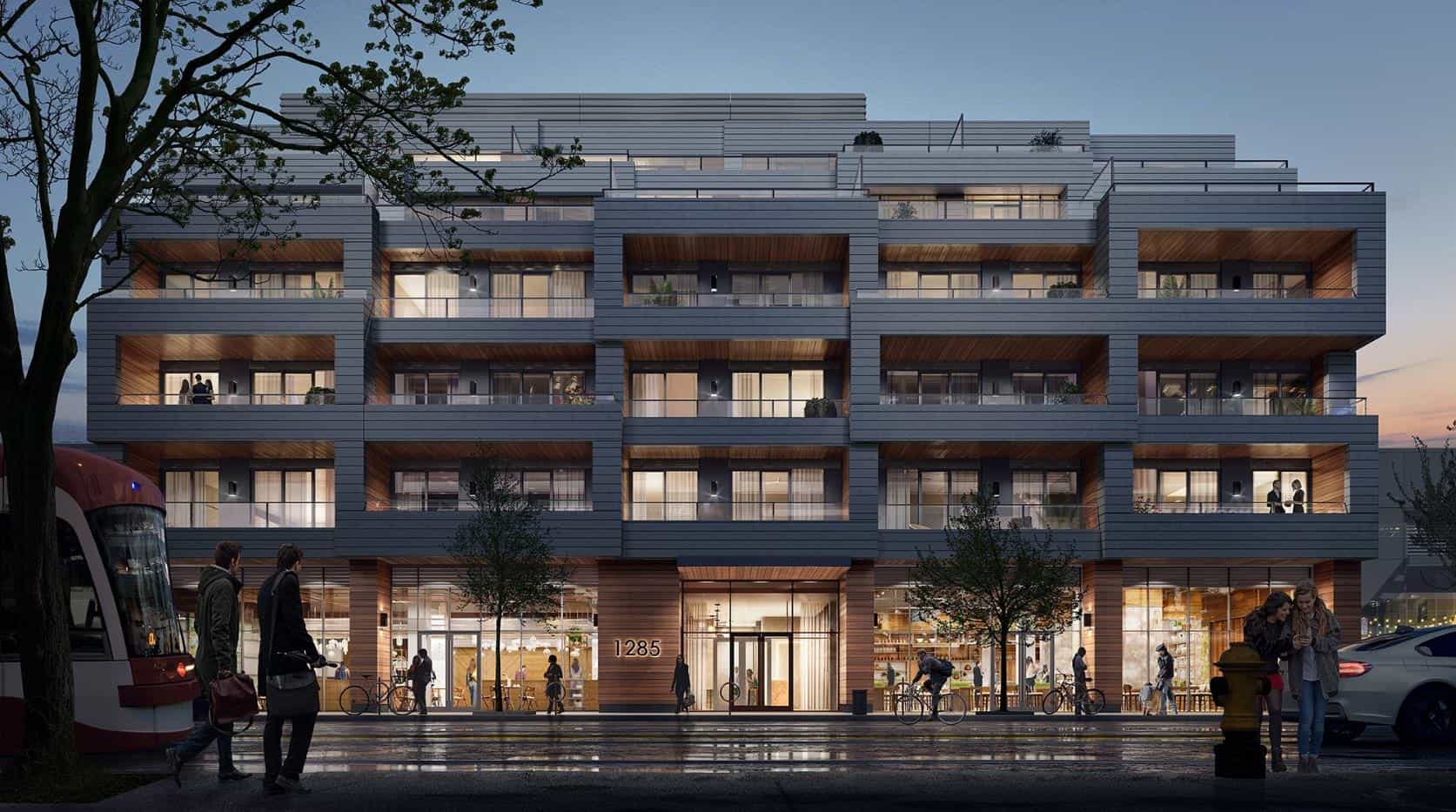 Welcome to the Poet Condos project page. This is your ultimate resource for getting all the details on the Poet Condos including prices and floor plans. When you're ready, you can reserve your Poet Condos unit right here by clicking the green "Reserve Your Unit" button below.
About The Poet Condos in Leslieville
The Poet Condos is Toronto's most exciting new urban residence. Discover a vibrant urban lifestyle in one of Toronto's most iconic neighbourhoods.
The Poet Condos is currently in preconstruction at 1285 Queen Street East, The development is scheduled for completion in 2021. Sales for available units range in price from $579,990 to over $1,499,900. The Poet Condos has a total of 69 units. Sizes range from 523 to 1473 square feet.
| | |
| --- | --- |
| Developer | Fieldgate Urban |
| Address | 1285 Queen Street East, Toronto, ON |
| Neighbourhood | Leslieville |
| Number of Storeys | 6 |
| Number of Units | 69 |
| Occupancy Date | Summer 2021 |
| Maintenance Fees | $0.66/Sq.ft per Month |
| Priced From | $610,990 to over $1,866,990 |
The Poet Condos Location
Unique shops and restaurants, beautiful parklands, easy access to TTC streetcar and more make The Poet Condos the new home of stylish and convenient living in Toronto's east end. To your own self, be true — at The Poet Condos. Situated on Queen Street East in Vibrant Leslieville and Overlooking Maple Leaf Forever Park.
The Poet Condos Amenities
The Poet Condos will include amenities such as:
Executive Concierge in Lobby
Fitness Centre with Cardio
Weight Equipment and Yoga Area
Bicycle Rack and Bike Repair
Pet Wash
Designer Appointed Party Room and Media Room including Wet Bar and TVs
Landscaped Outdoor Rooftop Terrace with BBQs and Firepit
Alfresco Dining and Lounge Seating
City and Maple Leaf Forever Park Views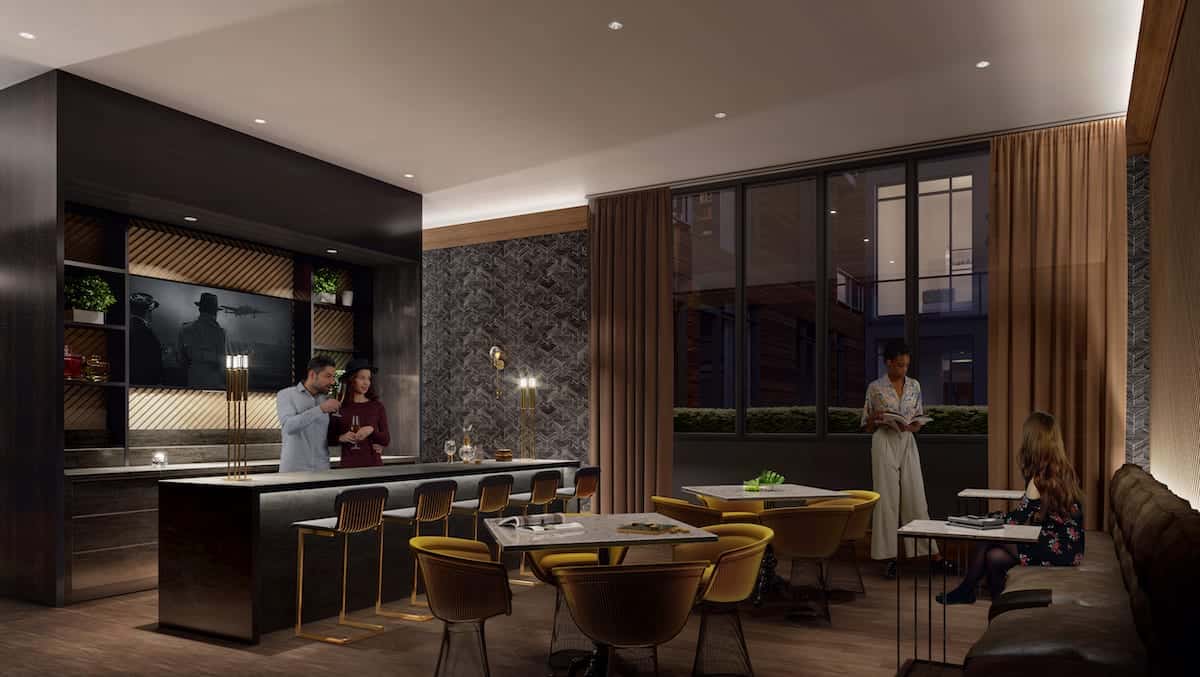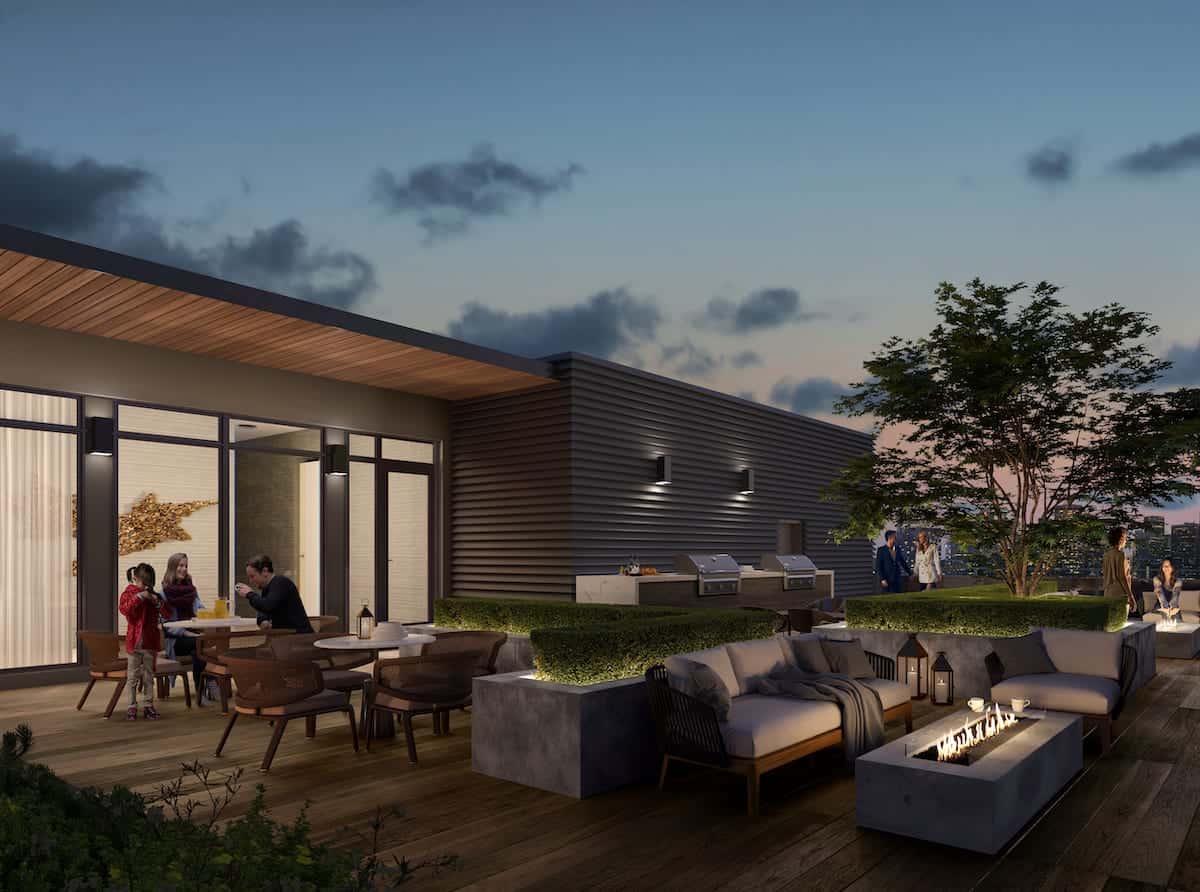 The Poet Condos Features and Finishes
Smooth Finish Ceilings (9′ for Suites, 10′ for Penthouse Suites (excluding Q2, R, T), 13′ on Ground Floor in Townhomes)
Wide Plank Laminate Flooring, Quartz Kitchen and Bath Countertops, Combination Quartz Slab and Tile Backsplash, Kitchen Island (as per plan}
Custom Soft Close Interior Finish Kitchen Cabinetry with Integrated Refrigerator, Integrated Dishwasher, Electric Cooktop and Built-In Oven, Microwave, LED under cabinet-lighting, Kitchen Track Lighting.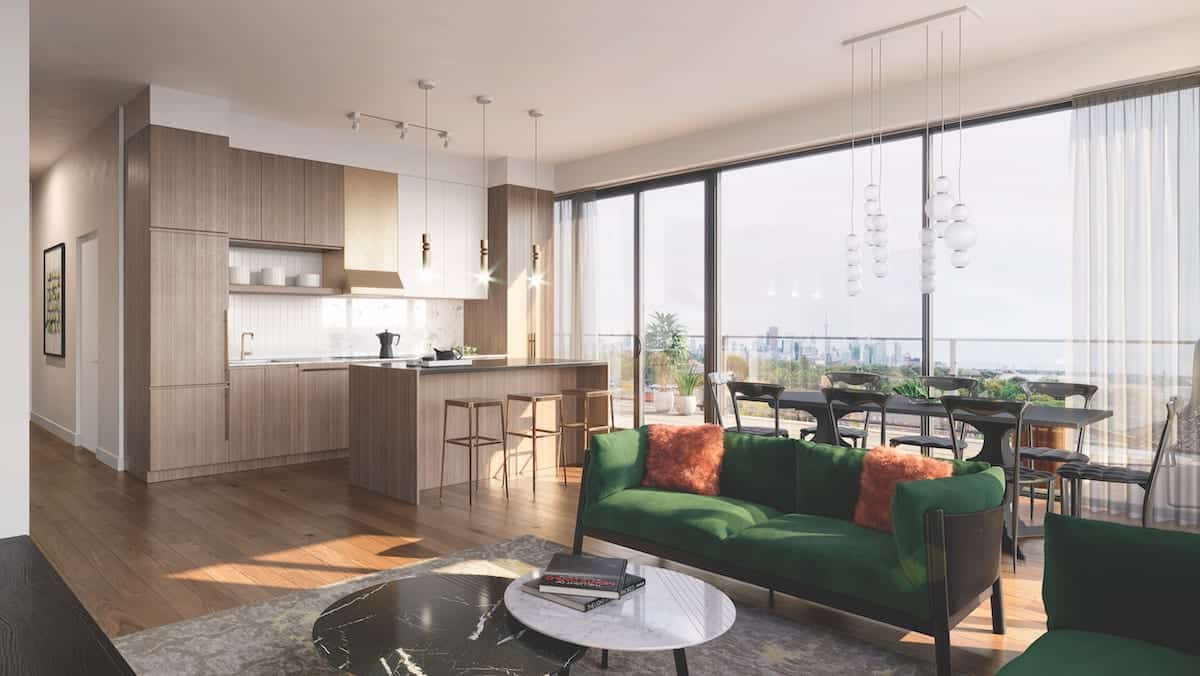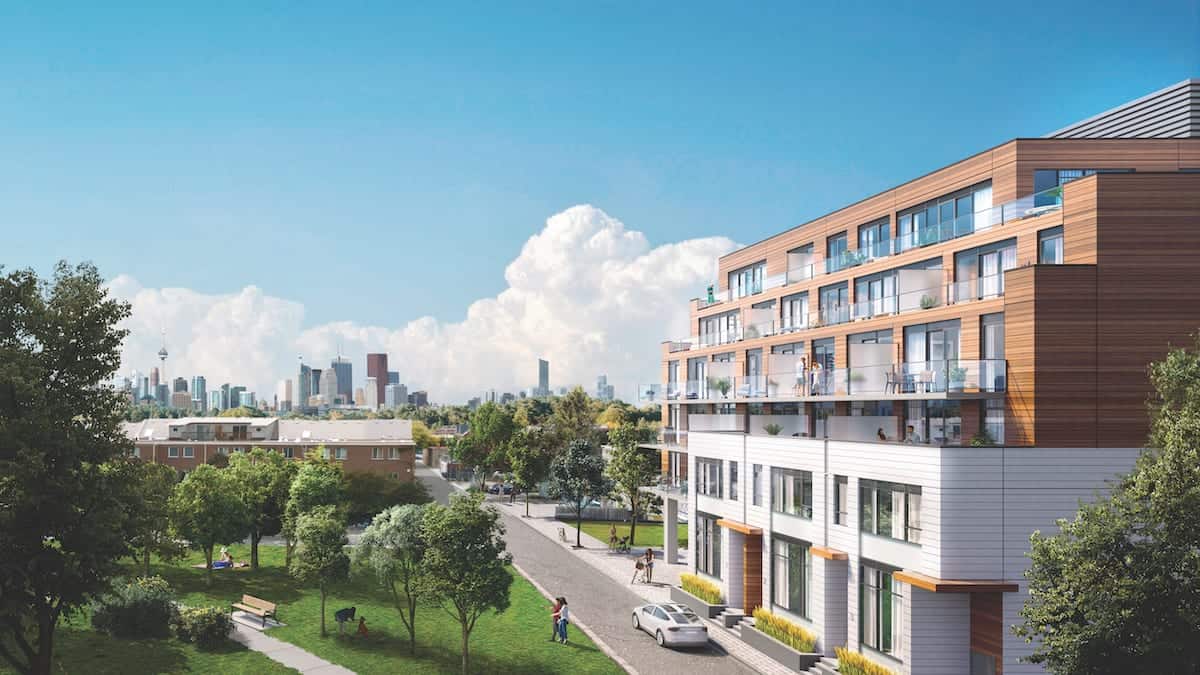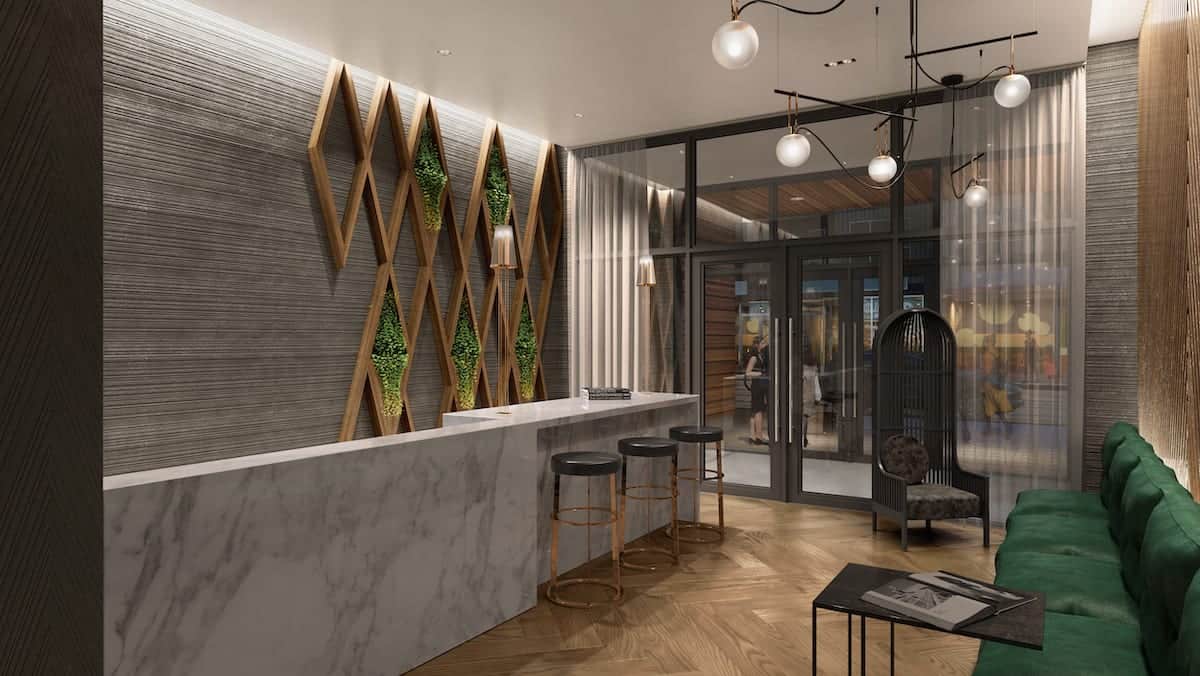 About the Developer
Since 1975, Fieldgate Homes has been developing and building in almost every corner of the GTA. Fieldgate is widely recognized as a leader in architectural distinction and for its rigorous attention to detail.
The company has been the homebuilder choice for over 20,000 families through its cutting edge planning, design, and construction, as well as an uncompromising dedication to customer service. Delivering consistently high quality and value to its buyers has been a Fieldgate trademark since its inception, and will continue to be the foundation of its success.
The Poet Condos Frequently Asked Questions
How do I reserve a unit in this project?
After you review the floor plans and prices, if you know what suites you are interested in, you may reserve a suite online using our online reservation worksheet form at https://truecondos.com/worksheet.
Does filling out the worksheet form mean I'm committing to buy a suite?
No it is not a formal commitment, it is an expression of interest and the first step you must take if you are thinking about getting a unit in this project.
What does it mean that Andrew la Fleur is a "Platinum Agent"?
Platinum agents are the top selling agents who get preferred status with developers and first access to new projects before regular agents and the public.
Andrew la Fleur has been a top-selling pre-construction agent since 2007, and during this time he has achieved platinum status with many of the top builders and sales companies in the Greater Toronto Area.
For more information on about Platinum agents see this article: https://truecondos.com/5-things-to-know-about-buying-a-condo-with-a-platinum-vip-realtor-real-estate-agent/
How does it benefit me as a buyer to work with Andrew la Fleur as my Platinum Agent?
Working with me as your Platinum agent gives you several benefits
You get the

highest level of access

in the building

You pay the

lowest possible price

for the unit (prices are typically increased significantly after the Platinum sales event)

The best possible

incentives

I do not represent the builder. I represent you. You benefit from my expertise of being a top selling pre-construction agent and investor myself since 2007.

Access to my personal network of mortgage brokers, lawyers, property management, HST rebate services, handymen and much more.

My services to you as a buyer are

free
Do I get a cooling off period? What is it for?
Yes, after you sign the contract to purchase a suite you will have a standard 10-day cooling off period. It's 10 calendar days, not business days from the time you sign.
The 10 days are primarily for 2 things: 1) to have a lawyer review your contract with you if you wish and 2) to get a mortgage pre-approval letter
Do I need to have a lawyer?
You don't need to have a lawyer at the moment that you sign the agreement, however I always recommend that you have a qualified lawyer review your agreement of purchase and sale after you sign and during your 10-day cooling off period.
Not sure who to talk to? Don't worry – getting a lawyer is something I can help you with. Contact me for more details.
Do I need to have a mortgage pre-approval to buy?
95% of all builders will require you to provide them with proof of financing capability in order to purchase. This is not required before you sign a contract, but it is usually required within 60 days of signing.
Not sure where to begin? Don't worry – getting a mortgage pre-approval is something that I can help you with. Contact me for more details.
Do the prices include HST?
If you are purchasing for yourself and plan to move in, then yes, prices include the HST and there is nothing you will have to pay at final closing.
If you are purchasing as an investment rental property, then you will have to pay approximately 7.8% of the purchase price as HST on final closing.
This money is remitted to the CRA and as an investor renting out your property you can apply to the CRA immediately to get this money back. It usually takes about 1 month to get your rebate back.
For more information on the HST, see here:
https://truecondos.com/tag/hst-rebates/
Contact me for more details.
What are my closing costs on a pre-construction condo?
Closing costs on a pre-construction condo will vary greatly depending on the actual purchase price of the unit you are buying, but it also depends on the builder, the city that you are buying in, and the type of unit that you are buying.
Roughly speaking in Toronto you can expect to pay approximately 3-5% of the purchase price in closing costs when purchasing a brand new condo.
Check out this article for more info on closing costs:
https://truecondos.com/5-things-to-know-about-closing-costs-when-investing-in-a-pre-construction-condo/
Contact me for more details
Are there any 'hidden' costs when buying a pre-construction condo?
No, there are no hidden fees when buying pre-construction condos because all fees must be disclosed in the agreement of purchase and sale. All purchasers have 10 days to review the agreement and have a lawyer advise them on the exact closing cost amounts. If you need a lawyer to help you we can suggest to you to several expert law firms that will review your agreement in detail.
Is it possible to assign my condo? How much is the assignment fee?
Most condo builders do allow you to sell your unit before the building is complete. This projcess is called selling by "assignment".
There is usually an assignment fee and a legal fee associated with selling. Costs can range from $1000-7000. Contact me for more details.