VIP Sales on Now For RISE Condos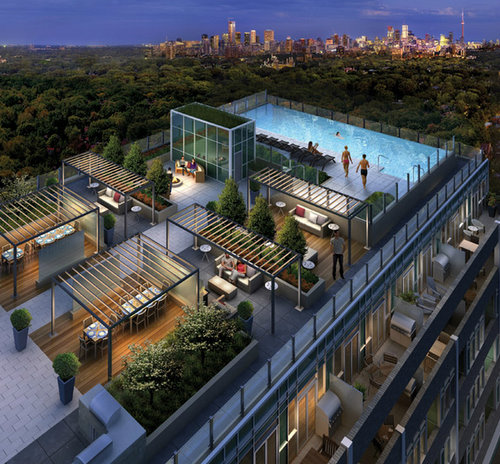 Update: VIP Sales for RISE condos ends November 18th. Contact me to purchase at VIP pricing and with VIP incentives today!
VIP Sales for RISE condos by Reserve Properties are on now. Please contact me directly for floor plans and pricing and your chance to reserve a suite before the public release.
RISE is the newest condo to the Bathurst and St Clair intersection, following the success of 500 (completed) and 530 St Clair West (under construction) which are located kiddie-corner to where RISE will be. The area has always been ripe for condo development but only just now is it starting to reach it's potential. All the key ingredients are there: 1) Transportation Hub (recently completed St Clair Streetcar and St Clair West subway stop), 2) Great Retail (Loblaws and LCBO right across the street), 3) Great restaurants (St Clair West is becoming a hotbed for hip new restos).
The building looks spectactular with the centrepiece being a massive rooftop terrace with infinity pool overlooking the entire city to the south. The ridge that St Clair sits on creates a perfect location for high rise living and units on the south side of the building will have dramatic views.
The developer is Reserve Properties. Reserve has made a huge splash into the Toronto condo market this year and Rise will actually be their 4th project launched to date, with the others being Bellefair and Lake House in the Beaches, Motif in West Queen West. They are quickly developing a reputation for developing seriously stylish buildings in very nice locations.
Contact me now for your chance to buy at VIP pricing for RISE.