Why Should I Invest in Pre-Construction Condos?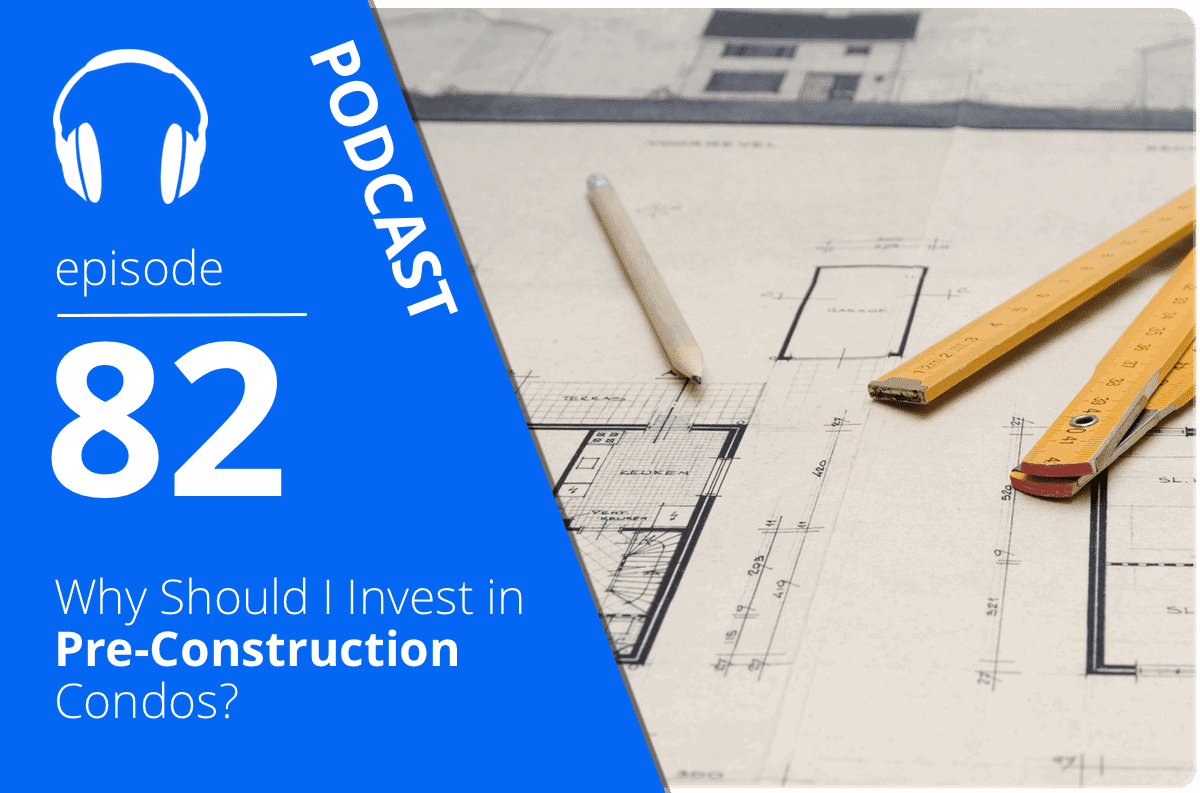 In this episode, Andrew la Fleur talks about the "why" behind pre-construction condo investing and answers many of the most common objections to investing in pre-construction condos such as, "Isn't it better to buy resale and get income right away?" and "Aren't houses a better investment than condos?".
Highlights
Should you be a direct investor or an indirect investor?
So many different types of real estate investing…which one is the right 'fit' for you??
The Pros and Condos of investing in Condos vs. investing in Houses
What exactly is "The Secret Sauce of Condo Investing"??
Why not just buy resale condos instead of pre-construction condos
What about those huge closing costs for pre-construction condos?
| | |
| --- | --- |
| Andrew la Fleur: | On today's episode of True Condos podcast we look at the why behind the pre-construction condo investing. Why bother in investing in a pre-construction condo? Aren't houses a better investment? Can't I just buy a REIT and make money that way? Isn't it better to get something resell and get income right away rather than waiting for something pre-construction? We take a look at all this questions and more on today's episode. |
| Speaker 2: | Welcome to the True Condos podcast with Andrew la Fleur. The brains to get the truth on the Toronto Condo market and condo investing in Toronto. |
| Andrew la Fleur: | Okay welcome back to the show, thank very much for listening and thank you for your support of this podcast. Once again Andrew la Fleur I am your host and I am here today to talk to you about the why behind the pre-construction condo investing. Now if you've been following me for a long time, if you have been reading my articles, listening to podcasts, watching videos you probably have heard lot the stuff before but I think it's very important to get back to the fundamentals and understand the why behind the pre-construction condo investing. Whether you're a seasoned investor and you've got many condos in your portfolio or you're just thinking about buying and you're wondering if this is the right fit for you, still always good to get back to the fundamentals and understand what it's we're doing and why we're doing it as condo investors. |
| | So today I want to talk specifically about, "Why pre-construction condos." So obviously the question behind that is you have a lot of other options for investments, even within real estate it's self you have a lot of options for investment. So what's it about pre-construction condos and why are these … what makes it a good fit for for me personally and for many, many of my clients. |
| | Well let's take a look at that, first of all there's two different types of investing  you can do in real estate, you can be a direct investor or you can be an indirect investor. A direct investor by that I mean you're purchasing a property and you're owning yourself and you're directly purchasing real estate. The indirect, you can also be an investor in real estate without actually owning any physical property, without taking title to any property and you can be an indirect investor. |
| | There are many ways to do that, you can get involved with syndicates, mortgage syndicates on properties and in various types of syndication joining together with other investors. You can do JVs joint ventures where another investor is the direct investor and you're sort of the silent partner or just financially participating to make the transaction happen but not actually directly involved. You can do loans and morgages and you can purchase RIETs, real estate investment trust which are a form of stock and equity in a real estate investment company essentaly.Those are many different options for being an indirect investor. |
| | Now basic premise here is that it's better … it's preferable to be a direct investor, to control your own destiny. It's certainly a lot more fun to be direct investor and to have a say over what you're purchasing and what types of properties you're getting involved with and being a hands on investor. Now assuming that assumptions is true for you an you want to be a direct investor and you are not looking to be an indirect investor, then let's see what your options could be from here. |
| | As a direct investor you can invest in residential real estate, you can invest in commercial real estate , you can buy industrial lands, you can buy just un serviced empty land it's self, buying and selling of land it's self, you can be talking about farms and agriculture. There is so many different places you can go with it. Obviously within residential there is condos and free hold and town homes and high rise and low rise and many different options within residential it's self. |
| | So I am not going to address everything obviously here and we're not going to contrast condos with every type of investment but most commonly when people come to me they're looking at … well let's talk about condos versus houses. So in that I am saying investing in a condo versus investing in a house. I always  tell everyone there are pros and cons to both I am not here to tell you that buying a house is a bad investment or buying any type of investment is a bad investment or a bad idea. It's certainly not, it might be a better fit for you. In fact if that's what you decide after listening to this podcast and watching many of my videos and articles, if anything if you're more of a house investor then obviously I am not going to be of much service to you and I can certainly refer you to other professional in the industry who can help you if you're interested in purchasing a house as investments, but primarily that's not the focus of my expertise and it's not the focus of my own investment strategy. |
| | So let's talk about condos versus houses, Pros and cons of these different types of investments. Obviously with condos versus houses, in condos you're generally going to get low returns. If your sole goal in investing in real estate is to get the highest possible returns across any property type then certainly right now in Toronto especially, your best bet in my opinion for that purpose is probably to start buying up town homes or semi-detached houses in the core areas of Toronto, close to transit and start splitting up those houses into as many units as you possibly can, maximizing the cash flow, maximizing the ROI and maximizing rent per squire foot in those properties. |
| | That's a great and proven way to make a very good return in Toronto. But of course with that as you can probably guess, it's a lot of work and a lot of headaches and a lot areas you where you can really go wrong and screw up and really waste a lot of time money in doing that. But if you follow the professionals who do this and of you understand the game and if you've got a lot of experience in that field, especially in the field of construction and construction management, then it can be … you can do extremely well with that sort of a thing. |
| | If you're looking on the other hand, if you are looking for a way to generate a very good return on your investment with very minimal effort, then that's where condos come in. So condos versus houses, condos are obviously … you're getting a lower return probably in the long run than buying a house. But you're putting in much, much less work, effort, time and money to get that. |
| | Obviously houses in Toronto are much more expensive than condos. Soon we're having this conversation today and recording this in 2016, but there will come a time maybe you're listening to this podcast many years in the future beyond 2016 and you're saying, "Wow I can't even believe people were thinking about buying houses as investments in Toronto. It's absolutely insane who will buy a two million dollar property to rent it for three or four thousand dollars a month. Because that's a reality in Toronto that house prices are escalating so rapidly and they have over the past few years, that it's extremely difficult to make numbers work for an investment for a rental property in Toronto with he way prices are going. And soon for the average, even above average investor, buying a house is just simply not going to be an option. |
| | The future of housing, the future of certainly affordable housing in Toronto in the GTA is in condominiums, it's in high rise condominiums. That's where that value is and where the opportunity is for most investors just purely out of financial necessity, because very few people have a million dollars or a million five to purchase a home in the city of Toronto. But a great number of people can look at purchasing a three hundred or four hundred thousand dollar apartment or several of them over time as rental assets. |
| | Again condos you're dealing with lower risk compared to houses. Buildings are professional managed and  maintained to a higher standard. With houses you've just got all sorts of other variables that you don't have to even think about when you're dealing with a condo. A condo is just four walls, you're not worried about the building and the structure its self, it's a managed for you professionally. |
| | With the house of course you're are worried about those four walls, the roof, the windows. Everything is your constant concern as a property owner. Floods, leaks, [inaudible 00:09:31] rodents, packing, [inaudible 00:09:36], snow removal, repairs, maintenance, insurance rates or obviously much, much higher on houses than on condos. You've got neighbour issues potentially, you've got noise issues with so many houses in Toronto being semi detached or row housing, very few detached houses in the city of Toronto there days. |
| | A lot more headaches with houses versus condos, condos is really a situation where as I always say you can own … as an individual investor, you can own easily eight to ten condos and self manage all those properties assuming you work sort of 40 to 50 hour week with your day job. If you have reasonable schedule that you're keeping outside of your investments you can easily self manage eight to ten condos with very minimal effort and time required to from year to year. On the other side try managing  eight to ten free hold properties yourself, it's just not going to happen, especially in Toronto where the average age of those properties is probably around sixty to eight years old in the city of Toronto. |
| | So condos much less maintenance, much less headaches, yes you're getting lesser returns but you can still get a very good return if you know what you're doing, if you picked your spots and if you certainly have an expert on your side to guide you along the way, somebody who has a proven record of making money investing in condos. I think when it comes down to summarizing the condos versus houses debate when it comes to real estate investing, for me it's the saying that I got from Don Campbell, has been interviewed in this podcast a couple of times, when he likes say, "Do you want real estate to fund you life or do you want real estate to be your life?" And for me and my clients it's the former. I want real estate to fund my life that I have, I don't want real estate to be my full time job, my full time life. |
| | If you're buying a particular free holder homes in the city of Toronto especially with the age many of this houses, real estate quickly becomes your life and managing all this properties quickly will become your life as opposed to like I said with condos you can easily eight to ten condos and it takes just a couple of hours per a month on average per condo. It's a very passive way of investing and still getting a very good return on your investment.So that's why we are talking about investing in condos and that's why I like to invest in condos in general. But specifically the second half of this conversation here in these podcast is about pre-construction condos. |
| | So why specifically should we be investing in pre-construction condos versus just buying resale condos and this is a very, very common question that I get all the time from seasoned and new investors. Is this approach of … is it better to buy resell or is it better to buy pre-construction. My answer to that question is, "Always better to buy pre-construction." Well not always, always is never absolutes in these things but 98%, 99% of the time it's better to buy pre-construction than it's to buy reseller. And I want to look at that and answer that question and tell you why that's right now. |
| | So obviously when you're looking at resell the advantage is you can collect rent right away. You're looking at pre-construction you've got to wait a few years before you start to get that income on your rent. With resell you have to have 20% down today, I mean if you're buying something existing today you've got to shell out the full 20% right now, plus or the close cost today. With pre-construction obviously you're paying this 20% or some times less than that20% deposits slowly over time, usually it's over one or two years. So from a cash flow perspective certainly a lot easier to manage acquiring several properties in the pre-constriction world over time. The payment is being spread out versus trying to acquire the same amount of property in the resell market having to shell out a full 20 percent plus closing cost immediately upon purchase. |
| | So this are some basic pros and cons versus resell and pre-con, but the number one sort of concept here to understand of why you're always want to but pre-construction versus resell is that you need to understand that condos are commodities, so unlike houses condos are commodities. A house is less of a commodity because it can be completely renovated inside and out, and it can even be torn down and it can be rebuilt completely as a brand new structure. With a condo you're a subject to the laws of physics and the laws of building construction where you're stuck with the building you're in. You're basically you're one small piece of a bigger structure and so you can really affect the inside of your unit. You can make you're unit brand new and everything inside but if you're in a 20, 30 years old building you're going to be seen as being in an old building and that would be less desirable to renters because it's always an older building. |
| | So because the condos are commodities, newest condos are the best condos to own. When you own the newest condo on the block, you have the condo that's the most desirable from a resell and a rental perspective. You're going to have the highest demand ,it's going to command the highest prices and the highest rents. It's also going to have the lowest maintenance fees. So obviously overtime maintenance do always tend to go up in condominiums. |
| | So if you have a brand new condo that's when you're going to be experience the lowest expenses from that perspective and the highest rents and prices you can command. And also the building is … everything is brand new, so all the amenities, all the common areas, everything in the building that you can leverage as an owner of a piece of the building you get access to and the benefit of all the common elements of the building everything is brand new then you're obviously taking advantage of that as well. |
| | So that is the first thing to understand that condos are commodities so when you're buying pre-construction, when that condo is finished it will by definition be the newest condo on the block, because you bought before it was even in existence. So when it's finished it's automatically the newest building compared to everything else at least for that period of time. |
| | The second part of why pre-construction is the way you always want to go is what I call, "The secrete source of pre-construction investing." So the secret source of pre-construction investing, this concept is a little bit easier to understand in visual form so if go on my website and you search for the secret source of condo investing then you will see the little video that explains this concept in visual form. But I will explain it to you now on this podcast and basically the idea here is that, when you're buying pre-construction, you have an opportunity to buy at a discount and to sell at a premium. For those of you in the financial world you sort of understand this concept as arbitrage. |
| | Arbitrage is when you're taking advantage of differences between markets. So when you have an opportunity to buy at a discount and sell at a premium. When you understand that basic idea you can see how you can make a significant profit when you're able to purchase something for less than it's worth and to sell something in a sense for more than it's worth. And that's exactly what opportunity is possible when you buy pre-construction. And the way you do that is when you can find this opportunities in the market, and they are not every where in fact I always say that 95% of pre-construction condos are actually not worth investing in. My job as your condominium expert is help you to find those 5% condos in the market that are worth investing in, that are actually priced at a discount compared to existing resell properties. |
| | So if you can buy something that's not yet built, that's not going to be built for three, four years at a cheaper price than existing resell today that might be three, four, five, tens years old, by the time that building is completed in three, four years from now, those existing resell buildings instead of being let's say on average five years old today, they would be on average eight to nine years old when your pre-construction building is complete and brand new. So you're going to sell your unit at a premium to what those units are going to sell for at that time in the future. |
| | So if you can buy today at cheaper than resale, then when the building is finished you're going to be selling it as a premium price to whatever those units are selling for in the future, which somehow higher in number than they are today. That is arbitrage, that is the secret source of condominium investing that you can take advantage of when you buy pre-construction. |
| | Now again as I said it's not as easier as just walking in to any condo sells center and just buying a condo and suddenly you've found the secret source. No, you have to be extremely selective when you're purchasing pre-construction and finding the projects that are equivalent to or like I said in some cases even cheaper than existing resell. When you do so that's a sure [inaudible 00:20:18] recipe for making significant profits in your condominium investments. |
| | Now I want to sort of do the final apart of this podcast will be to answer this question of, "Why buy pre-construction condos?" The final part is addressing the fore most common objections that I get to buying pre-construction. So let's look at this four objections and I will address them each one at a time. |
| | The first objection is that, "I don't want to buy pre-construction because I want to get rental income right way." So I want to buy something resell not pre-construction, I want to get that rental income coming in right away. Well, it's certainly a valid point, there are certain advantages to having income right away as opposed to having to wait for income coming in in a few years but here is the thing. It's extremely hard to find positive cash flow properties in the resell market today. The issue here is that if it was easy then everyone would be doing it, I mean people would just be simply buying resell condos left and right and making fantastic cash flow and Bob's your uncle, piece if cake, right? |
| | Well that's just take a look a round and I have this conversation time and time again with investors, they come to me and they say, "I want to buy something resell because I earn income right away." And I say, "Great let me know when you find something." Because it's extremely difficult to find  properties that would yield a positive cash flow with 20% down in the resell market. The issue is that you're paying a massive premium when you are buying resell, remember the person you're buying it from paid much, much less in pre-construction than the price that you're paying them today. So you're paying a massive premium over what price you could have bought that unit for, that's the basic concept here. |
| | The second thing is that there is a line of inflationary pressures, and you've got to understand that real estate investing is a fantastic inflationary hedge, hedge against inflation. Getting a bit ahead here I might loose some people but if you're still  with me stick around. I will continue after this with other things but buying a cash flowing assert like a pre-construction is an inflation hedge. Prices are going up in the market constantly, we see that. We see every year prices keep going up there is inflationary pressures in the prices, but not just the prices of real estate but also rental rates. The income that those assets will generate is also facing inflationary pressures. |
| | So when you're buying something pre-construction at a certain price, the value of that asset goes up over time before the thing is built. But also the amount income the amount of rent that that property can generate also goes up over time. So when you buy something, when you bought that condo in 2010 or 2011 you're renting it out today few years later, the rent that you can get today on that condo is much than the rent you could have got four, five years ago. The price that you paid for that unit four, five years ago  is much, much cheaper than the price you will pay for that today. So when when you're buying something pre-construction  by the time that it's finished you're are in a very good cash flowing position in most cases, because the rents have increased significantly over time, but also you're in a very good equity position because the value of that asset has also gone up tremendously over time as well. |
| | Final point on this wanting rent right away, yes again, good, good nothing wrong with having rent right away. But again with that rental income comes management as well, comes taxes to pay and comes time and effort spend on getting that rental income as well. When you're buying pre-construction obvious point perhaps  but you don't have to do anything. You're not getting income but you're not putting any effort whatsoever, your money is in the market, you're taking advantage of that inflation hedge, equity is growing but you're not doing anything. You're not having to even think about it evey for a number of years. So that's the first common objection to buying pre-construction. |
| | The second common objection is, "I don't want pay those huge closing costs so I don't want to buy pre-construction because there are all this closing costs that you don't have in the resell market." Well, let's talk about that, on one hand yes it's trues there are closing costs you pay when you buy pre-construction that don't pay when you buy resell. Most notably you're paying the development charges, usually several thousand dollars on a new condo. But here is the thing, when you're buying resell, and this is something that people just don't get but it's an economic reality, is that when you're buying resell you're paying those closing costs too. |
| | You say, "Hold on a second, Andrew, you just said there is closing cost that are not involved when you're buying a resell but they are when buying pre-cons. How can you say that I paying this, which is it? But what I mean by that is that you want to say that you're paying those closing costs it's that they are  already begged into the price of the unit that you're paying. Someone before you has paid all those costs and that someone has accounted or that in the price they are charging you for the unit. Unless someone is selling out of dire circumstances or some forces beyond their control people, do not sell at a loss. It's just basic human behavior and basic economics. People would not sell at a lose unless forced.So 95% of the time when someone is selling a condo in the reseller market they are accounting for all the costs that have gone into it and they are allowing for a profit to cover all those costs and them some. And so those costs have already been borne by someone and those costs are already begged into the price that you're paying. |
| | The other part of this is that closing costs are constantly going up. This is another inflationary pressure, another reason why buying real estate in general is a good thing is there is a lot of inflationary pressures that would continually increase the prices of real estate in general. And one of those things are closing cost and those closing costs again are essentially taxes put on various layers of government in all real estate transactions and particularly on new real estate properties that are being built. So this is an inflationary pressure that … you might say I am not paying this closing today because I am buying resell well you don't pay them today You're going to have to pay them at some point. |
| | The prices of real estate are constantly going up and one of the reasons for that, and one of the reasons why you're paying more for that resell condo today that you could have paid yesterday is because the government has just announced that like they do every year the development charges are going up, the education levies are going up, the section 37 … the list is endless. The charges on real estate are constantly going up, that's constantly putting upward pressure on prices and if you're buying resell, you're constantly going to be paying more partly for that reason. Because this taxes are being borne by someone and those taxes are being passed along to you in the resell market as well.So just something to think about from that aspect is, yes it may look like you have to pay those costs out of the pocket but those costs are already built into the the price that you're paying the the resell market and the price that you're paying in the resell market is going to continue to go up because those prices continue going up in the pre-construction market. |
| | Okay the third objection, most common objection to buying, why you don't want to buy pre-construction and you want to buy resell instead is that it's this idea that I want to be able to see that I am getting or the doubting Thomas kind of approach is what I call it. Where I need to see it, touch it, feel it and then I would feel comfortable in investing. so I need to walk into the physical building and see counters and the windows, and see the quality of everything and then I would buy. Well my fist response to that is, "Why?" Because again this goes back to what I always say, "You need to have an investors mentality first and fore most when you're buying real estate for investment." You need to get out of the mentality of being an owner occupier. You're not buying it for yourself, you're never going to live there. This is purely a financial transaction, this is purely a logical  decision. It really doesn't matter what color the counter tops are, what direction the door faces or the exposure of this or that or whether you're beside a stairway or not. |
| | These kind of things and needing to see and touch and feel it, it really shouldn't matter because you're never going to live there. The second part of this is just the idea of risk and reward. This is part of the game of buying pre-construction and this is where I say you know, "Pre-construction investing may not be for everyone." It may not be for you if you're the type of person that always needs to see, feel it touch it, then obviously you should not look at pre-construction, because there is always that element of risk and that's why the rewards are potentially so great with pre-construction. It's because you're buying a floor plan and you don't know exactly how it's going to turn out and there is some faith involved in the developer and in the process that it will turn into something great down the road other than just a piece of paper of floor plan in your hands, that's part of it. |
| | So the  forth common objection is this idea that, isn't resell cheaper than than buying pre-construction. This is where I say, most of the time yes. Most of the time resell is cheaper because the average resell property of course is old. Every single pre-construction property again by definition is going to be brand new when it's completed. So when you're talking about a commodity like a condo, something that is brand new is always worth more than something that's old. So it sort goes to the old adage that,"You get what you pay for." iIf you're buying commodities and you're buying an old commodity, then yes you're going to pay less of for it. But it's also going to cost more to maintain, maintenance fees and it going to generate a lower return rental income on it and resellabilty and appreciation rate on that property is low. |
| | And then again this goes back to secret source of condo investing point is well, the goal of condo investor should be to find those diamonds in the rough. To find that 5 % as I said and avoid the 95% of re-construction condos, and find those 5% that are actually cheaper than resale condos. If you can do that then you're just gold, you're set and you're set and locked in and you're definitely going to do very, very well with your investment. |
| | That's what I always try to do with my condominium investments and that's what I help all my clients do as well. So there you go, that's the answer to the questions, very long winded, winding, twisty, turny answer but hope you got some value out of this conversation today of answering this question of why buy pre-construction condos and is this the right type of investment for you. I hope it's, probably by now if you've listening to this episode and reading all my articles and getting my emails and watching my videos and probably by now it's for you and I look for ward to speaking to you and helping you achieve your investment goals through pre-construction condo investing and until next time I hope you have a great week and will talk to you soon. |
| Speaker 2: | Thanks for listening to the True condos podcast, remember your positive reviews make a big difference to the show. To learn more about condo investing become a True condos subscriber by visiting truecondos.com |