Downtown Condo Market Now a Buyer's Market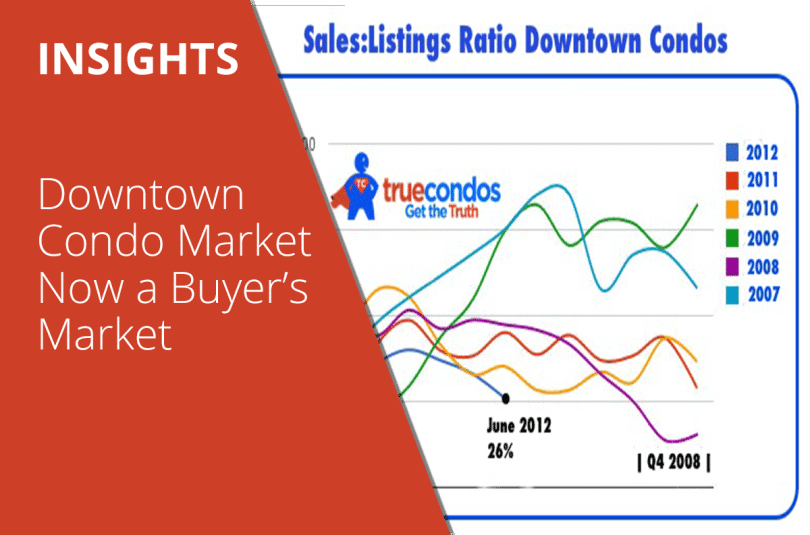 Last Updated on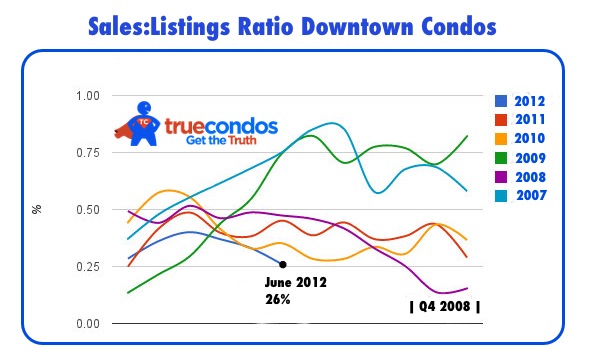 Buyer's Market
The downtown condo market is now a buyer's market for the first time in over 3 years. The stats just came out for the month of June and the sales:listing ratio for downtown condos has dropped to 26% which represents the lowest level since March of 2009. (For a refresher on why the sales:listing ratio is so important when understanding the condo market, please see this post.) Most agree that a ratio of 25% is officially a buyer's market, but I'm calling it like it is: we are in a buyer's market.
Market Peaked in February/March
It looks like the downtown condo market peaked around February/March this year, which is interesting because that also seemed to be when the pre-construction condo market peaked as well.
Buyers: Time to Smile 🙂
If you are a looking to be a buyer this summer things are looking up for you. Summer is traditionally a slow time in the market anyway and with listings growing and sales falling, the deals will be out there if you know where to find them.
Sellers: Time to Get Serious
If you are trying to sell a condo right now or planning to in the second half of 2012, you need to start to think really hard about what price you put your property at. Gone are the days where anything will sell at any price. Your property needs to look better than all the competition AND it needs to be priced better in order to sell in 3 weeks or less.
Investors: Positive Cash Flow is On The Horizon
With rents rising quickly across the downtown, and the prospect of prices flattening and starting to fall in some buildings, the pendulum just might swing back into positive-cash flow territory. Time to get out there and start bargain hunting!
For a more in depth analysis on the latest condo statistics for downtown, check out my latest post here.
Questions or comments? Email me or leave your thoughts below.